These gnocchi of gourd with shitake mushrooms and Sage butter have become the surprise of the autumn, and it is that they liked all in house.
I have to confess that I had never made gnocchi, but had been long in my list of outstanding recipes. So this year, when I decided that it would publish a series of recipes with pumpkin because he was eager to do so, it was clear that one of them would be the gnocchi, and has proven to be a fantastic idea!
LOAs home-made gnocchi are super easy and they are super rich, and you don't know what I enjoyed with my son preparing them. To compensate for that it is a dish that fills enough, I chose a light sauce. Ta they will only sautéed in a little butter. Yes you can use oil instead but the flavor changes so I've preferred to publish the version with butter because I liked more.
This recipe will serve to make them only of potato, although after so pleasant experience of making these pumpkin gnocchi, I do not take much to make the potato, and if you want the I share with you.
So here we have the second recipe pumpkin of autumn, which I repeat this weekend and I hope you like it, a rich pumpkin gnocchi. As always your comments and photos will be more than welcomed. Now, enjoy cooking love!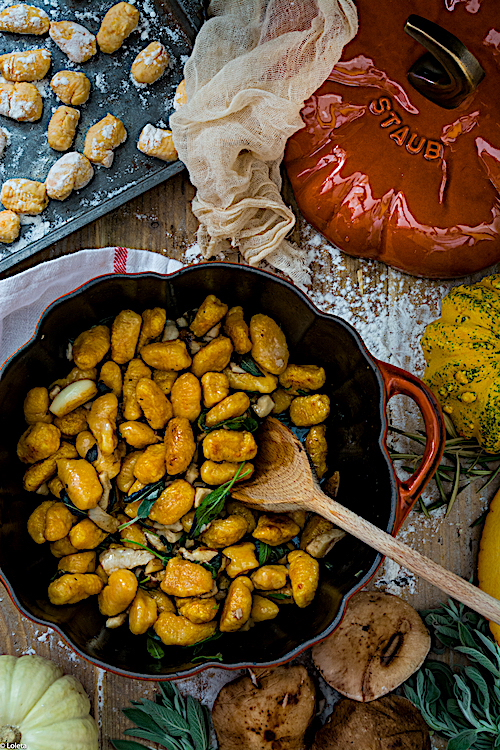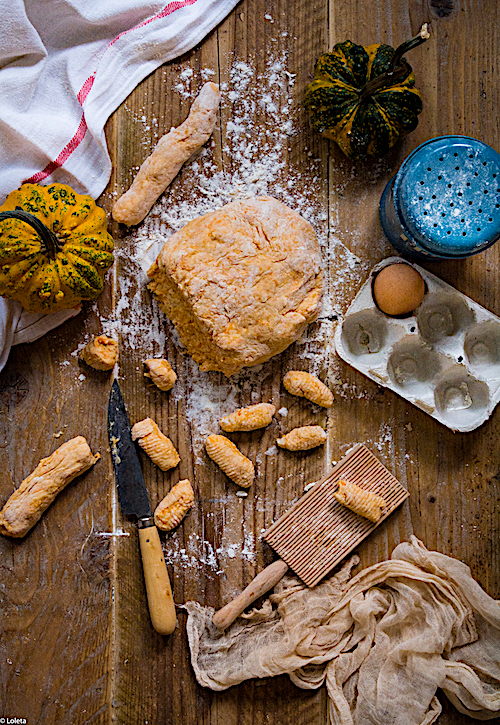 Ingredients
For the gnocchi
500 g of roasted pumpkin)recipe here) very well drained
200 g of drained cooked potato
300 g of flour strength
1 egg
1/2 teaspoon salt
2 tablespoons butter
1 tablespoon olive oil
For the sauce
3 tablespoons butter
3 tablespoons of olive oil
3 cloves of garlic
150 g shiitake mushrooms
50 ml of sherry or white wine
1 bunch fresh Sage
Directions
With the help of a raisin puree, pass the pumpkin and potato. The pumpkin gnocchi out perfect it is very important that the pumpkin is well drained and delete all the liquid that is possible before it is passed by the raisin puree.
Put flour in the worktop and making a hole in the Center, put the pumpkin and potato along with the egg. Knead gently until a uniform dough. It is very important to not knead more (if necessary, because the dough is too soft, add a little more than boiled potatoes). Form a square with the most.
Cut a piece of dough and with help of hands form a cylinder about 2 cm of width. Now with a knife, cut pieces of about two cm long. With the help of a gnocchetti, pass each of the pieces so the stretch marks from forming. If we don't have, we can use a fork with care not to crush each gnocchi.
In a saucepan with boiling water, Cook the gnocchi without putting many at a time. We know that they are ready when the gnocchi look to the surface. Then remove and drain.
In a saucepan heat the butter with the olive oil. When it is very hot, sear the pumpkin gnocchi in batches so they are golden brown all over. Remove from the Pan and set aside.
Cut the mushrooms into small pieces
In the same pan, heat the remaining butter and oil. Brown the garlic cloves. Add the chopped mushrooms and fresh Sage leaves. Cook a couple of minutes. Add the wine and let a boil. Then add the gnocchi and give a few turns. Well serve hot with grated Parmesan.
Tips and Tricks
Replace the pumpkin with boiled potatoes
Freeze the gnocchi before cooking
Preparation time: 30 minutes
Difficulty: easy
Servings: 5