Here are prepared and ordered all my recipes Halloween. Whether you like the feast, as if not, don't take advantage of to make with your kids cookies and muffins or pumpkin pies because they are fun and much, much flavor. Take advantage of them!
Six recipes for muffins and cookies: the magic of Halloween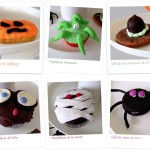 "Concord makes little things grow, discord ruins the great."
Today's post does not contain any magic recipe... or Yes?, or no dream place or also?. Today's post talks about the magic of childhood, of the magic of the costumes and children... but I assure you that you are going to hallucinate: today... six... continue reading
"There is always an opportunity to begin again, is called: today"
Does not lack that you remember the time we are children, and fewer children: Halloween (See my post from last year) Despite being an imported holiday, kids love. Thinking somewhere appropriate to accompany this recipe, I said to myself: legends, ghosts, witches, castles...... continue reading
"The best of dreams is that sometimes they can meet"
The Whoopie Pies (guupi feet) are fairly common sweets in the Northwest of the United States (between Pennsylvania and Maine). In Maine there is even a contest to see who eats most the day of the Heritage Festival. The whoopie pie isn't a biscuit sandwich, or a... continue reading