This galette of tomatoes and potatoes with bacon is one of my favorite savory tarts. It is very simple to prepare and help you that be 10 in your dinners and meals and House.
The mass can prepare it and freeze it well wrapping plastic wrap and defrost when you go to use it. You can also do it in advance because paper wrapped film will last you well in the refrigerator up to 3 days.
You can change the fill to your choice although you can tell that the mixture of these ingredients is just perfect. Not even miss the cheese which I both like to use in my pies.
The mass of the galette of tomatoes and potatoes with bacon is crispy and full-bodied and perfectly holds the filling even if you want to eat with your hands so it is perfect for evenings of football with friends, informal dinners and of course the special dinners as l for Valentine's day.
And it is that in addition to the rich is the galette of tomatoes and potatoes with bacon, is a very simple recipe, it takes very ordinary ingredients and that in addition it you will get very good price. You fancy huh? As we go for the recipe.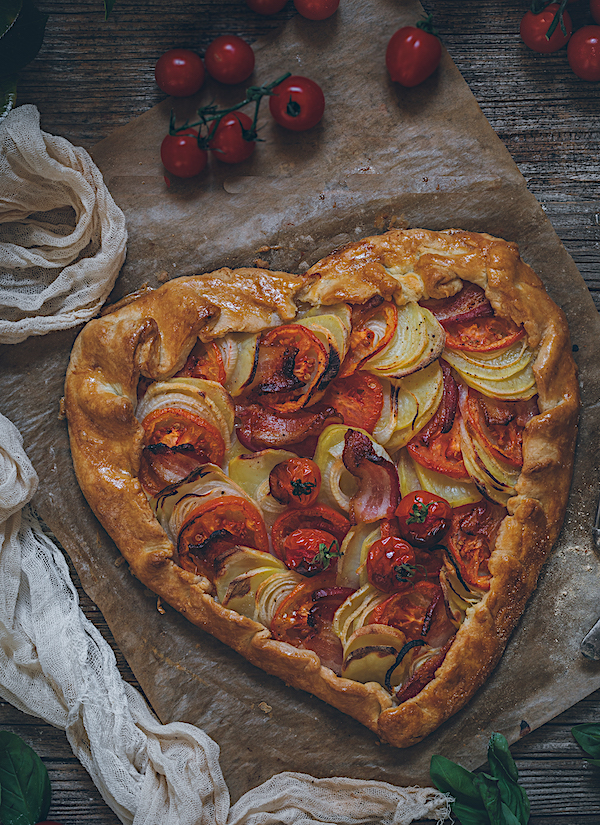 Ingredients
The above-mentioned mass
325 g of flour (for a gluten-free version replace the amount with gluten-free flour and you can use half almond flour and half tapioca flour)
225 g butter unsalted, diced
1/2 teaspoon sugar
1 teaspoon salt
60 ml of cold water (it is possible that you are not done using the total amount)
For the filling
3 potatoes
3 PEAR tomatoes
2 onions
150 g bacon in slices
salt and black pepper
For decorating the cake
1 beaten egg to paint the dough
Directions
To make the dough in a bowl, mix the flour, butter, sugar and salt with the fingertips until the majority of large pieces of butter to flatten or break.
Incorporate the water cold in the flour until the mixture is a and forms a uniform ball.
Form a ball and then flatten into a disk. Wrap in plastic wrap and chill for 10-15 minutes.
Preheat the oven to 190 ° C. Cover a baking tray with a sheet of baking paper.
On a floured surface, extend the disk to a circle of approximately 30 cm in diameter. Gently place the dough on the baking tray (I do it with the help of a roller to avoid me breaking).
Put on top the filling alternating potato with salt and pepper, onion, tomato and bacon, leaving a border of about 3 cm to then return the dough. Put in the Middle a few cherry tomatoes.
Brush dough with beaten egg and bake for about 40-45 minutes. Garnish with basil leaves and serve the galette of tomatoes and potatoes with bacon warm
Tips and tricks:
You can prepare it the night before or that morning and bake just before dinner. You can also bake it and warm it up at the last moment
It replaces the bacon by Eggplant and butter by half of oil and you can have a vegetarian version
Preparation time: 25 minutes + bake (40 minutes)
Difficulty: easy
Servings: 6