These Jam and frangipane Tarts are the dessert of the majority of dinner of Russia world that we have at home. And by popular acclaim and because they are so easy to prepare that I can have them lists in advance of up to days and are still very rich.
In addition, I've done them in version informal dinner, to avoid having to serve it, but for a version deluxe with applause included, you can bake a large and serve warm and accompanied by vanilla ice cream.
Before that nothing I will tell you that the first time I saw cakes shaped like lollipops was to Linda Lomelino, a photographer Swedish blogger who has an infinite taste when making pictures of cakes. When I saw them, seemed like an ideal way to present this cake without having to serve it, and without having to use plates and cutlery to eat it, rather than fled the most in my informal dinners in which I try to make everything meal with hands.
But my recipe is a special padding is filled jam and frangipane, a delicious ground almonds, sugar and vanilla mixture with egg and which is perfect with this rich jam. And over, I used brown sugar in this frangipane because I like more and gives you an incredibly rich touch.
The first time I did it by pure chance: I was white sugar and I decided to use sugar texture of muscovado sugar, (Brown cane sugar). And the result was spectacular!: an incredibly Delicious caramel and Vanilla flavor, and already I've never make frangipane with white sugar.
Finally, today, it is the express version which I bought already precooked dough, but you can make the home version (which I do when I have time) and even a version with this rich mass of grated coconut and almond meal you have gluten in this link. I am sure that you will love!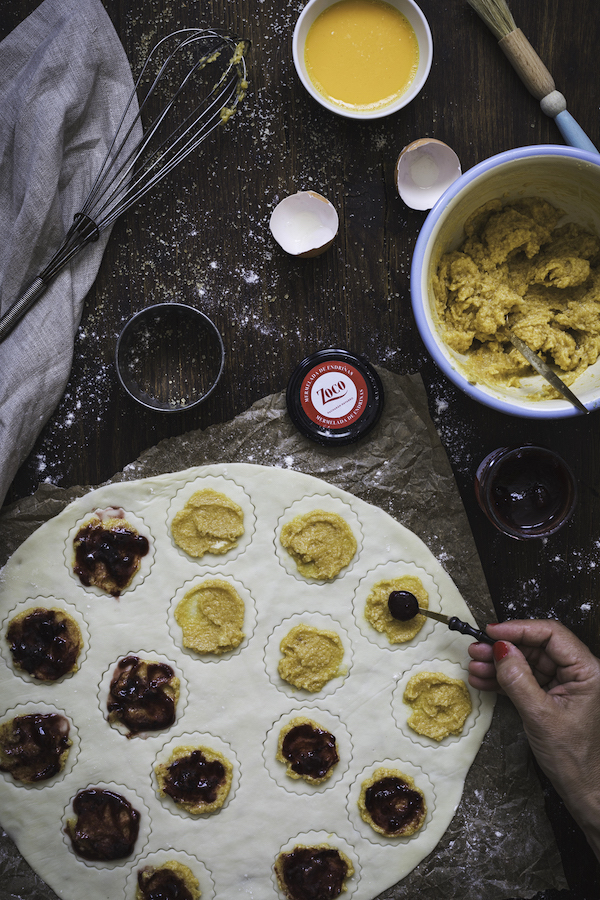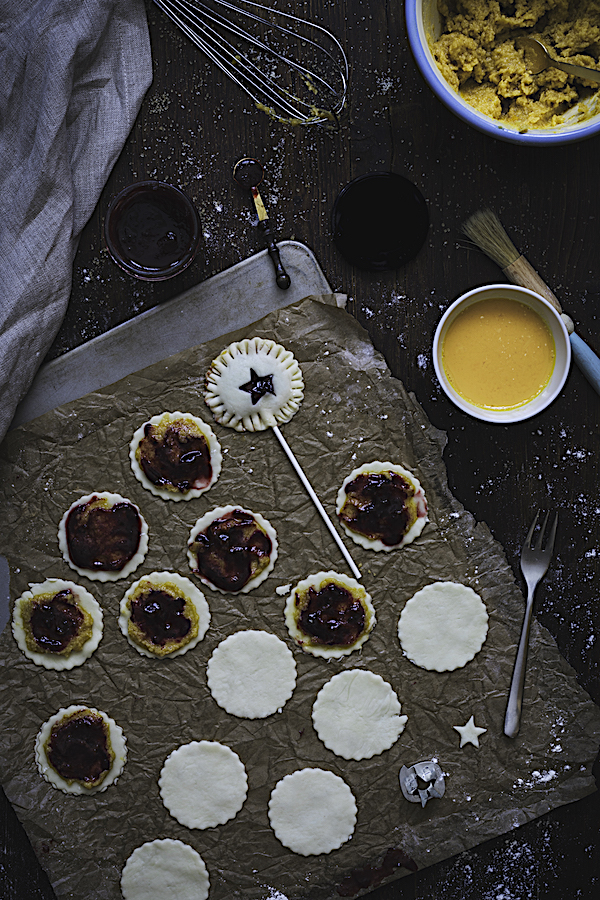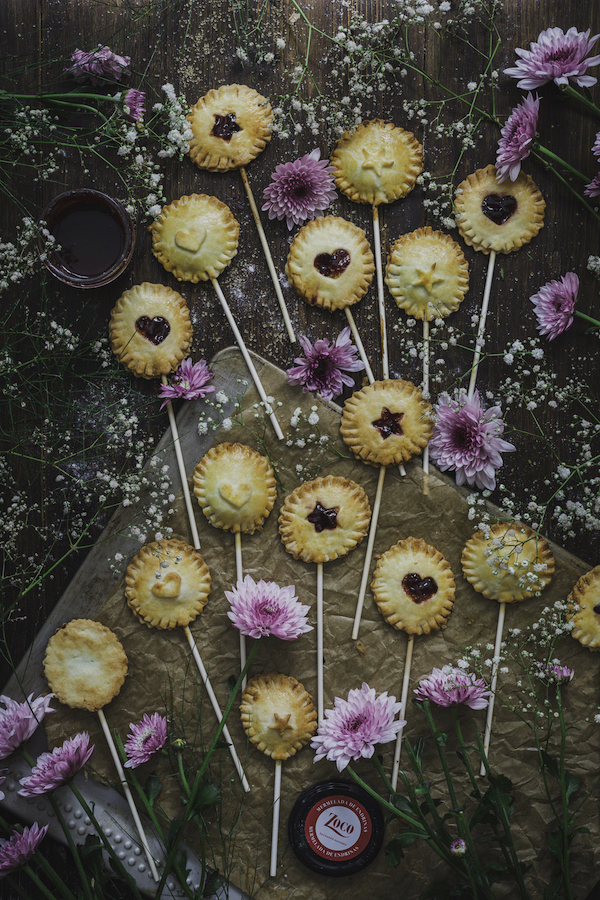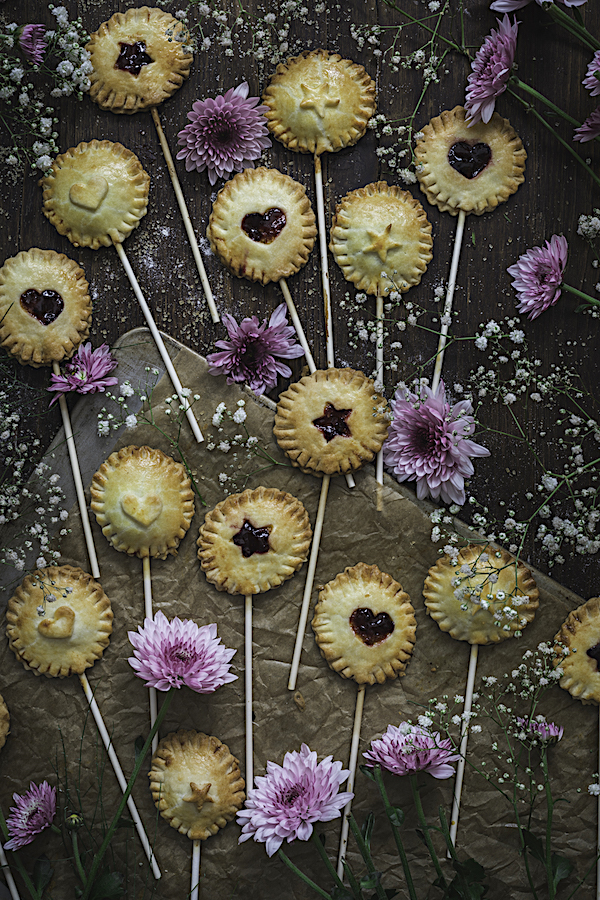 Ingredients
For the frangipane
80 g of butter without salt at room temperature
1 large egg
80 g of brown sugar
1 teaspoon of pure vanilla, pulp vaibilla or liquid vanilla extract
80 g of ground almonds or almond flour
For the tarts
2 masses pre-cooked breezes
1 jar of sloe jam Souk #zocofoodies I have loved
1 egg to paint the tartlets
Directions
First, we begin with the frangipane. To do this in a bowl the butter until it is fluffy and white we batiremos with a few rods. Then add the rest of ingredients and mix well to obtain a homogeneous paste.
Then we unwrapped one of the two masses and with the help of a short pasta, cut circles of about 8 cm.
Preheat the oven to 180 degrees and prepare a baking sheet with foil for baking. Book.
Then, in the center of each circle, put a teaspoon of frangipane and up another jam. Now, put a stick Lollipop in the center of each circle.
Then, for tops unwrapped another mass breeze. Cut tops as the basis. We can now let them smooth or you can use a pasta cutter small in some. On one of the covers, we put the small cutter,
Now, remove the mass of the cutter and put the lid on the base with mass. We put this small piece of dough over other tops and put it on another basis. I used a cutter small heart and other star-shaped.
Then, with a fork, we will seal the edges of the lollipops and will put them on the baking sheet prepared with paper. Now, beat an egg and using a kitchen brush, paint the tartlets with beaten egg. Finally, bake about 15 minutes until the tartlets are golden brown.
Let cool completely on a wire rack.
Tips and Tricks
You can make a large cake using a large pan for pies
They hold up to 5 days perfect in a closed Tin
You can do them without stick and serve warm with a scoop of ice cream
Difficulty: easy
Preparation time: 30 minutes
Servings: 12 mini tarts