This cheesecake gorgonzola and ricotta is an invention. In house is a favorite of my mother. And it is that she likes the cheese in all its versions and is today love you.
It is a cheesecake but salted version. It is made with gorgonzola cheese, one of my favorites, giving you lots of flavor, and ricotta which gives very creamy. The gorgonzola cheese is an Italian blue cheese with a very peculiar taste
The base is made as usual that we make cheesecakes, with unnoticed, but this time we change the digestives for Oatmeal Cookies. They are very easy to find and we can buy them in every supermarket. Cookies are not as sweet as the digestives, but still give it a touch of contrast to the very rich flavor. In addition we mix with grated Parmesan which gives an unique touch to this salty base.
To my love to cover it with candied figs: a few fresh Figs that open in half and paint with a glaze of Modena, red wine and brown sugar vinegar-based. but still there is time, I used some fresh and rich red grapes that accompany the flavor of the gorgonzola cheese very well. You have the full video so you can see how simple that is.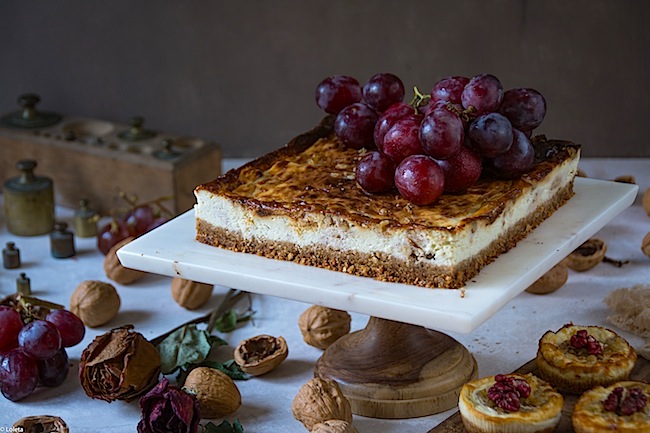 Ingredients
100 g butter
200 g of oats digestive biscuits
50 g grated Parmesan
500 g ricotta or ricotta cheese
2 eggs
250 g of gorgonzola cheese
70 g of California walnuts chopped. These are a red variety which I brought last year from Sacramento, where some of the farms are located in California walnuts
Directions
1 preheat the oven to 180 ° C in function with hot air. Grease with butter mold or cups or ramekins
2. crush cookies until obtaining a fine powder. Add the grated Parmesan and melted butter and mix well.
3. put one tablespoon of dough in each individual mold, and if it's a single cake, then cover the bottom of the pan. Bake until the base has a pale (10 minutes) allow to cool to room temperature and book.
4. using a hand blender, blend the ricotta cheese with the eggs until a smooth cream is obtained. Then add the gorgonzola cheese until you get a smooth and uniform mixture. Now is the time of season, but carefully because although the ricotta cheese has a very mild flavor, gorgonzola cheese has a strong flavor and already contains salt.
5. cover with this mixture the mold or cups and Bake until they are cooked. For small moulds it was enough with 20 minutes, but the large was 35 minutes in the oven to be sure that the cakes are well cooked., the best is to click the molds with a stick. If the stick comes out clean it is that they are thoroughly cooked. Leave without removing from pan on a wire rack to cool.
Tips and Tricks
It is accompanied by red fruits jam
Substituting gorgonzola blue cheese although the taste will not be MIME also is very good
Preparation time: 55 minutes
Difficulty: easy
Servings: 8