This Khachapuri or bread cheese filling is typical of Georgia. The bread is made with yeast to grow you size during manufacture and can have different forms. The filling contains generally cheese egg and other various ingredients.
And in addition is another football dinner recipes that this rogue world will prepare at home more than one night. The Khachapuri or bread dough stuffed with cheese is prepared very easily because it has no complications, has a preparation, and two options of rising: one slow overnight in the fridge and another that you can sustituirl by a rest of only an hour and a half.
It is based on a bread dough with yeast which is and that although it can be prepared from the jerk, to my I like to ferment in the fridge so that it catches the flavour. It is stuffed with a mixture of cheese and bechamel sauce that makes its taste unique. The best thing is the taste that is thanks to the Virgin olive oil extra that I use always
This Khachapuri or bread traditional Georgian cheese filling is best eaten hot. You can take it as a pizza but it is best to eat it to pinching, picking up a piece of the edge to dip it in cheese mixture that Georgians make with dry mozzarella (not fresh but the zest), and feta cheese.
The filling is absolutely delicious with an amazing creamy texture and you can finish it with what most feel like. Typical of the Khachapuri or bread stuffed with cheese, is put an egg or a few tomatoes, but at home we have prepared it also with a bit of sausage or ham and lickin' your fingers.
The bread holds very well in the refrigerator a couple of days, so you can have it prepared in advance and give a blow of strong oven just before serving. Today I bring you the traditional version of the Khachapuri or bread stuffed with cheese, which is to serve it with egg, but at home we have prepared it also with sausage or ham and it is fantastic.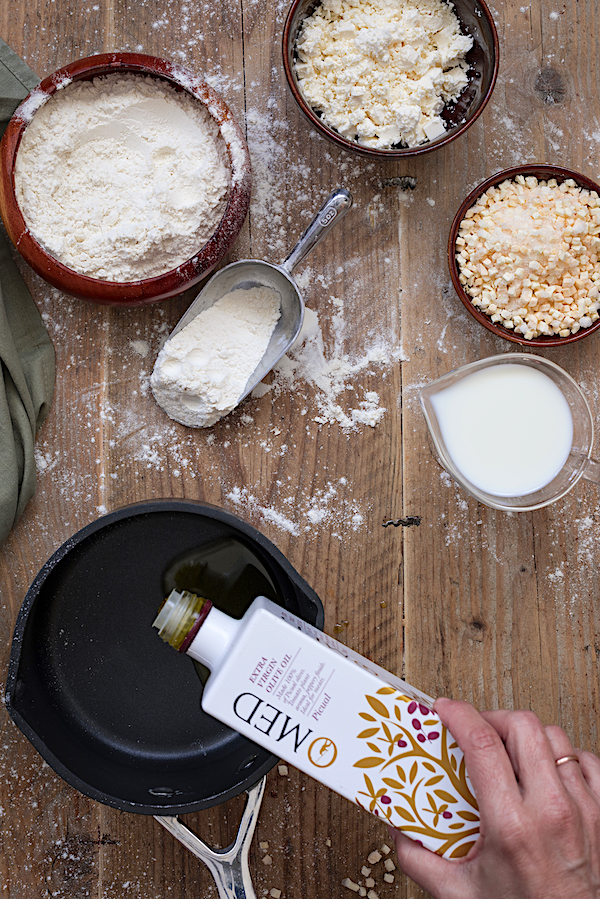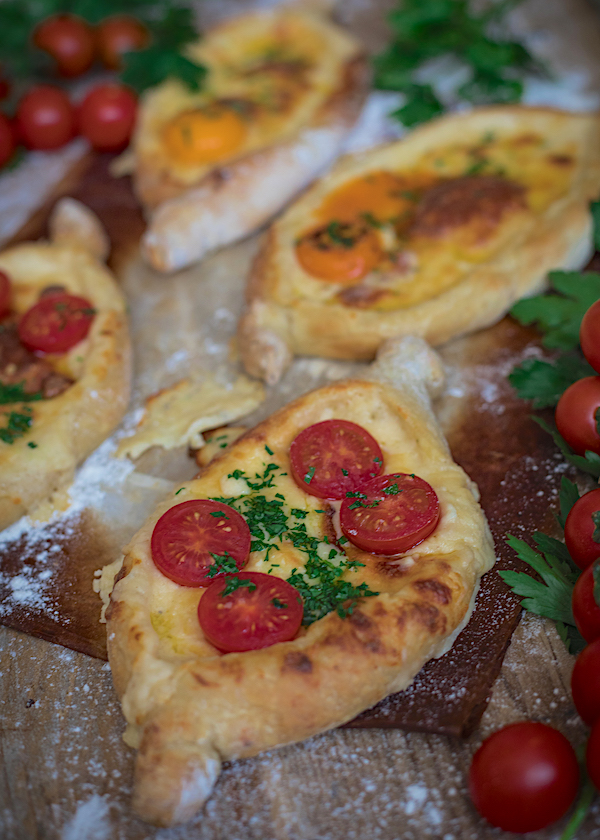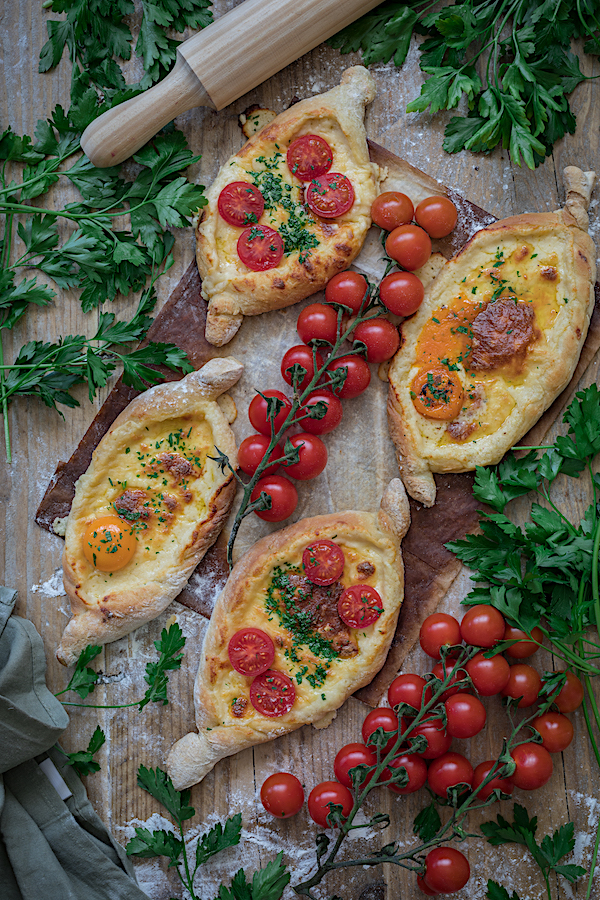 Ingredients
For the filling
2 tablespoons flour
3 tablespoons dede OMED white Picual extra virgin olive oil
150 ml milk
500 g feta cheese
300 g of grated dry mozzarella cheese (it is very important that you do not use fresh mozzarella) or your favorite blend of cheeses
2 eggs
4 cherry tomatoes
a few sprigs of fresh parsley
Directions
Slightly heat the milk in a bowl. Add the yeast and sugar. Move with a spoon, and reserve.
In another bowl, mix the flour and salt. Add the milk and yeast mixture and mix with a wooden spoon.
Gradually add olive oil and kneading with hands all the time until all ingredients are well integrated and have a ball smooth and uniform. We can do it also in electric mixer but I did it by hand.
Remove the dough from the bowl, grease with a little olive oil and return the dough inside. cover the bowl already know that I do it with a shower CAP, or a rag. Let stand in oven for an hour and a half until it has doubled in volume.
Passed this time, move the dough to lightly floured work surface. Knead a little to remove all the air and cut it into portions. With these quantities out 6 small loaves or 3 large.
Catch a ball of bread dough and stretch with help of a roller to form an oval. Now start to bend the edge inward forming a small boat. Pull the two ends to rotate them. Let stand for half an hour.
Meanwhile prepare the filling. heat the milk. Put oil and flour in a pan and let the flour is browned. Then add the warm milk and moving well until you get a smooth béchamel sauce. Then add feta cheese crumbled, and with help of a rod or a wooden spoon, mix gently moving up to get that cheese is incorporated and no lumps remain. Now add the mozzarella and continue mixing.
If we are going to bake them now we preheat the oven to 230 degrees.
On a baking tray, place a paper of baking. Stand on it the khachapuri and paint the edges with olive oil. Put 3 tablespoons of the cheese mixture in the center of the dough and spread.
Now we have two options: bake or let stand overnight in the refrigerator.
If you want to bake them, we put the tray in the oven and let Bake 15 minutes.
Passed this time, remove the Pan from the oven and with a spoon, make a hole surplus each of the khachapuri. We put there an egg and return to oven another 6-8 minutes.
If we decide not to bake them at this time, we leave them in the refrigerator, cover with paper aluminum or plastic wrap and leave in the fridge until half an hour before baking. The next day we took from the refrigerator and let cool for half an hour, preheat the oven to 230 degrees and bake following the steps above. Serve hot
Tips and Tricks
They can be frozen before baking
Once baked, are kept well up to 3 days in the refrigerator
Preparation time: 30 minutes more time of rising
Difficulty: easy
Servings: 6