This Breton galette with Grana Padano cheese has a different touch that will make you fall in love. The cheese gives it a touch of flavor and a completely different texture.
You only need a bowl and a spoon to make the dough, a pan and you will have this wonder on the table.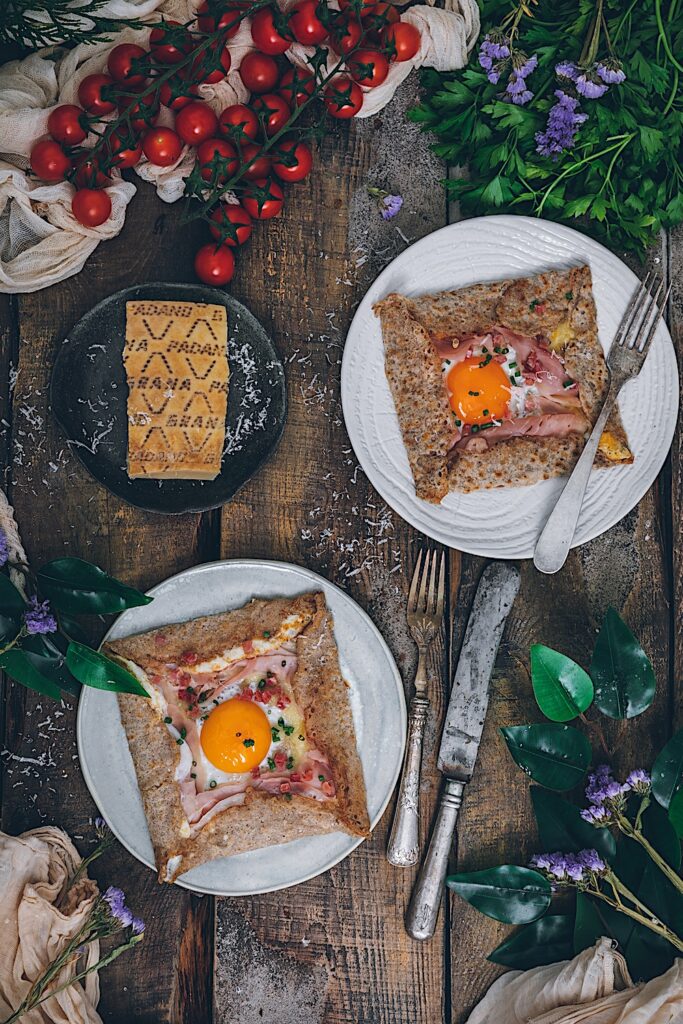 For the crepes
300 g organic buckwheat flour gluten-free
1 egg
7 g coarse salt
35 g grated Grana Padano cheese
750 ml water
For the filling
30 g grated Grana Padano cheese
100 g grated Emmental or Gouda cheese
4 eggs
4 thin slices of cooked ham
some butter
Pepper
Salt
a little chives
Mix the flour and salt in a large bowl. Add the egg, grated Grana Padano cheese and water. With the help of a Danish whisk, or a food processor or a hand mixer mix until obtaining a smooth and thin dough and let the dough rest for half an hour.
We move the dough well. Grease the crepe (or nonstick pan) with a little butter or oil (if there is more than necessary remove it with an absorbent paper).
With help From a saucepan we take the dough and drop it on The crepe distributing the dough well over the entire surface and making sure that Is left evenly distributed.
After a couple of minutes holes will appear on the surface. That is the sign that it is time to turn the crepe around.
Grate some Grana Padano cheese throughout the base and in the center form a circle with the emmental cheese. Cascanos the cheese inside the circle and distribute the egg white well over the entire surface. In this way it will curdle well and we will avoid that the white is raw (I personally do not like it to be raw). Cut a slice of cooked ham into pieces and distribute it around the egg (make the yolk look good so that it is then beautiful).
When the egg is almost curdled fold the crepe as if it were an envelope, by the four corners is the classic Breton closure. First one side, then another and so on until you have folded the 4 sides. Serve on a plate and enjoy!