This perfect brownie has been the result of several tests. I admit that this is actually my recipe for the gluten-free brownie that I have published in my book.
It's a perfect recipe that you'd never think is gluten-free because it's juicy and creamy at the same time and with a flavor of 10.
Javi asked me to make him a brownie to take to a friend's house, and I thought about making him gluten-free because sometimes at meetings there is someone celiac who can not taste the sweets. However, when I was already working I realized that you did not have the flours that I use in that recipe. So to simple problems, simple solutions I replaced gluten-free flours with pastry flour and the result has been the best brownie I have made so far.
Here tie I leave it and I hope you like it as much as Javi's friends who and hypped their fingers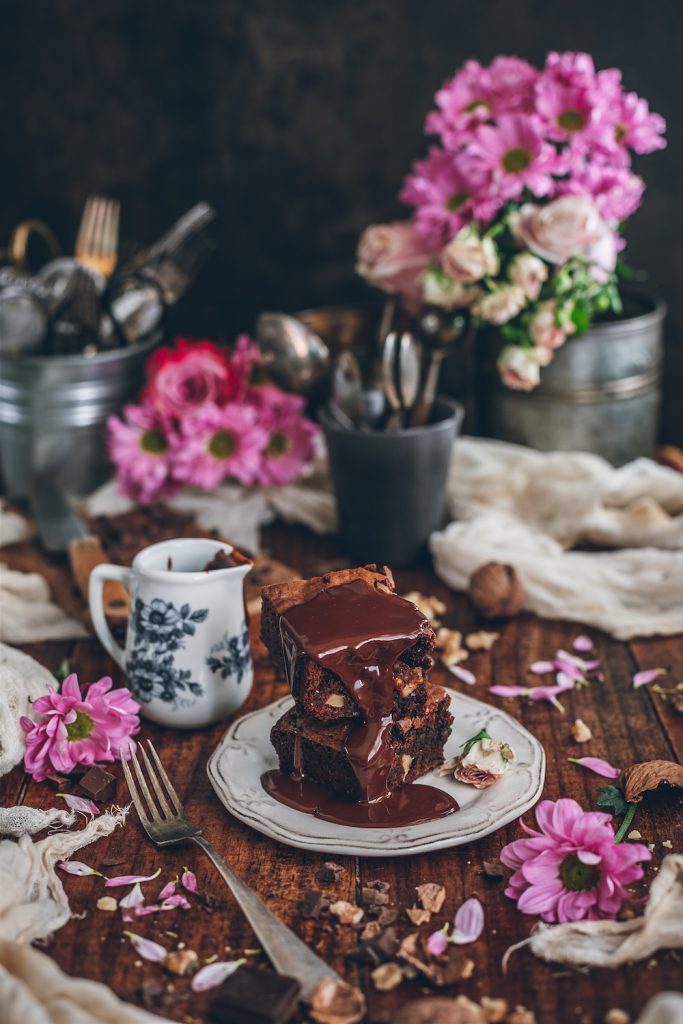 Ingredients
230g dark chocolate
150 g butter
4 eggs, at room temperature
320 g brown sugar
150 g flour (you can use coconut or oatmeal)
20 g pure cocoa powder
1/2 teaspoon soluble coffee
1/4 teaspoon salt
1/4 teaspoon of baking powder
90 g walnuts
For chocolate cream
100g dark chocolate or milk
100ml liquid cream
half a teaspoon of pure vanilla extract
50 g butter
Directions
Preheat the oven to 170 C°
Grease and cover with baking paper a mold of approximately 23 x 23 cm leaving a little excess paper that protrudes on all sides. We can use a larger mold but it will not be as high.
Melt the chocolate along with the butter in the microwave at intervals of 30 seconds, until we have a smooth and soft cream. Reserve.
In a medium bowl, mix the flour, cocoa powder, soluble coffee, salt and baking powder. Reserve.
In a large bowl, mix the sugar and eggs with the help of rods.
Add the melted chocolate and beat by hand until combined.
Now add the flour mixture and using a silicone spatula, mix. Add the nuts and mix.
Pour the mixture into the prepared mold. Bake for 40 minutes (I used a 23 x 23 cm mold so that my brownies were high. If you use a larger mold they will be lower and then they will need less time (depending on the size, about 30-35 minutes). Let cool in the mold while preparing the chocolate sauce.
For the chocolate cream, boil the cream and pour it over the chopped chocolate. Add the butter and vanilla and wait two minutes. Stir until you get a ready cream and serve on top of the brownie. Enjoy!
Tips and Tricks
You can prepare it today and freeze it into potions that you can thaw when you go to take it.
Difficulty: easy
Time of preparation:
Servings: 16