This potato and leek galette has become my favorite savory cake.
I'm an unconditional fan of them. I love to prepare them with different doughs and they are also delicious with prepared doughs like today's where we skip preparing the dough and we sign up for the sure success of a precooked puff pastry.
Perfect for any day and to share with whoever you want, I have to admit that in the shape of a heart it is so beautiful!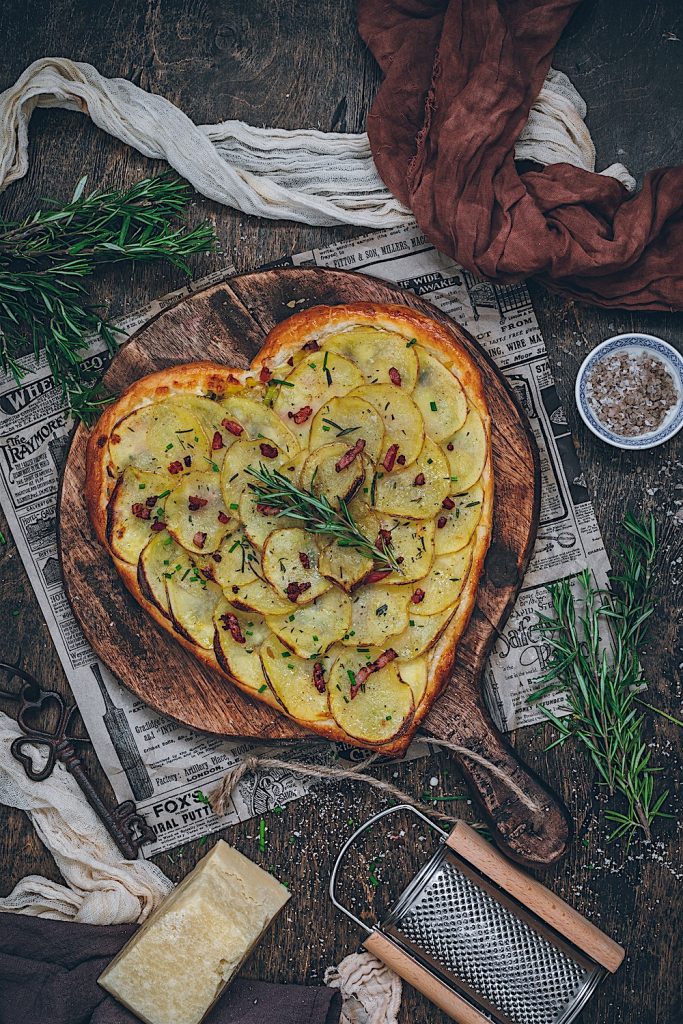 Ingredients
1 precooked puff pastry
150 ml crème fraiche
100 g bacon in small pieces
2 large leeks
3 tablespoons oil
2 sprigs of rosemary
3 new Mefdian potatoes
60 g grated cheese: emmental, cheddar, mozzarella...
a little grated grana padano or pecorino cheese
salt and freshly ground black pepper
Directions
With the help of a mandolin cut the potatoes very thin with the skin.
In a frying pan sauté in the oil the leeks cut very thinly along with a little rosemary very chopped. . When it is well browned, remove and set aside.
Stretch the dough and cut a heart as large as possible. We prick it everywhere leaving a small mold without puncturing.
Cover the dough with the créme fraiche leaving a small edge without covering, and put on top the sautéed leeks and sprinkle with the grated cheese, bacon and a little chopped rosemary. Cover everything with the potatoes superimposing them a little so that the whole dough is well covered with potatoes. Bake at 230 degrees for about 10-15 minutes.
We finish with little grana padano or grated pecorino.
Tips and Tricks
We can add a little grated truffle for a more gourmet touch
Do not hesitate to prepare it for any day of the year even if today we have given it a very Valentine's Day touch
Difficulty: easy
Preparation time: 30 minutes
Servings: 4