This beef fricandó with mushrooms and foie is my version of one of the dishes we prepared together with the Torres brothers in the event #NoMasDramasenlaCocina with Kitchen with Bra.
BRA organized a very special event in the restaurant "Cocina Hermanos Torres", which took place on October 17th in Barcelona and in which 8 bloggers, (Raquel, Mj, Carolina, Silvia, Laura, Inés, Rosa and I), together with 8 followers, we had the opportunity to share with some followers a very special day of cooking, good food and above all many laughs.
That's how I got to meet Lourdes (@sweet_loulou), a follower who has been with me for a long time and who I was able to hug and cuddle in person. Kitchen with Bra had organized it to the last detail and the day began as a game and ended with a fantastic meal that the Torres Brothers prepared especially for us.
We are divided into two teams and as captains the Torres brothers, one in each. Mine was Javier's team with Caro, Inés and Silvia and our couples, and whatever they say, of course we were the winners ... hahaha, because our beef friandó with mushrooms and foie was 10. I leave you here the link to the page Kitchen with Bra where you can see a lot of photos and details from that fantastic day.
The menu was a summary of all our dramas in the kitchen. And among those dishes was this delicious fricandó who I've given a personal touch and that I'm sure will become one of your favorites. They didn't even leave the crumbs around here, so let's go get the recipe!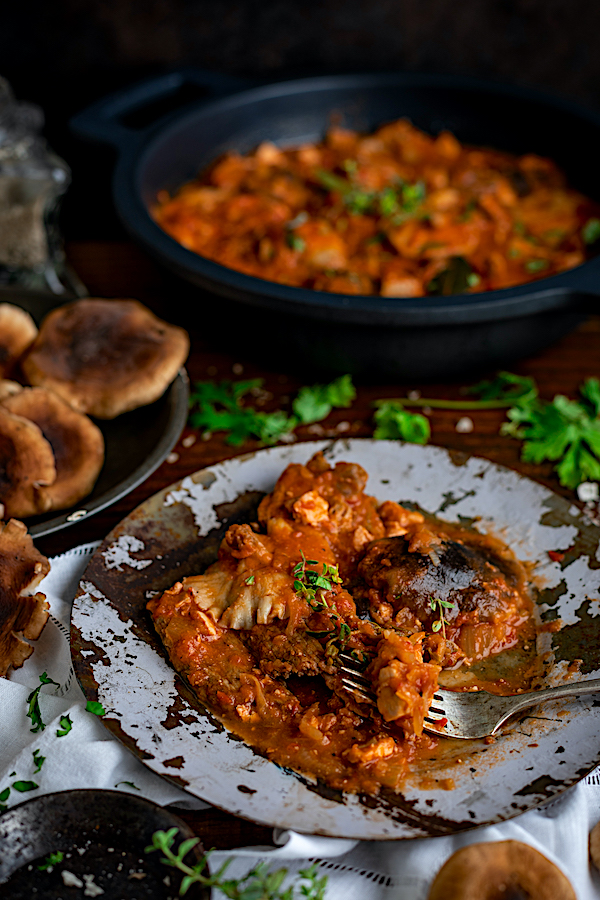 Ingredients
1/2 kg beef hip tip fillets
1 tablespoon of flour
1 large onion
300g crushed tomato
200g seasonal mushrooms
50ml brandy
500ml bird's broth
150 g duck foie gras (you can use foie gras terrine)
a handful of pistachios
Directions
Clean the mushrooms and set aside.
Fillet the veal and flour. Mark well in a saucepan with olive oil and remove.
Peel and cut the fine onion and brown in the same saucepan for about 15 minutes until well browned
Once poached, add the brandy and let it caramelize for a couple of minutes.
Now add the crushed tomato along with the thyme sprig and bay leaf. Move well and let cook for a few minutes until the tomato is well fried.
Sprinkle and add the meat and broth. Let's let it cook over medium heat until the sauce is reduced, about 30 minutes.
Now add the mushrooms and the diced foie gras. Let's cook for another 10 minutes, or until the meat is tender.
We serve with a little parsley and thyme on top.
Tips and Tricks
It freezes very well
Replace beef with chicken
Servings: 4
Difficulty: easy
Preparation time: 50 minutes