These fillets of leg of Lamb with honey and nuts taboulé have become recipe star at home. It is a very easy recipe that also has a delicious taste.
Until recently, home only cooked the lamb in the traditional way: leg of lamb or lamb shoulder, but now that I find more cuts, it is much easier to incorporate it into the diet, since it is not necessary to buy too much, as I was going with the full leg, but I can buy the amount that I really need and I can make these fillets of leg of Lamb with honey and nuts taboulé.
And all thanks to the campaign that the Interprofesional of Sheep and Goats of Meat -INTEROVIC, has organized to modernize the product and break with that idea that the lamb we leave only for Christmas and little else. Also thanks to the cheaper way we can now find more cuts, it has become a more versatile meat that I can prepare in a thousand ways. This one today of Lamb leg fillets with honey and nut taboulé, is one of the ones that applaud me the most when I prepare it so I hope you like it as much as mine.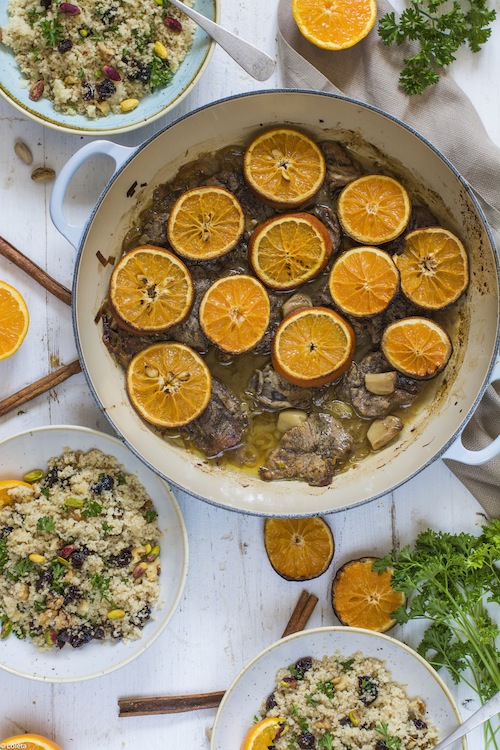 Ingredients
For the marinade of honey lamb leg steaks
Juice of 1 orange €0,20
Juice of half lime €0.25
2 tablespoons honey €0.15
4 cloves of garlic €0,24
1 teaspoon of ground cinnamon €0.15
1/2 teaspoon cumin ground €0.07
1/4 teaspoon clove ground €0.04
1 teaspoon salt €0.01
a little pepper €0.05
For the oven
1 kg leg of lamb steaks €14.90
3 naranjas0, €70
3 cloves of garlic €0.12
1 large onion €0.25
1 leek €0.30
a little parsley curly €0.15
1 cup of chicken broth €0.30
1 splash of brandy €0.40
For the nuts taboulé
150 g of cous cous €0.30
1/2 teaspoon salt €0.01
1 tablespoon olive oil €0.04
1 tablespoon raisins seedless €0.12
dates 1 tablespoon chopped €0.15
1 tablespoon pistachio €0.25
1 tablespoon of walnuts €0.28
1 tablespoon almonds €0.29
1 tablespoon Mint
2 tablespoons of corn
1 tablespoon balsamic vinegar
Total €24.14, i.e. 3.02 per serving of a unicoque dish is going to solve every day and the special day
Directions
1 preheat the oven to 180 ° C
2. in a bowl, mix all ingredients of marinade
3. place fillets of leg of lamb in a bowl and put the marinade over them. Stand for half an hour
4. in a saucepan put the garlic and finely chopped onion. Sauté in a little oil. Then add as oranges, cut into wheels and fillets with its marinade with chicken broth and bake leg of lamb fillets with honey for about 20 minutes until steaks are thoroughly cooked
5. Meanwhile prepare the nuts taboulé. Chop all the ingredients and place them in a large bowl.
6. to cook the cous cous put it in a bowl. In a saucepan put a part and 1/3 of water to a boil. When it has boiled, we turn over the couscous and cover with a lid or a dish for 5 minutes. Add a choro of oil and a pinch of salt and mix well. Let tuning.
7. when the Couscous has hardened we add to the bowl with the ingredients and dress with oil and vinegar. We already have our nuts taboulé
8 we serve leg of lamb fillets with honey along with the taboule.
Tips and Tricks
If you prefer you can leave the entire leg while in that case the cooking time will increase depending on the weight of the leg of lamb
Use your favorite vegetables to the nuts taboulé
Difficulty: easy
Preparation time: 45 minutes
Servings: 8