This bundt cake of Rosemary and lavender with olive oil and orange glaze leads me fully to the field. The collection of olives that so fondly my friends carry out every year of OMED Oilthat you know what my favorite oil.
I really love making cakes with olive oil because they bring me many memories of my childhood. Those cakes and Cupcakes that are introduced in the field, in Martos. We entered the kitchen all the cousins at once and never wanted to wait for it to me.
A smell of rich filling around the cortijo. A little sugar on top, "snow" and already had the best snack of all. Today I still love making cakes with oil. The oil that I used in this cake is the first harvest, which has just come out of the mill and has incredible aroma and color.
This bundt cake of Rosemary and Orange have aromartiado with orange and Rosemary and not imagine the rich taste and smell so delicious that follows.
I have finished it with a little icing, a sauce I made with orange juice and confectioner's sugar that gives the perfect touch. Do you feel like? Because we will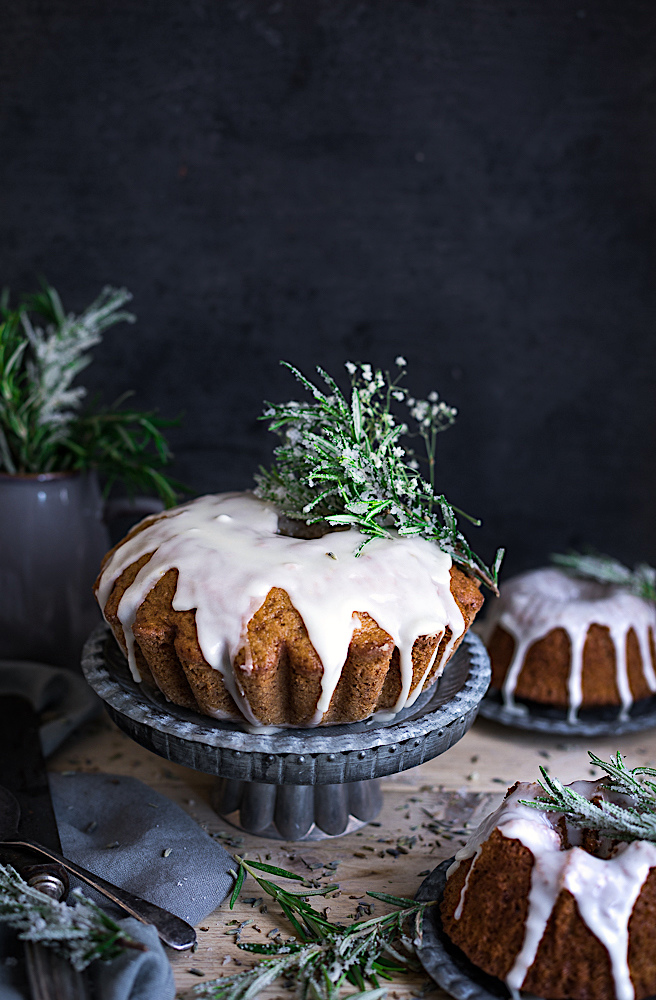 Ingredients
375 grams of flour
1 teaspoon and a half of baking powder
1/2 teaspoon of baking soda
a pinch of salt (I've used salt flakes of Rosemary)
1 level teaspoon of dried Rosemary
1 level teaspoon of dried Lavender
375 grams of brown sugar
the orange zest
1/2 cup of orange juice
220 ml extra virgin olive oil OMED Oil arbequina variety
250 g of buttermilk or a yogurt mixed with milk in the same amount and lemon drops
3 eggs
For glaze
200 grams of icing sugar
2 tablespoons orange juice
Directions
Heat oven C. a180
Grease a mould. I chose to do several different sizes. Book.
Put dried Rosemary and dried Lavender in a mortar and crush to a powder. Book.
In a bowl place the flour, yeast and the baking soda and salt. Mix and set aside.
In bowl of electric mixer, put the eggs with the sugar and orange zest until they are fluffy. Then add orange juice, olive oil and the buttermilk (or milk yogurt mixture). Mix well.
When everything is well integrated, Add flour mixture in three times, taking care that the mixture is smooth before adding more. Finish by adding crushed herbs and mix well. Pour the mixture into the mould. If you use several you should fill them 2/3 parts leaving space for the cake to rise.
Bake for 25-30 minutes. Depending on the size of the mold you can take 5 minutes more or less. To make sure Pierce with a toothpick which should come out clean. That is what indicates that the cake is ready.
Once ready, remove from oven and let stand for 10 minutes before removing from pan.
While they cooled a bit, in a bowl mix the icing sugar sifted with orange juice. If you need to add a little more orange juice, but so that it covers the cake mixture should be thick rather than liquid.
Tips and Tricks
You can replace the orange juice and zest of lemon
Prep time 45 minutes
Difficulty: easy
Servings: 8