This bundt cake of blood oranges was quite a surprise when I did it for the first time. One of my aunts had just be operated a few days before an arm and was slightly low mood. As I came out of the trip the next day, did not want to leave to visit her home as given the high, and thus see it before I go (we are very tight in my family, we are over each other and we love). And of course it would not go with empty hands.
At this time I love blood oranges. Found them when living in Madrid (there is in all the market stalls when it comes the season), and it seemed fun to use them because even though their flavour is that of a lifelong Orange, color of juice is different, and appears to be more of the grapefruit to to the of the Orange. So always buy some in season (here in Malaga custom made them and have them without problem).
I had never used blood oranges to make a glaze for that had never seen the pink color that gives sugar cream. I saw it to Edd Kimber, one of my pastry chef favorite even though his was covered with fruit wedges and sliced almonds.
I decided to modify some quantities and add a touch, and of course to do it in a bundt cake because they are so beautiful! and thus take it to my aunt that I sure would like to for your first breakfast out of the hospital. And said done. A rich bundt cake of oranges, happy breakfast in house and Baba loved her and the rest of your home (especially to my cousin Merry who is pregnant and craving for constant cake, so I'll soon take you another). I hope like you as much as to her.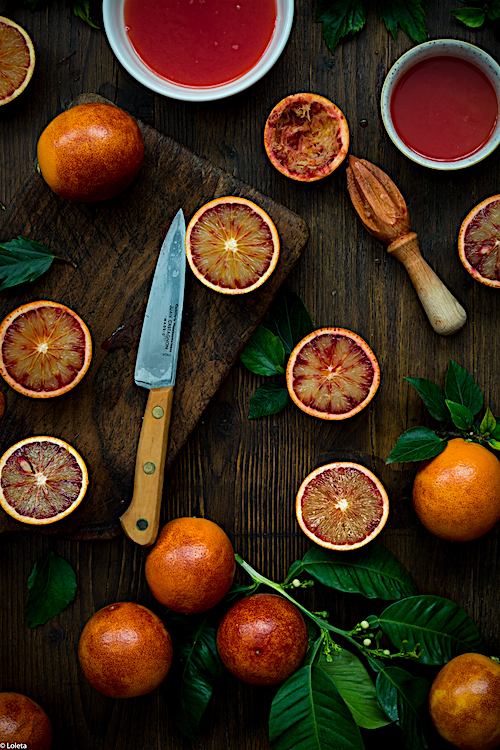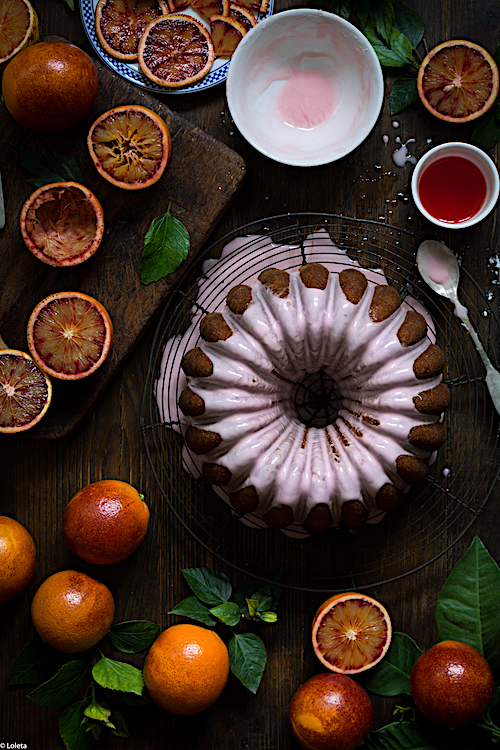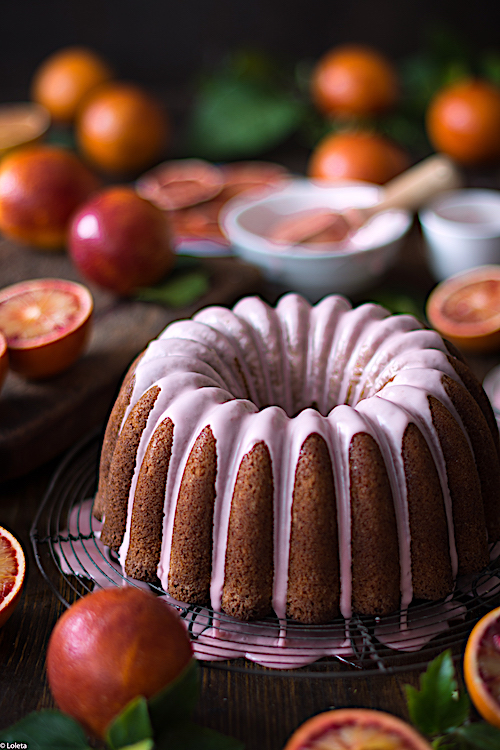 Ingredients
For the sponge
450 g of sugar
300 g of liquid cream double (it is an English cream but if it is not available, substitute cream 33% fat at least)
4 large eggs
1 teaspoon pure vanilla extract
4 blood oranges (which we will use in the three parts of the recipe: cake, syrup and glaze)
450 g of flour
3 teaspoons baking powder
1/4 teaspoon salt
250 g butter
For the syrup
80 g sugar
50 g of orange juice
30 g (optional) cointreau orange liqueur
For glaze
300 g of icing sugar
3 tablespoons blood orange juice
Directions
Preheat the oven to 180 ° C. grease a pan (I used spray because these molds with so many recobecos are easier to grease, spray). Book.
In a medium bowl, mix flour, baking powder and salt.
In the bowl of an electric mixer with the plow attachmentbeat sugar, butter, vanilla and zest of 3 oranges to speed medium until well blended and the mixture has increased the volume and is fluffy (about 5 minutes). Download which has been pasted on the walls.
Add the eggs one by one, taking care that it is well blended mixture before adding the next.
Reduce speed and gradually add the flour mixture to the butter mixture, beating until well blended. Then, add the double cream, beating until combined.
Pour the mixture into the prepared mold.
Bake for about 50 - 60 minutes until a toothpick inserted in Center comes out clean (the time depends on used mold. In mine it took 60 minutes).
Let cool in pan for 10 minutes before removing from pan.
Unmold the bundt cake of oranges and leave to cool on a wire rack.
Meanwhile prepare the syrup: in a saucepan heat the juice of orange with the sugar, until the sugar has dissolved (it is not necessary to boil. only sugar dissolves).
Soak then with a spoon the cake, dropping on the syrup. Let the cake completely.
Then prepare the frosting by mixing in a bowl the icing sugar with the orange juice. A thick mixture should remain but that can be dropped with the help of a spoon on the entire surface of the cake, letting it fall on the sides of the orange bundt cake. If necessary, repeat with another layer of frosting so that the color is well fixed. Let cool for at least 30 minutes.
Tips and Tricks
This bundt cake Orange freezes perfectly well wrapped in plastic wrap
You can decorate with walnuts or almonds, chopped up
Preparation time: 90 minutes
Sensitives: average
Servings: 10