These Zucchini spaghetti with carbonara vegan have become one of my favorite dishes, and now that we left behind the days of cold and that they begin to crave lighter meals, I am sure that you also love
Many are people have recently asked me to make light, healthy recipes that will help us to take care of ourselves and this recipe I think that it is perfect. It is a fat-free version to accompany a dish of vegetables but also serves pasta and in it I have discovered the perfect alternative to heavier sauces.
The Italian Carbonara It has no cream. The cream in carbonara is a Spanish invention that has nothing to do with the texture or with real ingredients of Italian carbonara. This version that I bring today goes beyond because replaced eggs with cauliflower making this version even more light that it carbonara real. We replaced also the bacon or bacon with mushrooms so that the dish is vegetable 100%. Until my child has eaten, without knowing what was the sauce that is creamy, but has eaten and without complaint. My best filter to try dishes of vegetables!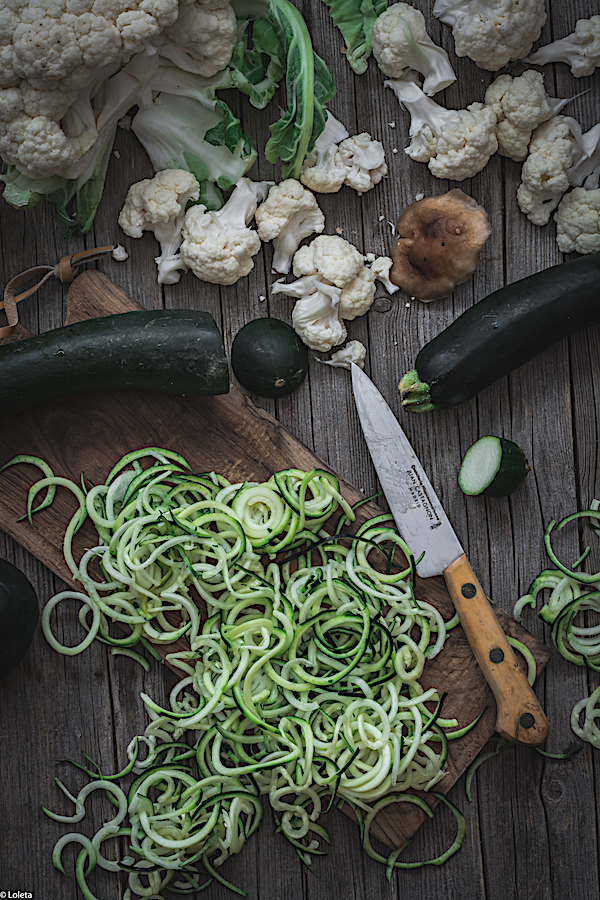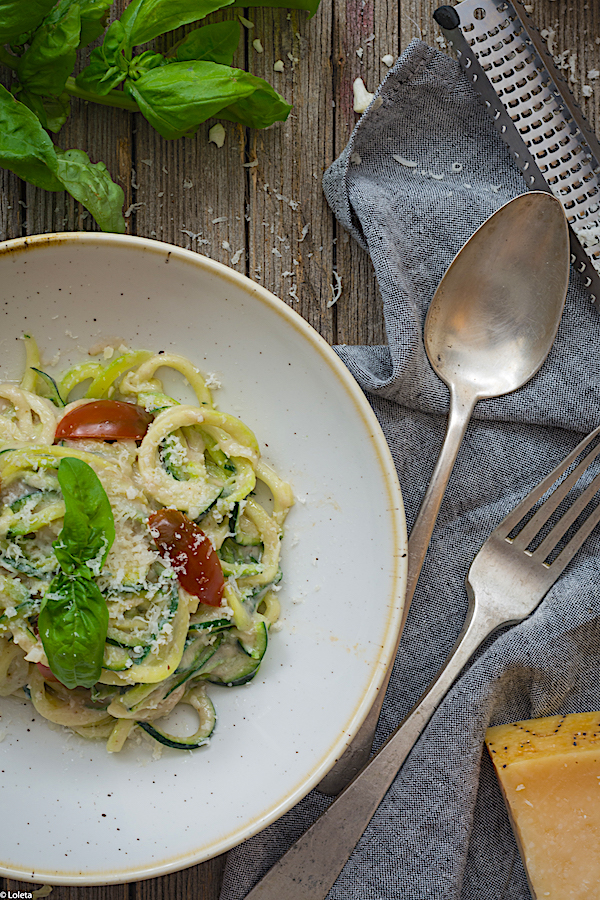 Ingredients
3 to 4 large Zucchini spiral-sliced (if you don't have a cutter e spiral (I have this), you can buy the spaghetti of Zucchini cut already in supermarkets)
medium cauliflower
4 shitake mushrooms or your favorite mushroom
a handful of cherry tomatoes
1/2 large onion, chopped
3 cloves garlic minced
1 tablespoon of flour
5 tablespoons of vegetable drink almond unsweetened ingredients
1/2 teaspoon salt
freshly ground black pepper
Directions
Cut the ends of the zucchini and used an espiralizador to make noodles. You can also buy them already cut. Book in a dish or source.
Steamed cauliflower for 6 to 8 minutes or until tender. Put it in the bowl of a robot of kitchen or Crusher. Add the mushrooms, cut into large chunks.
Chop the onion and in a frying pan, sauté the onion with a few drops of oil until the onion is soft and golden. Add the garlic and let Brown. Add the flour and toss. Padsado a minute add the almond milk and move to form a béchamel sauce. Reserve skillet.
Add the onion and garlic sauteed cauliflower, salt and pepper. Mix until it is completely smooth and we have a fine puree.
Skip the noodles zucchini in the same pan with a few drops of oil over medium heat. Skip moving for a couple of minutes
Add carbonara the sauce cauliflower carbonara to the skillet with the paste of Zucchini and cook for 5 more minutes, stirring frequently. Note: If the sauce is thicker than desired, add a tablespoon or two of milk of almonds, and move.
When it is ready, add the cherry tomatoes cut into quarters and fresh basil leaves. Serve hot
Tips and Tricks
If you prefer you can add a little cornstarch to the sauce to thicken it more
For a full version it is served with a bit of Parmesan cheese
Difficulty: easy
Preparation time: 15 minutes
Servings: 3