For a long time I wanted to prepare this recipe for Bao buns with Creole pork and barbecue sauce. The recipe was actually for the bao buns, those bread rolls made steamed that are so light and rich and that usually serve in many Asian restaurants and more recently in the small brothers of Star chefs michelin type Street-Xo (David Muñoz), BiBo (Dani García), and many restaurants very current as Chuka Ramen Bar.
But to bring you this recipe seemed poor to not bring you a recipe for stuffing, so I started to remember all those who had tried and came to the conclusion that a sweet and sour pork would be the most fun. Dani García prepares them in BiBo with pork ribs barbecue in one of his brilliance which dominates the cooking of pork as anyone (you have to try it if you have the opportunity), but I've preferred to roasting a leg of pork, ham, cuts so spread me more.
It is a very easy recipe that much is spreading and that can freeze if needless it meat, ready to take any football afternoon or any dinner scoundrel that suddenly you have at home. This is for those recipes that my I love because it blends a lot of flavors and cuisines. I hope that you also enjoy it!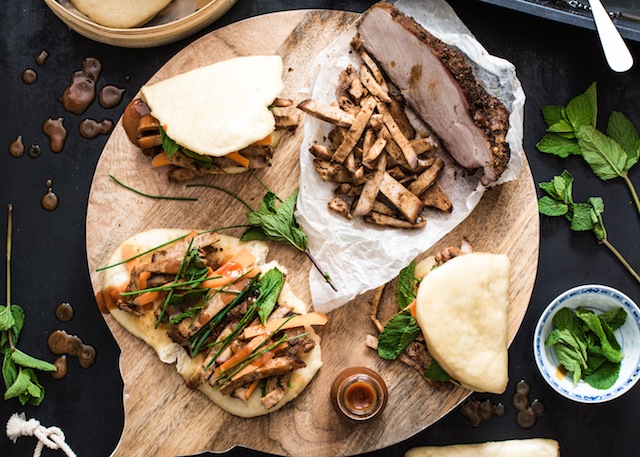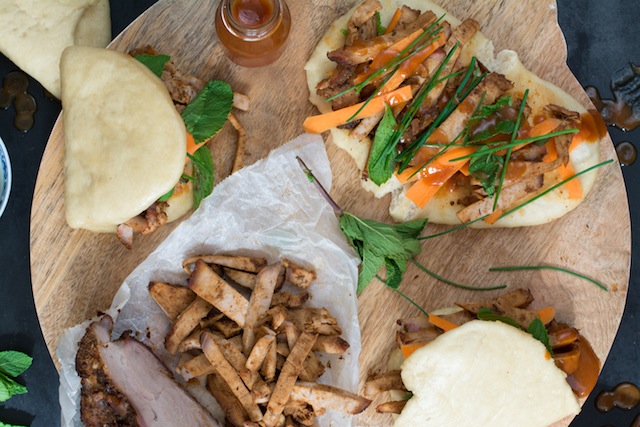 Ingredients
For pig
2 kg of ham in a piece for roasting €8,00
3 tablespoons dark brown sugar (if you don't have you can use normal brown sugar but sugar cane is darker and is better) €0.30
2 tablespoons mixed spices criolla (recipe below)
1 tablespoon salt €0.02
1 tablespoon cumin powder €0.10
1 spoonful of paprika powder (half sweet and half spicy) €0.10
1 tablespoon freshly ground black pepper €0.10
1 tablespoon of chili powder €0.10
For the Creole spice mix
2 tablespoons and a half (half spicy and half sweet) pepper €0,20
2 tablespoons salt €0.04
2 tablespoons garlic powder €0.08
1 tablespoon of black pepper ground €0.10
1 tablespoon of chili powder or cayenne pepper €0.10
1 tablespoon of oregano dry €0.10
1 tablespoon thyme dry €0.10
For the barbecue sauce:
125 ml of cider vinegar €0.09
125 ml of tomato ketchup €0,26
average of dark brown sugar and 1 tablespoon €0.04
1/2 tablespoon of mustard yellow €0.01
1/2 tablespoon molasses or cane syrup €0.01
1/2 teaspoon salt €0.01
1/2 teaspoon pepper pink ground €0.03
For the bao buns
525g of flour, and a little more for sprinkling €0,26
1 tablespoon and a pinch of sugar more average €0.02
1 teaspoon of baking powder dry bakery €0.15
50 ml milk €0.03
1 tablespoon of sunflower oil and a little more for greasing €0.03
1 tablespoon rice vinegar or white wine vinegar €0.02
1 teaspoon of baking powder (type royal pastry) €0,20
200 m of water €0.06
Total 10,66 posed between 14 rations that at least €0.76 per unit. A perfect starter for dazzle at home with something original
Directions
1. for the pork. Place pork in a baking dish. In a bowl, combine the sugar, the Creole spice mix, salt, cumin, paprika, pepper and Cayenne. Pork needs to be completely impregnated. I did für massage it with a little oil and then massage the mixture everywhere so I was well covered at the top and at the bottom. Cover with paper film and leave in the fridge for a minimum of 4 hours (I left it overnight).
2 preheat the oven to 175 degrees. Remove the meat from the refrigerator, remove the plastic wrap. Season lightly with salt and leave with the part with more fat side up. Cover completely with foil. Bake for 2 hours. Reserve at room temperature.
3. for the sauce of barbecue, in a bowl, mix all the ingredients and mix well to dissolve the sugar. Place in a jar and add to the rolls with pork according to your taste!
4. for the bao buns, mix the flour, sugar and half a teaspoon of salt in a large bowl. Dissolve the yeast and a pinch of salt to 1 tablespoon of warm water, then add it to the flour with the milk, oil, vinegar and 200 ml of water and baking powder. Mix until dough, adding a little more water if necessary.
5 turn dough onto lightly floured countertop and knead for 10-15 minutes, or until soft. If you have a blender with the hook accessory You can use it by kneading for 8 minutes on medium speed. Place in a lightly oiled Bowl, cover with a damp cloth and let stand for 1 hour, or until it doubled in size in a warm place free from drafts.
6. roll out the dough in the form of long sausage, about 3 cm thick, then cut into pieces of about 3 cm wide (must be 16 pieces)
7. with the Palm of your hand, form a ball with each piece and let stand 2-3 minutes. Roll form into an oval of dough about 3-4 mm thick. Rub the surface of the oval of dough with oil and fold in half about itself inside leaving the oiled part.
8 put the stick oiled in the center of the oval. Fold the dough on the stick, then slowly pull stick.
Transfer buns prepared to a baking tray lined with baking paper, cover with a clean kitchen towel or paper lightly greased film and leave to stand in a place warm for an hour and a half, or until doubled in size.
9 heat a pan with boiling water and using a steamer, Cook buns 15 minutes until they are swollen. I chose to make them big so they left me 10 English muffins and I had 25 minutes to cook.
10. open each loaf in half and put a coat of barbecue sauce. Then add pieces of roast pork and finish with a little grated carrot, a few pickles and some cabbage, mint or cilantro leaves and a few stems of chives. Surprising and delicious. You like safe.
Tips and Tricks
Add a touch of crisp with a little fried onion
Used rolls of bread if you don't have time to make the bao buns
Difficulty: easy
Preparation time: 3 hours longer than rest of bread and marinated meat
Servings: 10