The Taj Mahal has undoubtedly been one of the most incredible experiences we have had on a trip so far.
This Palace is one of the seven wonders of the world World Heritage Site and undoubtedly one of the most beautiful buildings that exist in the world. It was built between 1632 and 1654 in the city of Agra by Emperor Shah Jahan as a mausoleum in honor of his favorite wife, Mumtaz Mahal who died in childbirth of their fourteenth child. Its white marble dome is the best known part, but the set It also has a large mosque, a guest house and beautiful gardens and fountains.
Many of you have asked me how we organize everything to be able to enjoy alone for a few minutes of this wonderful monument and the answer is here.
I must tell you that these photos are taken with my iPhone 14 and with my Olympus. The light arriving at 5:45 in the morning was very poor. The first photos were taken with the mobile because it was able to capture light that the camera was not capable of. I thought that none of the first photos would come out because it was very dark but incredibly they came out and were beautiful.
So so that you can have photos as unforgettable as these I will tell you all the steps that we thanks to our guide Arwind, we follow to get a rare alone and be able to take this wonder of photos.
The first thing to keep in mind when you are going to visit the Taj Mahal if you want to have the option of visiting it almost alone, are the preparations.
It is very important to get up early yes or yes. Depending on the season the Taj Mahal opens half an hour before sunrise. We were in November so we got up at 4 in the morning. Our guide picked us up with the driver at 4:30 and by 5 am we were already at the door of the Tal Mahal.
The first door that opens is the west door, so that was the one chosen by us. If you go to the front door, in addition to opening 15 minutes later, you will have dozens of tourists who will enter at the same time as you. The west door is usually chosen by backpackers to enter the palace, and they do not usually get up so early, so it is the door where you will have more chances of entering the first or the first and where there will be fewer people waiting to enter so soon.
Another very important thing if you want to enter one of the first and be able to enjoy the palace for a few minutes for you, is to enter very light of luggage. No bags, no coats or jackets, no backpacks or bags that have to go through the metal detector. We only brought a bottle of water and a shawl for myself. It was very early, I was wearing short sleeves and I thought about wearing a jacket, but the guide recommended that I wear a shawl better so I don't have to go through the metal detector. And so it was. MY "sari" and a shawl and voila.
As a complement if you want to take photos with reflection you should not forget a bottle of water that will refresh you during the visit to the Palace but above all it will help you to get these incredible photos. Simply drop some water on the ground, stand in front so that the water reflects your body, turn your mobile and that's it!
Last but not least is the clothes with which you are going to visit. When we arrived in India, I knew I didn't want to take pictures at the Taj Mahal dressed in jeans and a shirt. I wanted something that would make me feel special in such a special place, something comfortable and beautiful to bring back as a souvenir and that I could use later at any time but that was very Indian too.
At first I had thought of a sari, one of the most beautiful and elegant regional dresses in the world, but when I discussed with the guide what I wanted, he convinced me that at 4 in the morning I would not be able to wear it alone, and explained that at that time there would be no girl at reception to help me.
So he suggested that I make a dress but with the fabric of a sari, and told me that in Jaipur he would take me to a tailor to make it measure at the time, to have it ready in Agra, where we would visit the Taj Mahal.
And so it was. When we arrived in Jaipur and went to order it, I was wearing a skirt, and I decided that a skirt would be more versatile and I could wear it more than a dress. Said and done: a tailor took measurements for me in the workshop, I chose the sari that I liked the most to make, and with the rest of the fabric of the sari I asked for a shawl so that the fabric would look. . For the top, I also ordered a black top like the one Indian women wear when they wear the sari. They agreed to take him to the hotel that same afternoon and I assure you that the result was much better than I expected.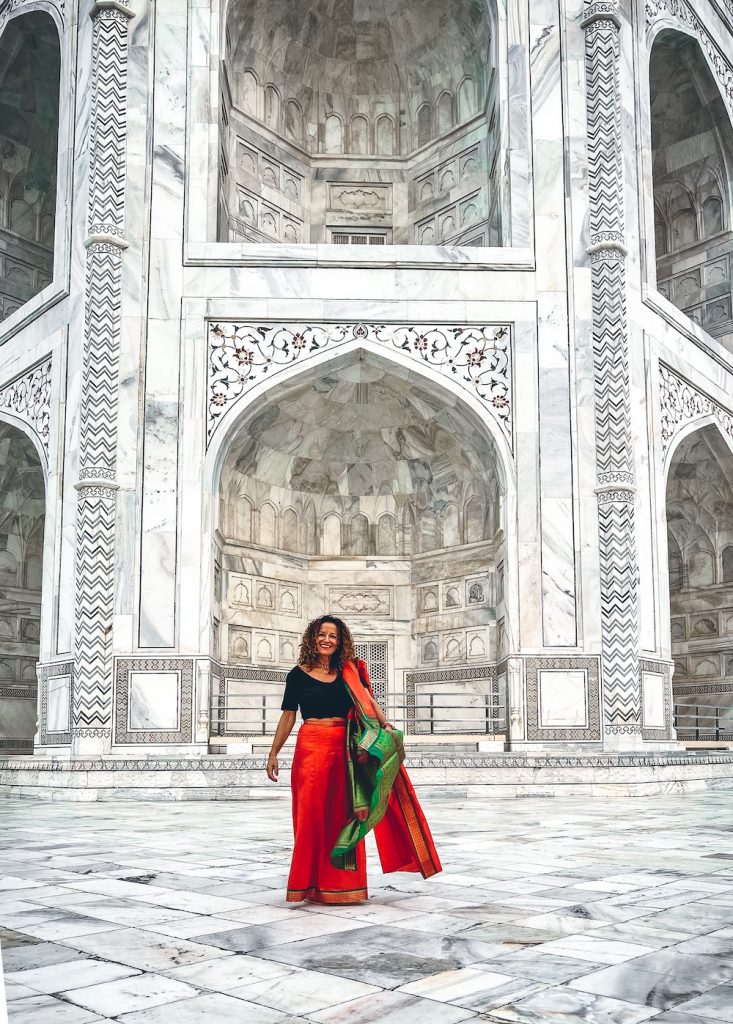 So arriving that morning, I just had to put on my skirt and my top, take my shawl, the camera, the bottle of water