Paul Young sang (original version Marvin Gaye) thatWherever I lay my hat tha ' s my home) but I believe that your home is where your heart is, and part of the mine is in Madrid. Perhaps that is why I also find it my city and perhaps for this reason also visiting it is like back home and at the same time an adventure that always see me something new. On my last visit I discovered a new market, of San Ildefonso and I bring you today you because I loved it.
The market of San Ildefonso is located in calle Fuencarral and born with the spirit of a Street Market, inspired in other markets as the Borough of London or the Chelsea Market in New York, but much smaller. Situated on the axis of the districts of Chueca and Malasaña, Tribunal, the market becomes rather than stop for a snack, drink a few beers or eat pecking enjoying the variety of their premises that offer a quality product that you can also take home.
It is not exactly one market in the city as it can be Antón or San Miguel, but it goes one step further to gastronomy: Here you will not find stalls of vegetables or fruit boxes but a local relationship where itching, try to eat... definitely something new, something traditional, or something different.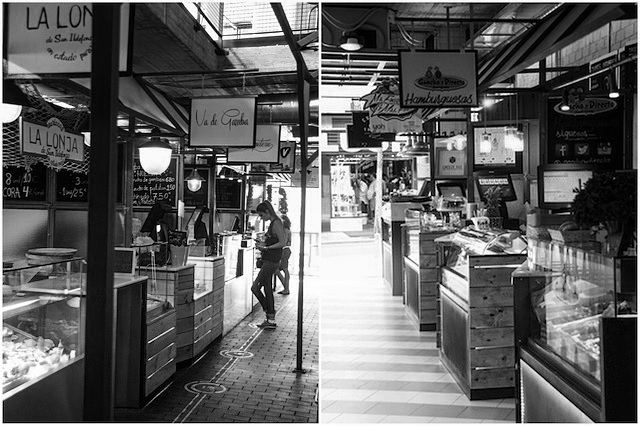 It's a market where there are a wide variety of specialized culinary jobs and of very high quality. Iberian sausages of first quality, a branch of Poncelet, for my the best cheese of Madrid, gourmet hamburgers, croquettes, fish and seafood, kabobs and eggs, wines among others (are 19 in total), make that one does not know for which decide and although the first intention is that of a mild snacking, then choose to stay and enjoy the food testing here and there. To end? A cocktail or a gin and tonic at the beverage bar which is on the top floor and has a terrace. No hurry please.
But mostly the market is an architectural beauty, a monument to the recovery of spaces with this fashionable vintage industrial touch that has been applied with skill to this space. The floor is made of cobblestones, which make it as if one is walking down the street and the entire market is surrounded by large casement windows overlooking a nice and bright image throughout the building. It has three floors dedicated to the market and some more with luxury apartments, and features a unique roof that covers everything. A sample of the avant-garde architecture.
Interior terraces (I want the one in the second floor want for my home!) are plagued with high tables with seats where you can enjoy your choice. The bartenders and waiters are dressed as French garçons in black aprons that complete the look of this fantastic place which I promise to return.
I wanted to me to take some dessert but nothing seduced me, so I preferred to take a pumpkin with walnuts Pecans pie... as the of! my recipe!