These carrot donuts you are going to repeat them again and again, The recipe I have borrowed from my friend Vero from @oh.mamiblue and they are gluten-free and lactose-free donuts that are prepared in the micro and that still have all the flavor and a soft texture that you will not believe.
As easy as mixing all the ingredients by hand in a bowl, filling the mold and microwave. I promise you that they are worth trying. You will only need 5 minutes and it will be the best 5 minutes in the kitchen, you will see.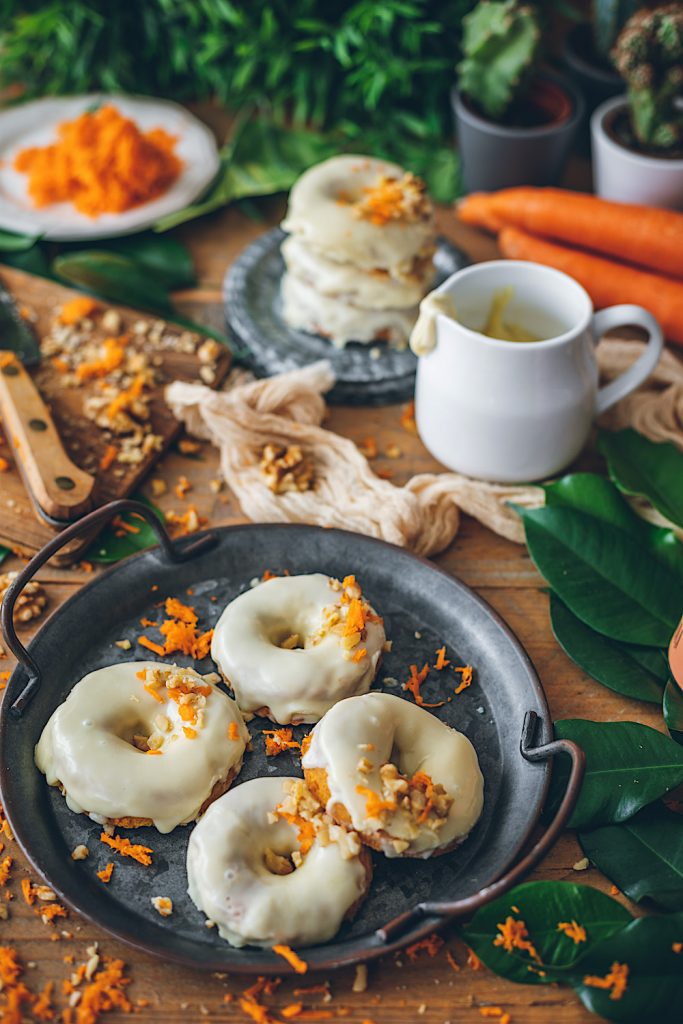 Ingredients
180 g grated carrot
1/2 teaspoon olive oil to grease the mold
3 eggs
70 g agave syrup, honey or maple syrup
1/2 teaspoon vanilla extract
80 g of wheat, whole wheat or gluten-free oatmeal flour for a celiac version
7 g baking powder
1 teaspoon of a mixture made with cinnamon, orange zest, vanilla and a pinch of ginger
For decorating the cake
1 lactose-free white chocolate bar
a few chopped nuts
a little carrot zest
Directions
Grate the carrot with a fine grater.
In a dish with the help of manual rods beat the eggs. Add the syrup or honey, vanilla, baking powder and flour and mix well until there are no lumps.
Add the spices and the grated carrot and mix again.
With the help of a brush we lightly grease our doughnut mold with oil.
Put in the microwave for about 4 minutes until they are well seasoned and the texture is that of a cake.
Unmold and let cool on a rack. Meanwhile, melt the white chocolate and carefully bathe the top of the donuts in chocolate.
The easiest way to do this is by taking the doughnut and dipping the top in the chocolate by turning it over. Before the chocolate hardens, put some chopped nuts and a little grated carrot and enjoy!