These crispy cookies without an oven are the ones I have prepared this emanates already twice! They are super simple but the best thing is that they are delicious. Its crunch is also a plus that at home enchants
You can put them in a brownie mold so that you will have a giant chocolate bar that you can cut into small portions to take after the gym, between meals or as a snack.
You can make them only with oatmeal or only with puffed rice, You can also mix with quinoa, spelt or puffed wheat, and if you want you can make them with your favorite nut: walnuts, almonds, pistachios or all together
Here you have the recipe and let me know.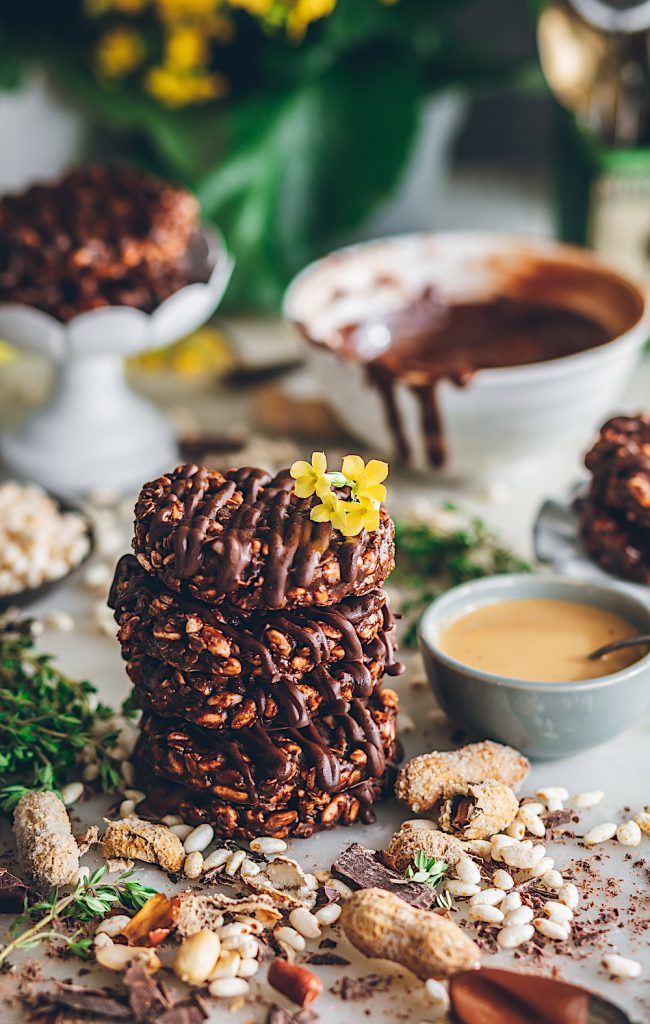 Ingredients
125 ml of peanut butter 100% peanut (if it has sugar you still need to lower the amount of syrup or honey)
60 ml of coconut oil
60 ml of maple syrup, honey or agave syrup. If you use sugar, dissolve it first in coconut oil or peanut butter so that the pimples are not noticeable.
2 tablespoons unsweetened pure cocoa powder
a pinch of salt
1 teaspoon pure vanilla extract
40 g gluten-free oat flakes (see notes below)
35 g puffed rice (see notes below)
15 g of grated coconut
Directions
In a clean skillet, put the oat flakes and lightly toast them so that they get crispy.
On a baking sheet place a baking paper. Reserve
In a bowl mix the peanuts butter, salt, maple syrup and coconut oil and mix. If the peanut butter and/or coconut oil are very hard, put in the mic for a few seconds and mix well.
Add the vanilla and cocoa powder. Move well.
Now add the puffed rice and oats and mix well.
Finish by adding the grated coconut and stir until completely combined.
Put a tablespoon of the mixture on the tray. The size depends on what you like. I make them the size of a tablespoon because so like my son. Crush a bit. When all are done, put in the fridge for a couple of hours or in the freezer half an hour until mixture hardens. Then they will be crunchy and delicious
Tips and Tricks
If the puffed rice is soft or has caught moisture, you can bake it for 10 minutes at 180 degrees and it will crackle again.
Serve as the fridge or frozen
Make them smaller if you want a simple snack
You can make them only with oatmeal or only with puffed rice, You can also mix with quinoa, spelt or puffed wheat, and if you want you can make them with your favorite nut: walnuts, almonds, pistachios or all together
Difficulty: easy
Preparation time: 5 minutes longer for cooling
Servings: 12 large or 20 small