This Charlota chestnut stems from pure chance. Since trying the mold Lékué Charlotte at the fair in Paris, I knew it would make a charlota in autumn. The charlota is a dessert made with crackers or biscuits and filled with a cream that originally had fruit but which today can be almost any flavor, as this Charlota chestnuts and in fact I have a mouse asparagus rondándome head for Christmas.
At first, I shuffled the possibility of a charlota of meringue milk (do I bring this summer, promised) but the truth is that September went really fast and in October not beat the meringue but continue doing almost as hot as in August. But it was not until my last trip to Barcelona when I tasted delicious mouse chestnut I decided that my Charlota marron glace chestnuts and be the winner of all options. I was mulling over the head about how I would do and I got to work with my Charlota chestnuts.
This is a recipe for chestnut charlotte very light and although you may appear to be a heavy dessert, it is not. I guarantee. It is very colorful and the mold is very easy to do, so you just have to put yourself in place. If you have no mold Lekue, you can use a springform pan. Not a thousand years preparing a charlotte, charlotte or think from now incorporate my favorite desserts. You'll see as you feel the same after trying my Charlota chestnuts!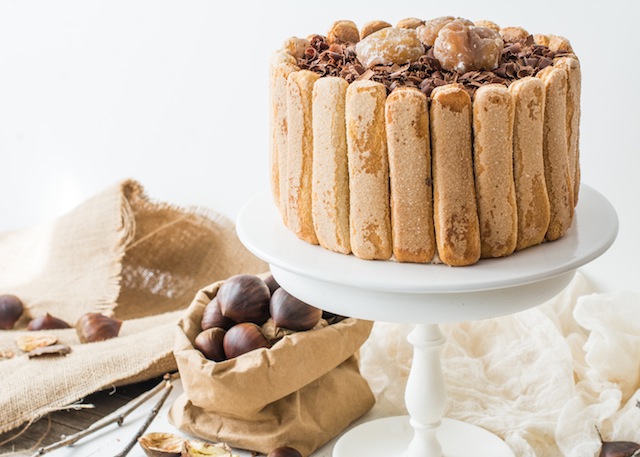 Ingredients
For the base
a package of sponge fingers, sponge cake or ladyfingers biscuits € 1.10
1 bowl with milk for dipping biscuits - can dip them in syrup or liquor if you prefer but I like to dip them in milk taste not to remove the filler € 0.10
Para la crema pastelera
4 egg yolks € 0.50
250 ml of milk € 0.17
3 tablespoons sugar € 0.04
1 tablespoon pure vanilla extract €0.30
1 tablespoon cornstarch with 2 tablespoons of cold milk - mix
For the mousse
600 g of cream with a minimum of 35% fat - with less fat you know that you can not mount € 0.75
6 sheets of gelatin € 0.60
custard
3 tablespoons sugar € 0.04
200g chestnuts € 1.20
300 ml of milk € 0.15
300 g of cream brown glase € 5.00 - you can make it with brown glase but I found it and cream and loved the texture and flavor
100 g of black chocolate with 3 tablespoons of cream € 0.60
Total € 10.55 sue between 12 minimum rations that come out are € 0.88 per serving of a delicious dessert category and spectacular. Just my dessert of Christmas.
Directions
1. In a pan put peeled chestnuts with the milk to boil. Let cook for about 20 minutes until the chestnuts are tender and the milk has almost disappeared. If milk is necessary to drain it. Grind the nuts and let cool completely.
2. In a saucepan put to heat the milk with the vanilla and bring to a boil. In a bowl put the egg yolks and sugar and beat with sticks until they have doubled in size, are pale and very soft. Then Pour the boiling milk over the yolks and move with a spatula. Return to heat and add the cornstarch mixed with milk and stir with a wooden spoon or spatula until thickened. Book and chill well.
3. Dip the biscuits in a little milk - only a little and only on one side and otherwise milk will drop and then the dish will get wet. Around the contour line of the removable mold so that the biscuits cover walls. Also cover the bottom and reserve the rest of biscuits and milk.
4. In a bowl put the gelatin sheets in cold water to hydrate.
5. Mix the chestnut puree with custard ensuring that the mixture is uniform. Reserve
6. In another bowl put the cream brown glaze and set aside.
7. Assemble the cream with the sugar. Drain the gelatin sheets and put them on the bus for a few seconds. Join the cream slowly to avoid curdling. To this add a tablespoon of liquid to the liquid and mix gelatin cream. Add another tablespoon of whipped cream and mix again. Repeat with another tablespoon and mix. Pour the mixture into the bowl of whipped cream with a spatula, well lard.
8. In a bowl, melt chocolate with cream 3 tablespoons every 30 seconds in the microwave, and reserve until it loses heat
9. Mix half the cream with the chestnut puree and pour the mixture into the mold. Top with chocolate cream.
10. Mix the other half of whipped cream icing with brown and dump it on the chocolate.
10. Garnish with a few chips and a chocolate icing black marrons.
Tips and Tricks
The best thing is to make the cake the day before and leave in the refrigerator overnight or pass it to the freezer and let thaw for 3 hours in the refrigerator
If you want to add some caramelized almonds or chopped nuts to a mousse to give it crunch
Preparation time: 40 minutes plus cooling time (at least 5 hours)
Difficulty: easy
Servings: 10