With these chicken and ham croquettes we celebrate today at home the day of the croquette. Is not that I pen tooth these days, but today I have babeado listening to a program on the radio with a special croquettes, and I, who thought that there were flavors Raritan croquettes, so far I have has that imagination takes the power of more than one when croquettes It concerns.
The croquettes are probably my favorite dish. Not be you but in my house the day of the birthday, each chooses its favorite food. And was always licking are croquettes with salad. I love the broth for dressing the salad by wetting the crispy crust of croquettes.
This time are some very traditional chicken croquettes, and it is that my son had been months asking me lifetime croquettes. So I have given him a surprise and when it has come to the school would you guess what has noontide? A dish of croquettes removing the sentio.
I love them because they are a dish of wasteless, and if the bechamel is cooked there is nothing in the world that improves it. That chicken left over after you have made a good stock is in better order chicken croquettes and we transform a meat which has lost lots of flavor, a delight for the senses. Let's get them!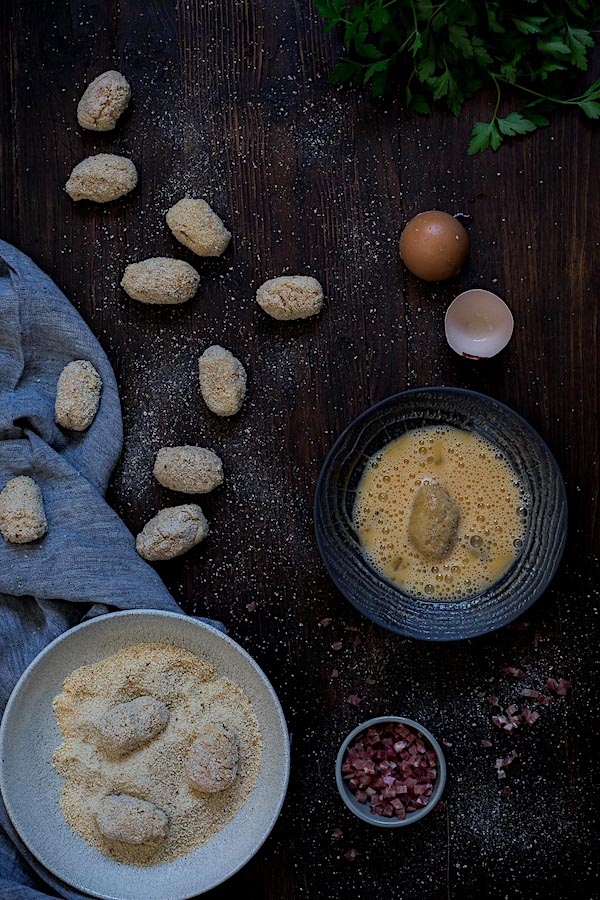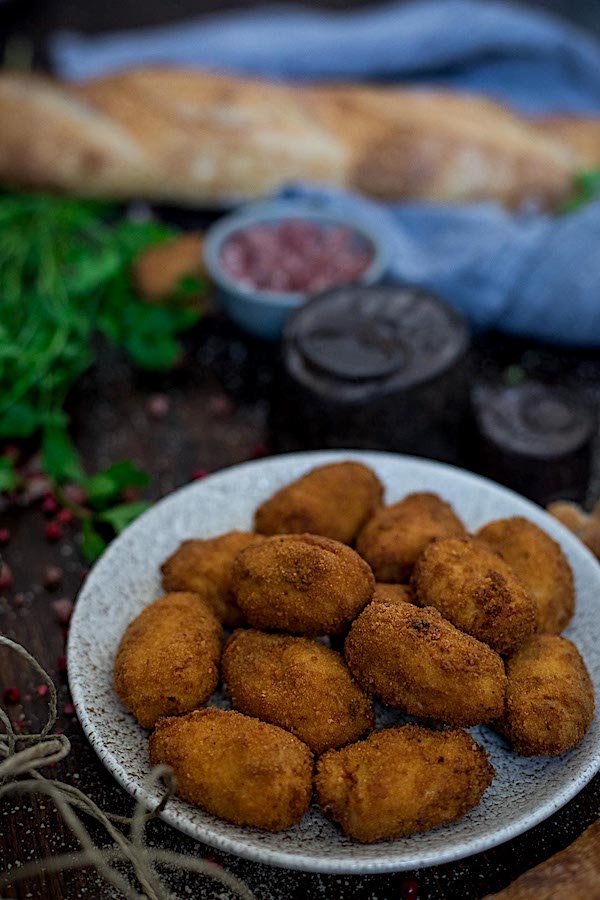 Ingredients
For the filling
250 g of chicken (I always make a broth that I promise to bring you the recipe to the one already, and the chicken I use for the broth is the one I use to make the croquettes)
200 g of very chopped ham
1/2 onion
1/2 tablespoon butter
1 tablespoon olive oil
For the bechamel
700 ml milk
75 g flour
1 tablespoon and a half of butter
1 tablespoon olive oil
1/2 teaspoon nutmeg
1/2 teaspoon salt
a little freshly ground black pepper
For the batter
300 g of breadcrumbs
3 eggs
1 liter of olive oil for frying (you can then use in many more preparations)
Directions
Chop the onion very finely, and rehogaren a skillet in oil and butter 5 minutes. Add the chopped chicken and mix thoroughly. Season with salt and pepper and reserve.
Put the milk to be heated in a saucepan over medium heat.
Meanwhile in a large skillet or large saucepan to fire half put to melt the butter with the oil. Add flour and turns until the flour is toast slightly moving well with a spoon or wooden spatula until a ball forms.
It is very important that we ensure that flour is cooked both now and then with milk because that is what will make our Croquettes unsurpassed throughout the process. This flour with oil and butter mixture is lama roux and is the basis of all the croquettes.
Start adding the hot milk gradually moving non-stop with a few rods (reserve the spoon for later), taking care that there are no lumps. but it is not the most important thing because in the event of lumps, you can remove them with the help of a hand in the same skillet or pan mixer.
When we are sure there are no lumps, descend the fire to medium-low and continue cooking the bechamel moving nonstop. Add salt and nutmeg poso just to get the taste that we like. To me, like with much nutmeg but this is a matter of taste.
Last minutes (3 or 4), add the ham and the pole and move well. Continue cooking without stopping moving, now with the wooden spoon until the sauce has completely lost the taste of milk and the flour is not noticeable (about 8-10 minutes). The flavor will be simply irresistible at this time.
Pour the mixture on a baking tray. Well extend the chicken croquettes mixture and let cool at least 10 hours in the fridge. It is best to let it cool overnight in the fridge.
The next day, beat the eggs in a bowl and put grated on other bread. Prepare a tray (I use freezer).
With your hands or a spoon, take a portion of dough for chicken croquettes (size depends on our particular taste. I always do some larger and smaller ones that I like to put an appetizer).
The portion of dough through the egg beaten with the help of two spoons. Drain the egg well and pass it to the dish with bread crumbs. Using a spoon or your hands (I prefer to do it by hand), shaping the croquette taking care that it is well covered bread grated on all sides.
Place the chicken on a plate croquettes (I put them in the freezer tray because I always freeze it. For best results, it is best to freeze them on a tray in the plane, and then when they are already frozen, transfer to a bag and frozen).
Now patience and continue to end them all
To fry them, heat the olive oil, and fry the chicken croquettes taking care of not sticking with others and which are well browned on all sides. Do not FRY never more than 5 or six every time. Put them on a plate with a paper towel and then pass them to a dish to enjoy!
Tips and Tricks
To me I like the soft Kibbles, so use these measures in milk and flour. If you like thicker, put only 1 liter of milk.
The imagination to power: test to make them of tandoori chicken
Difficulty: easy
Preparation time: 40 minutes longer and cooled
Rations: it depends on the size of the croquettes