These chicken and hard-boiled egg croquettes are the ones that mother prepared at home and are one of my favorites. My favorite food has long been croquettes. which I also like more with salad than with chips. A good lettuce and tomato salad with carrot and tuna and some fresh spring onion.
To such an extent that on my birthday I always ask my mother to prepare the same thing for me: croquettes with salad. I love them and they are one of those portions that I always ask everywhere I go because I love to try them in every possible way.
At home I like to make them almost everything and these chicken with hard-boiled egg, they are the ones they always like the most in Cas, although the ones of tandoori chicken or those of ham are also delicious.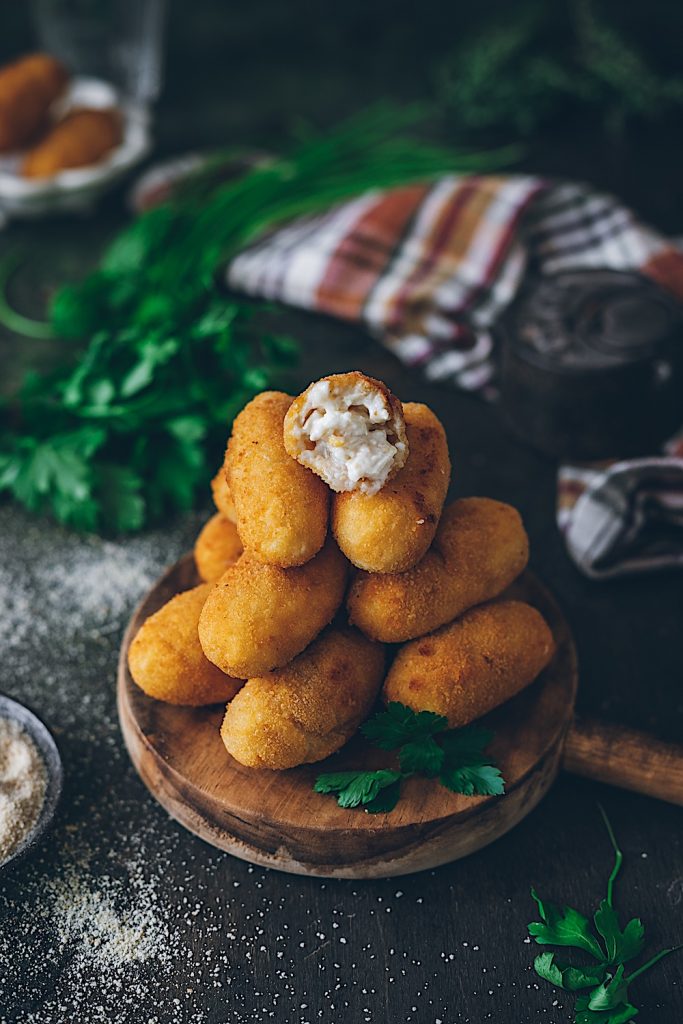 Ingredients
For the filling
400 g chicken (I always take advantage of chicken from making broth to make croquettes)

3 hard-boiled eggs

1 onion

1 tablespoon butter

2 tablespoons olive oil
For the bechamel
750 ml of milk

75 g flour

1 tablespoon and a half of butter

1 tablespoon olive oil

1/2 teaspoon nutmeg

1 teaspoon salt

a little freshly ground black pepper
For the batter
300 g of breadcrumbs

3 eggs

1 liter of olive oil for frying (you can then use in many more preparations)
Directions
Chop the onion very finely, and sauté in a saucepan with the oil and butter for 5 minutes. When soft, add the chopped chicken along with the chopped hard-boiled eggs, and mix well. Season and reserve outside the saucepan.
Heat the milk and set aside (hot milk will prevent lumps from forming when making the béchamel).
In the same saucepan melt the butter with the oil over medium heat. Add the flour and let cook until the flour is lightly roasted moving well with a spoon or wooden spatula until a ball is formed.
It is very important that we ensure that flour is cooked both now and then with milk because that is what will make our Croquettes unsurpassed throughout the process. This flour with oil and butter mixture is lama roux and is the basis of all the croquettes.
We begin to add the hot milk little by little moving non-stop with a few rods (we reserve the spoon for later), taking care that there are no lumps. But it is not the most important thing because in the event that there are lumps, we can remove them with the help of a hand mixer.
When we are sure there are no lumps, descend the fire to medium-low and continue cooking the bechamel moving nonstop. Add salt and nutmeg poso just to get the taste that we like. To me, like with much nutmeg but this is a matter of taste.
After about 5 minutes add the chicken and hard-boiled egg and move well. We will continue cooking without stopping moving, now again with the wooden spoon until the sauce has completely lost the milk flavor and the flour is not noticeable (we will need in total about 15-20 minutes).
Then pour the mixture onto a baking tray. Spread well and let cool at least 10 hours in the fridge. It is best to let it cool overnight in the fridge.
The next day, beat the eggs in a deep dish and put the breadcrumbs in another. We prepare a tray (I use the one in the freezer).
With your hands or with a spoon, form the kibble. The size will depend on our particular taste. I always make some big ones and some smaller ones that I like to put as an appetizer).
Pass each croquette through the beaten egg with the help of two spoons. Drain the egg well and pass them through breadcrumbs. With the help of the hands we shape the croquette taking care that it is well covered with breadcrumbs on all sides. If you want to make sure that they do not break when frying, it is better to pass them first by breadcrumbs, then by beaten egg and again by breadcrumbs.
Repeat with all the dough
Place the croquettes on a tray or plate.
To fry them, heat the olive oil, and fry them taking care that they do not stick to each other and that they are well browned on all sides. Never fry more than 5 or six at a time. We put them on a plate with absorbent paper and then enjoy!
Tips and Tricks
I like very soft croquettes, that's why I use these measures of milk and flour. If you like them thicker, put a little more flour

Imagination to power: try to make them tandoori chicken, chicken with ham, prawns ...

Difficulty: easy

Preparation time: 40 minutes longer and cooled

Servings: depends on the size of the croquettes, but I get about 90