This lemon chicken fricasé is another chicken recipe of those that I love to repeat at home. It is easy, very economical and also a very healthy way to eat chicken
And it is that we continue with the recipes that I am going to prepare with the Zwilling Fresh & Save Kit,so that you can know the different uses and all the advantages that this small device offers.
Normally a lemon chicken fricasé is a chicken in pieces that is marinated and takes a minimum of 8 hours to catch the flavor. However with the Fresh & Save, in just one hour we will have a chicken with all the flavor, tender and ready for the result to be a delicious chicken. The vacuum makes the marinade penetrate the chicken meat much more quickly and especially in such an easy way that I use it over and over again in a lot of different recipes.
Of course loo you can also do with pork, but the result with the chicken is so good that I'm sure you'll opt for it like me. Do you think if we tried it?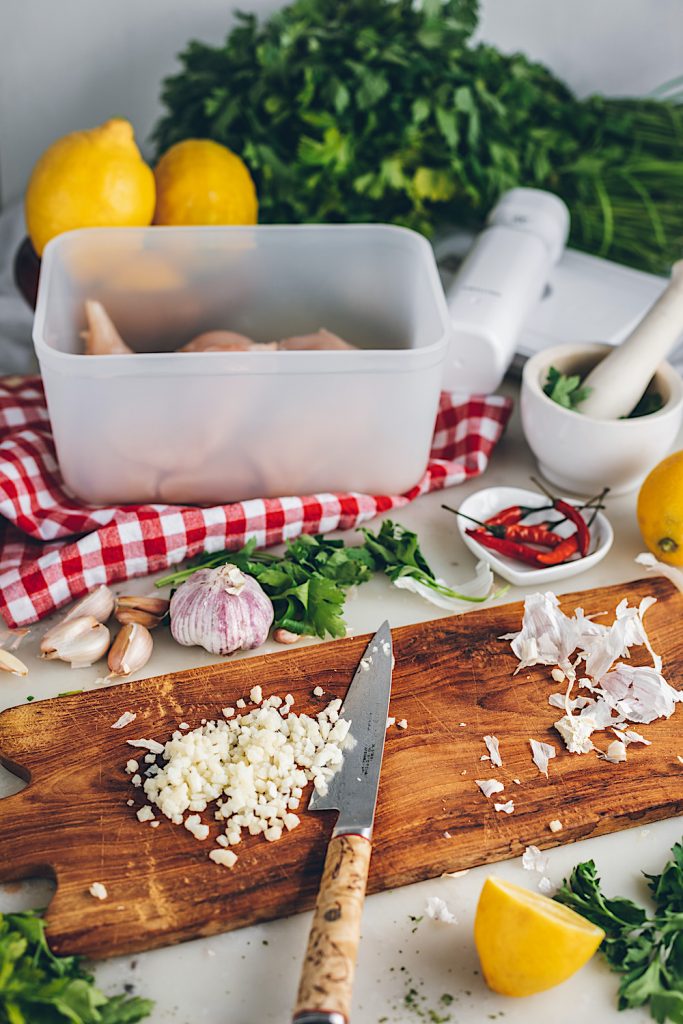 Ingredients
For lemon marinade
1 kg of boneless and skinless chicken
1/2 cup chopped parsley
5 tablespoons olive oil, divided
the juice of two small lemons or a large one
2 tablespoons chopped garlic
2 teaspoons of chili flakes
2 teaspoons ground cumin
2 teaspoons salt
2 teaspoons freshly ground black pepper
For the fricasé
marinated chicken
1 tablespoon butter
1 tablespoon olive oil
1/2 onion
1 carrot
25 g wheat flour
150 ml of white wine
150 ml of chicken broth
2 sprigs of fresh parsley
2 twigs of fresh thyme
1 bay leaf
50 g of fresh cream (or cooking cream)
1 lemon on wheels
some black peppercorns
Salt
We prepare the marinade of the chicken with chopped garlic, chopped parsley, lemon juice, chopped red chili and salt. We put the chicken in a container fresh and save large
Let stand in the fridge until we continue preparing the recipe.
Finely chop the carrot and onion.
In a preferably iron pan (I used mine from Staub que so much I like), put a tablespoon of oil with the butter and brown the chicken drained from the marinade.
Remove the chicken and add the onion and grated carrots. Let cook over medium-low heat for about 10 minutes. Add the flour and move well. Add the white wine and chicken broth. Add the very chopped herbs. We return the chicken and let it cook over medium heat for about 15 more minutes.
Add the cream and lemon slices along with some black peppercorns and nutmeg and let cook for about 10 more minutes.
Tips and Tricks
You can add some mushrooms or mushrooms to vegetables
Difficulty: easy
Preparation time: 45 minutes
Servings: 6