With this recipe brioche chocolate begins a series of recipes for breakfast so you can prepare breakfast this holiday season. For many years, I implemented in my house the healthy habit of breakfast together the morning of the day of Epiphany, January 6.
That morning Reyes Magos enter every house at different times and therefore each one of my brothers come to mine at different times. He breakfast It is a brunch but my way, a delicious breakfast with our recipes where there is puff pastry with egg and bacon, ham, cheese, a table of cold cuts, and much confectionery as this chocolate brioche.
Of course not missing roulade of kings, but I also enjoy making muffins, biscuits, chocolate and confectionery Brioche so that all have what we like that it's my favorite of the year tomorrow.
So this year I've decided to share with you this chocolate Brioche and some of those recipes of delicious breakfast which I usually do, and others that I prepare this year. In addition I'd like to share some ideas for the decoration of your table in these beautiful dates and both enjoy.
For this recipe chocolate brioche today is one that I love. They're more like rolls puff although actually are softer rolls.
My son loves to help especially with the chocolate cream is homemade course (prohibited use purchased hazelnut cream, I love this recipe but not worth it). Do you dare? I promise to help you. Come, let these chocolate brioche.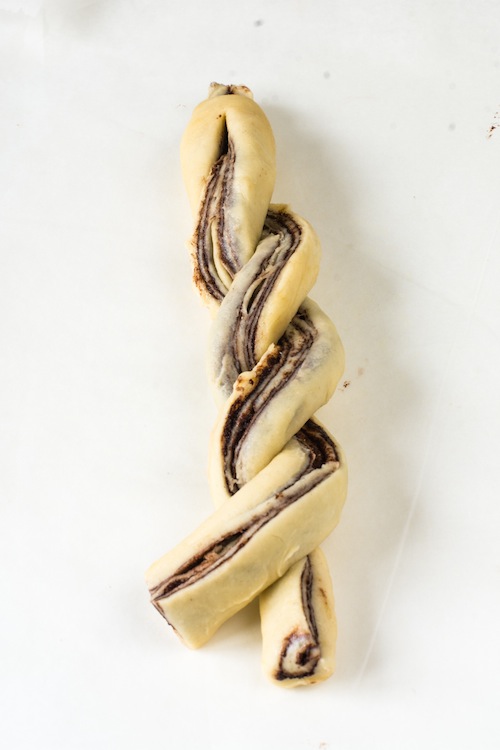 Ingredients
380 g flour € 0.20
8 g of dry baker's yeast € 0.85
50 g sugar € 0.04
6 g de sal 0,02 €
186 g of eggs (3 eggs and middle size L) € 0.47
65 g of whole milk € 0.05
170g unsalted butter, at room temperature, cut into cubes € 0.84
For the filling of Chocolate
60g unsalted butter, at room temperature € 0.29
30 g sugar € 0.02
30 g of pure cocoa powder € 0.45
2 g vanilla powder € 0.20
Total € 3.43 for 8 scones which I know little. Only € 0.43 per unit for a breakfast of champions.
Directions
1. Grease a large bowl (I always use nonstick spray because everything is easier). Reserve
2. For the brioche, put the flour and baking powder in a bowl of electric mixer to which we will have put the dough hook and mix for about 15 seconds to evenly distribute the yeast.
3. Add all remaining ingredients except the mass butter and mix at low speed for 4 minutes.
4. Add the butter slowly, incorporating after each addition before adding more. Stop the mixer and using a spatula, dough down the sides and bottom of bowl and push the dough remaining in the hook. Mix again for a total of 30 minutes at low speed.
5. Place the dough on a lightly floured surface. Make a square and fold the left side to the right, and right to left, then the upper part to the bottom and bottom to top. It should look like a package. Put the dough to fold down the greased bowl and cover with plastic wrap (you know that I use a shower cap amis hotel I spend breads and pastries). Let stand one hour.
6. Repeat the folding process, and return it to the bowl. cover with plastic wrap and leave in the fridge overnight.
7. The next morning make the filling. To do beat the butter until pale and creamy. Add the sugar and beat until light and fluffy. Add cocoa powder and vanilla powder and mix until incorporated.
8. Remove the brioche from the refrigerator and divide the dough into four equal parts. Working with one piece of dough at a time, keeping the rest in the fridge.
9. On a lightly floured surface, spread a piece of dough into a rectangle 40 cm by 20 cm .. With a spatula, spread a quarter of the chocolate cream over the dough, leaving 2 cm mass with cream each one of the long sides. Starting from the long side, roll the dough and once the mass is rolled, you have to roll the dough like a macaroon to stretch up to 50 cm long but being careful not to crush it. Cutting the piece of 50cm in two 25 cm.
10. With a large knife, make a cut in the center of the dough, leaving 3 cm on top uncut. Place the right half of the dough on the left, and trenzarla by completo.Unir the ends of the dough to form a thread and put on a baking tray with baking paper. Repeat until you have 8 threads.
11. Let stand 2 hours in a warm place (the best off the oven with the door closed.
12. Preheat oven to 165 degrees. Paint the buns with beaten egg being careful not to drag the cocoa and bake until golden brown (about 20-25 minutes). Remove from oven and cool completely. Delightful!
Tips and Tricks
Tips and sprinkle pearl sugar consejosPuedes crowns
After baked can be frozen and although it will not be the same, still very good
Difficulty: easy
Preparation time: 40 minutes resting time) 3 hours and overnight)
Servings: 8