The Christmas Roscon I bring you is the result of a very cool idea proposed to me by Consum, a supermarket chain that is supporting the usual cuisine and traditions. This is a campaign by the The Three Kings' Cake (Roscón de Reyes) supporting the homemade cake enjoying every step in the company. So I was sent a survival kit: all ingredients needed to make it so I could prepare my best version of the traditional Roscón de Reyes
And it is true that we must demystify this roll, many people will say it is very difficult, almost impossible, but I assure you that it is not. This roll of Kings takes its time, for resting, more than kneading, but you will see in this recipe it is very easy, but all for the pleasure of having a freshly baked morning Kings roscón.
This roll of Kings of today is characterized above all by incorporating extra moisture with a touch of honey (but I used golden syrup instead and the result was extraordinary) or syrup of glucose, and does not incorporate all ingredients at the same time, but that retards the addition of sugar and butter (priceless advice given to me by Ibán Yarza).
Sugar is the enemy of yeast and our roscón ferments better if we let it first rest and knead sugar-free. A delayed addition is ideal in this case (and in almost all cases where you have to knead).
The butter blocks gluten so the crumb does not develop and then our roscón would not have a spongy and soft crumb. However, when well blended it will make our batter juicy and very aromatic. Fat always brings lots of flavor and aroma that is perfect to use in this recipe but incorporating it a little later.
At the beginning the dough is dry but once we incorporate the sugar and then butter the dough becomes smooth and easy to work. The trick is in the resting and the kneading patience. I assure you will have a delicious roscón that will not last more than one time at home (my husband could not believe that we ate it all just in one day... just between my son and me!), so I encourage you to prepare it. This proposed Consum Supermarkets is for everyone!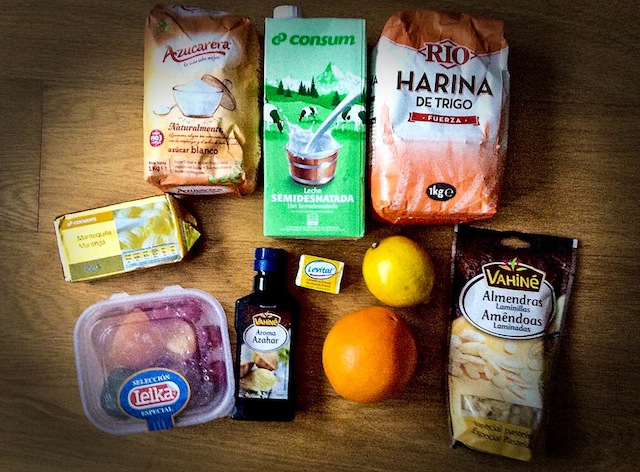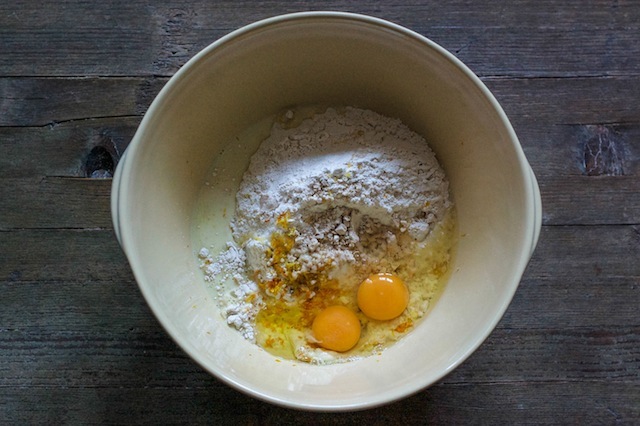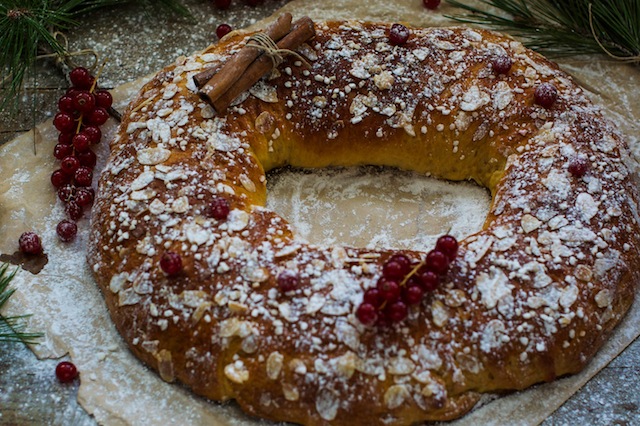 Ingredients
For the sourdough (the night before)
100 g of strength flour - €0.15
60 g of milk warm €0.05
2 g fresh Baker yeast €0.03
For milk flavoured (the night before)
75 g whole milk €0.04
the peel of 1 orange €0,25
the peel of 1 lemon. €0.10
a stick of cinnamon €0,10
For the dough
all the sourdough (162 g)
330 g of strength flour - €0.49
5 g of salt €0.02
60 g of milk flavored with cinnamon and citrus
2 large eggs €0.25
3 teaspoons of rum coffee - you can add a little more or less The function is to aromatize only €0.24
2 teaspoons of orange blossom - the orange blossom water may be highly concentrated, so we start from 2 teaspoons and if it is necessary because it is missing a bit of aroma or flavor we add one more, but better to start only two €0.14
the zest of half a lemon €0.05
30 g of honey or syrup of glucose or invert sugar or golden syrup, that is what I used because I had honey no at home €0.25
15 g pressed fresh yeast (or 5 g of dry Baker's yeast) €0.15
80 g sugar €0.08
110 g butter €0.62
For decorating the cake
1 beaten egg €0.12
a few currants (or candied cherries or what you like) €2,00
almonds rolled €0.25
sugar Pearl €0,20
icing sugar €0,20
€ 5.06 for a roscón of 10 servings total. You will not find any so rich and so cheap on the shops and with no other will enjoy a freshly-baked the same morning of Kings Roscón
Directions
1. Prepare the pre-ferment or sourdough. You have two options: get it and let it stand for a minimum of 3 hours, or make it and let stand overnight in the refrigerator. I chose, as always, to prepare it the night before to gain in aromas and flavors. Mix in a bowl the flour and yeast, undoing it with your hands until crumbs are imperceptible. Add then the warm milk (neither hot nor cold, just warm) and mix with hands until all ingredients are well integrated. You don't have to pass it on to the countertop. We can mix in the same bowl until dough is well linked. Let stand for half an hour at room temperature, covered with a cloth or plastic wrap (I use a shower CAP that fits well into any size bowl and can be reused over and over again). After this time we can, let it stand for at least three hours either pass it to the refrigerator so that it rests all night, which is what I did. An hour before you start the roscón, take out the preferemento of the fridge so it is tempered.
2 Make the milk infusion. S in a saucepan heat the milk with scratches and cinnamon and leave to infuse for a few minutes. Remove from the fire and let rest overnight so that milk takes the flavour of fruit and cinnamon. You can also prepare it on the same day, but it will not have as much flavor and aroma.
3. In a large bowl put the pre-ferment, flour, salt, orange blossom water, flavoured milk, rum and honey or syrup, fresh yeast, the zest of half a lemon and two eggs. Mix well using a single hand until ingredients are well integrated and it is not anything loose in the bowl. Can also be done with an electric mixer with the hook accessory beating until there are no crumbs in the bowl.
4 We then move to the second KNEADING on our countertop work where we put the no nothing of flour dough. As the dough sticks, our first intention would be to add more flour to make us sticking, but that would make them lose the proportions and our roscón lose fluffiness. All you need to do is knead and remember that resting is the best kneading: letting stand between kneading and kneading is fundamental to achieving a dough of success. So we begin to knead. With the help of a scraper release dough from the table as needed. We knead stretching and folding the dough for a minute or two, no more. Then let it stand 5 minutes, covered with a cloth. After these five minutes the dough will be much better, easier to work and will be much less sticky, so we return to knead for a just one more minute. These same times can be followed if using the electric mixer with dough hook.
5 Then add the sugar to the dough, but we will add it in 3 times: we stretch the dough slightly with your hands and put one of the sugar over crushing hands and rubbing sticking sugar well. Sugar softens the dough so it will be easier to knead. You have to knead until we notice no grains of sugar. Then again, with another part of sugar and then with the last part. Once all sugar is integrated, let rest another five minutes. The dough will be very wet but that will be good. We knead a couple of minutes and move on to the next step. This can also be done with an electric mixer following the times and adding the sugar in two times.
6. Now it is the turn of butter and the third KNEADING. We must have the cold butter cut into cubes (does not need to be directly from the refrigerator but it may not be very soft). If you have already done roscón, you can incorporate it all hit, but if you have not done so before, it is better to incorporate the butter in two times. For this purpose we knead for a few seconds the dough and flattened it slightly to fit over the cubes of butter (first 2/3 of the butter). We begin to knead. We fold the dough over itself until the butter is inside the dough and we begin to knead. As we go kneading dough will stick more and more and the butter will come out of the sides. NO WORRIES (don't worry). This step I can also be done with the hook of our electric blender.
7 Knead taking the dough between your hands and fingers until it is well blended. At that moment, begin to knead for about 4 or 5 minutes: we stretch and sit on itself, stretch, and sit on itself... five minutes. Slowly but surely. If we get tired, we can knead a couple of minutes or three, then stop 2 or 3 minutes to let the dough rest (covered with a cloth or covered with the bowl upside down), and then resume kneading for two or three minutes more. And always remember: no EXTRA flour and the BEST KNEAD IS THE RESTING OF THE DOUGH. I made three stops with five minutes resting each until finally the dough began to take off hands, so patience.
8. Now our dough is prepared for the following resting. Put the dough in our Bowl and let it rest covered with a cloth or plastic wrap (you know that I use my shower CAP to make bread always and that is the use in all bodies of fermentation), for a couple of hours or three at room temperature until it ferment and fills with air bubbles.
9 After this time, remove the dough from the bowl and put it on the counter and left lose air "balling" it: with the help of the exterior sides of the hands push the dough forming a ball so that the dough is tense and we can form the cake. But first you have to let our ball of dough rest for 15 minutes on the same countertop covered with a cloth.
10. Once the dough has rested will be more relaxed and will be easier to work. Rub your hands with a little oil and make a hole in the center of the ball and we are putting hands making larger the hole and work it as if it were a leash until we have a large roscón: stretch until our threads occupy the entire oven shelf. Let stand another 2 hours and a half or three hours.
11 After this time preheat oven to 180 degrees heat up and down (or 170 degrees if we use hot air). Fill with a bean (good luck for the whole year to the one that gets it in a piece of cake) and the gift (the one that gets the gift pays for the roscón) and paint with egg beaten with care because the dough at this time is very fragile. We cover with candied cherries (candied fruit that you like the most), almonds and Pearl sugar (or sugar wet with a few drops of water).
12 Bake at 180 degrees with heat above and below environment 18-20 minutes taking care that not browned over. After all the work now comes the easiest but the most delicate, so that we stick to the oven from minute 16 so our roscón does not burn Once it is baked, let it cool completely on a wire rack.
13. Once it is cool we can fill it if you want with some cream, custard of chocolate mousse. I chose to leave it as is, juicy and tender and covered it with icing sugar and fresh berries to give a Christmas twist. DELICIOUS.
Tips and Tricks
Substitute the rum by pacharán or your favorite liquor and you'll incorporate that aroma to the roscón
If you want to take your roscón in the morning, in point 10, once we have formed the Roscón, left to ferment the dough just half an hour at room temperature and cover with plastic wrap. Refrigerate in the fridge until the next morning. Remove the it from the fridge and put it in a dry and warm place. Preheat the oven at least half an hour and bake. You'll have a super breakfast of Kings so rich and fluffy
Fill it with whipped cream, with custard cream or chocolate truffle and of course serve with a cup of hot chocolate
Difficulty: easy
Preparation time: 40 minutes plus resting time (about 6 hours)
Servings: 12