This roast lamb dish is a leg of suckling lamb it's one of those dishes that in my house they always get with palms, but if it's Christmas even more. So today I cooked it giving a different touch to the roast lamb putting apples with potatoes and adding a touch of cognac and cinnamon that are so present at our table at Christmas
It's a very simple roast lamb recipe that requires attention but little effort and always comes out of ten, so I hope you'll be encouraged to prepare it at any time of the year, but especially at these holidays.
The crunchy texture of the meat on the outside contrasts with the soft and juicy texture inside and the potatoes and apples add a sweet and rich touch to this roast lamb recipe.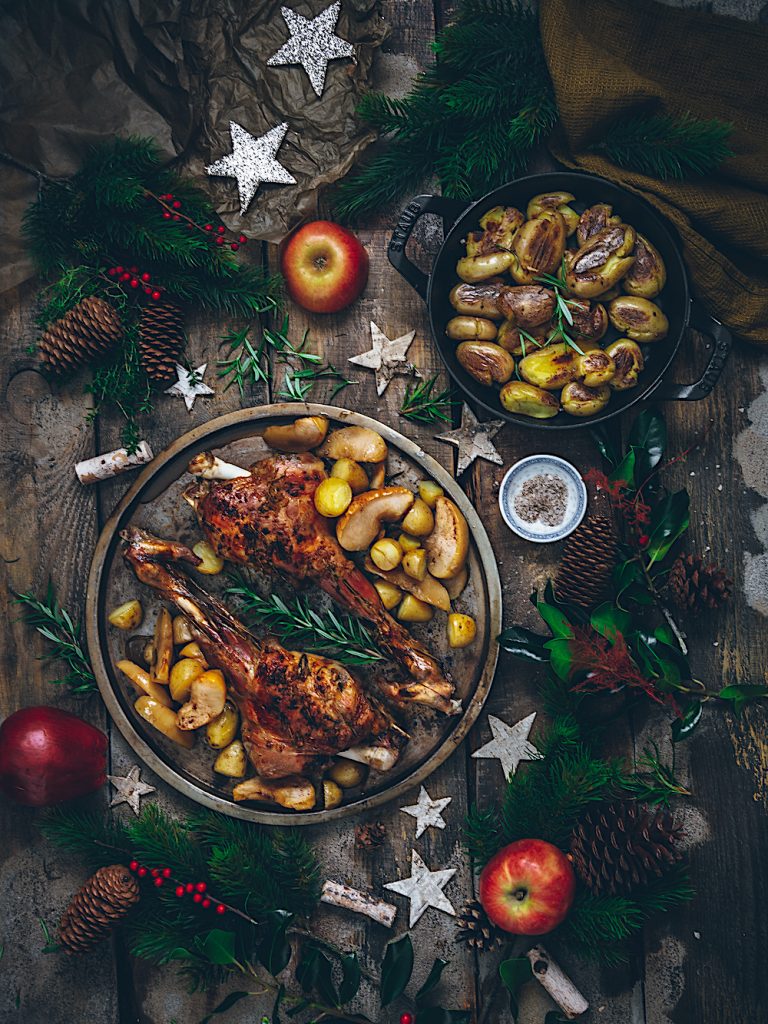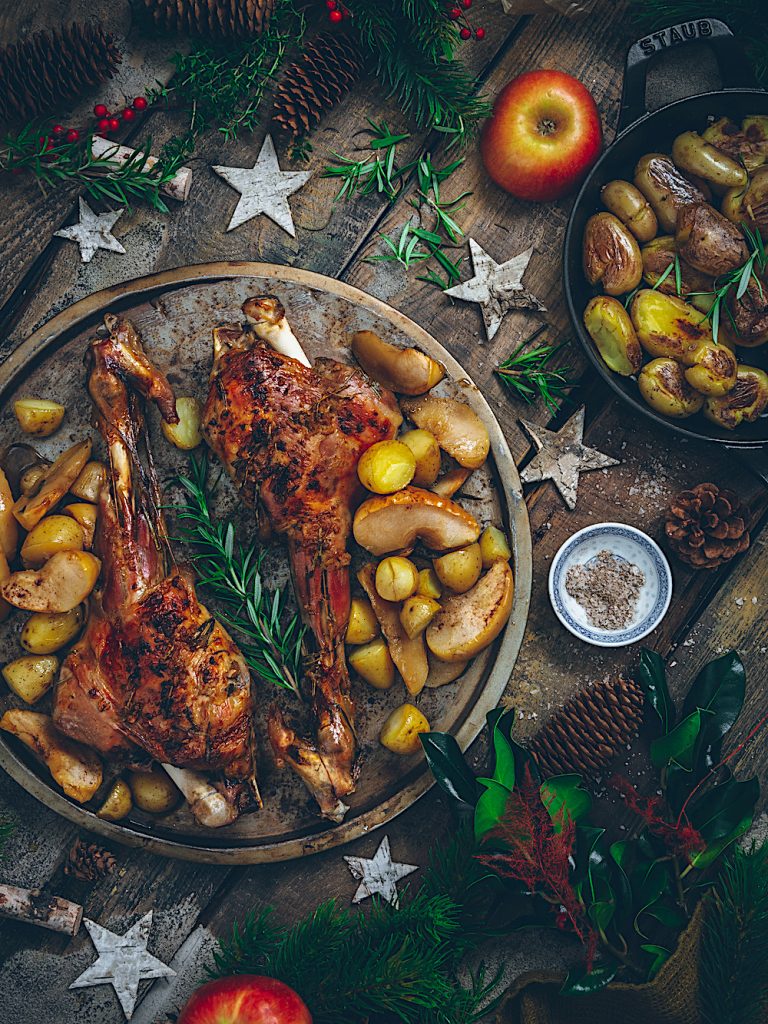 Ingredients
2 legs suckling lamb
50 ml extra virgin olive oil (AOVE)
5 cloves of garlic
1 sprig of fresh rosemary
50ml sherry vinegar
1 teaspoon coarse salt
200ml white wine
100 ml cognac (brandy but port or smelly are also worth it)
300g side potatoes
2 apples
salt
freshly ground black pepper
1/2 teaspoon ground cinnamon
Directions
We preheat the oven to 200 degrees with heat up and down.
In a saucepan, cook the potatoes until softened.
We smear the two legs of lamb well with AOVE and put them on a baking plate and splash with salt.
We bake 30 minutes. After the first 15 minutes, add the white wine.
In a mortar, we crush the garlic cloves, fresh rosemary branch, ground cinnamon and fat salt. When we have a paste, add the vinegar.
Take the lamb out of the oven and put the garlic yard on top with the vinegar. Add the cognac on the baking plate and return the lamb to the oven 15 minutes more than 180 degrees dipping with the help of a teaspoon the meat with the sauce
Meanwhile, we wash the apples and chop them into quarters and each room in 2 or 3 wedges in turn. Reserve.
We drained the potatoes. Half of us cut them in half and booked them.
Remove the lamb from the oven and put the apples spread over the baking dish. Sprinkle the apples with ground cinnamon and add the chopped potatoes. We sprinkle and return to the oven 20 minutes As follows: 10 minutes at 180 degrees and another 10 minutes at 220 degrees so that the meat is browned well.
While with the other half we crush them slightly. Heat a frying pan with a little olive oil and put the potatoes in. We splaway and let them brown on one side. When they're well toasted, we turn them around. We lower the heat and set the heat.
We serve the lamb with the potatoes and roasted apples and accompany the rusted potatoes in the pan bathing with the sauce. Just delicious.
Tips and Tricks
Replace lamb with your favorite meat, although times will depend on the type of meat you use
You can use pears instead of apples and sweet potatoes instead of potatoes
Preparation time: 75 minutes
Difficulty: meda
Servings: 4