For my lunch in Copenhagen it is always a great experience. Nothing is more fun when I travel, that the fact that my stay at the place I visit, coincides with some special event... and if it's gourmet, better. So in my last trip to Denmark, my stay coincided with the Copenhagen festive Cookingl, i.e., crazy for the palate that we take advantage of the family. This festival takes place once a year, and summarizes the State living Scandinavian cuisine, where creativity flows everywhere and where fruit with meat mixture is for natives such as bread with oil for us.
We rented some Bicycle, something resulting in the Scandinavian countries a perfect plan, since it is more prepared for this sites of the world. The bike path in Copenhagen is as a three-lane highway compared to ours, the road signs and the traffic lights for cyclists make easy and safe traffic and cyclists, and his civic-mindedness, education makes a fun, fast transport method and help to offset the calories extra in our case We eat in Copenhagen to take advantage of what the festival could offer.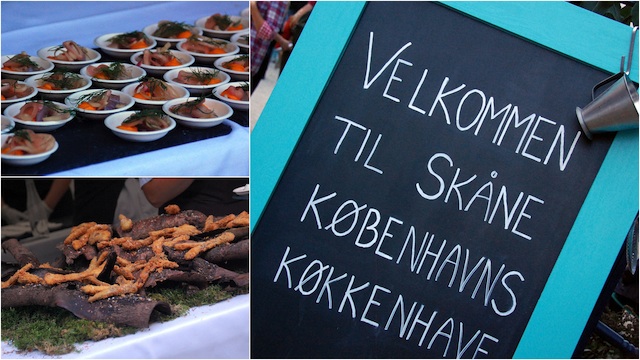 It is the largest festival gastronomic North of Europe that began to be held in 2005. With tastings in the street, street demonstrations of some of the best restaurants and lots of activities including courses for children (that Yes, in Danish), offers for dining outdoors, overlooking the sea or even low land, with special menus at some restaurants and preparation by the best stores gourmet picnic boxes in honor of City Festival... Throughout a typical gastronomic destination in the North.
All activities that Copenhagen offers these days, we visited the Nordic Tastea kind of gourmet market that is held over two days (Saturday and Sunday) at Søren Kierkegaards Plads, in the interior of the Castle islet)Slotsholmen) next to the Castillo of Christiansborg (seat of the Parliament). Each day of the weekend in two time zones. The first coincides with the schedule of the Danish lunch (12:00-15:00), and the second time (15:00-18:00) dinner, more or less. To access it should not buy a ticket, but if you want to taste the dishes, bought a "ticket" which entitles to ten tastings (175 kroner, about €24). Good idea... eh?
Over twenty restaurants Scandinavians most cool, traditional and original, accompanied of producers Danish, Swedish and Norwegian cuisine, presented in mini posts its delights, in what comes to become a flea market (or pop-up fair), that if gourmet, in the street. Each restaurant serves a dish, a recipe by way of tasting the most native cover, sealing the boxes of the coupon entitling to the tasting, and can taste, with live DJs included, at sunset along the canals of the port.
Some jobs attract attention by its careful cuisine, but others do it by its original sponsorship, e.g. Morso Forno, a factory of wood-fired ovens for individuals that left me wanting to bring me one in my suitcase, and that prepared some delicious tastings of super thin eggplants with fresh vegetables.
And others do it for their brutal variety, as the post of Grodan online store specializing in Danish organic products (also have shop), which prepared: salad with seeds of flax, Danish cheese, fresh chives, watercress and hazelnuts; Dishes of herring or smoked fish; meats with fruit sauces; sweet creams; etc.
The formidable this formula is that you can do perfectly the idea of ​​where to breathe Scandinavian cuisineproducts that use and how you cook them, and all without having to leave a beautiful environment, with live music and a fantastic price. The experience was fabulous. An idea to take into account for export... More than recommended!
And I came to the head, as it could not be less, a tasting typical Earth... even more so when even on hot days. As a few weeks before I could attend the formidable Cold Soups Course from Dani Garcia in Calima, I decided it was the occasion. Here's my version of the Ajoblanco Dani taught us. Do you like?