Once again have had the good fortune of attending the dinner of Bloggers Chefs that annually TV Channel Canal Cocina celebrate with bloggers specializing in cuisine that the channel has been rewarding. This year they celebrated the Fifth Edition Awards so they wanted to celebrate in a special way, with reason in addition to the acquisition by AMC Networks International Iberia.
The most important thing was the new award-winning meet and reconnect with my buddies and channel kitchen equipment. This year I went the "Crown" to Manu (Ruiz) Catman, which won the gold; with a full super blog; Juanjo Fernández de Jmcrivera completo Kitchen, which took Silver, a blog in which everything is cooked without lactose; Auxi Ordóñez healthy dessert that won bronze with his blog for healthy recipes; Noelia Ortiz Encina de Lolita the pastry that has been chosen the best videobloguera; Olga Navarro Warrior of painting award-winning clouds with the best design and finally, my friend Beatriz Gala Marino's heart candy, the Bea and Marina (mother and daughter) blog where they prepare creative pastry recipes.
The appointment was on 14 November, at the Hotel Hesperia Madrid, a fantastic five-star where Canal Cocina was pleased to invite us and we lucky to enjoy. Don't miss breakfast... to dream.
The venue for the dinner, the spectacular Santceloniwith two Michelin stars and three Suns Repsol that chef Oscar Velasco captain of exemplary and that made us a tour of their best dishes. Just put a snag (well, actually the downside got it MJ and I): could not taste their cheese Board, considered the best of Spain, which gave me a very sad, even though the Chef Oscar (sorry for familiarity, but after giving two kisses for the dinner so mind-blowing that had served us, let me call you by name) came to personally explain why. In service for 45 people, it was impossible to accommodate a dish whose ceremony takes almost an hour, which would have delayed the service too long. And that's one of his obsessions: the service time that is a struggle between perfectly provisions and contingencies that may arise for it (and I can say that it is certainly one of the best services I know). The Chef took over from his mentor, Santi Santamaria and has done so through the front door with two Michelin stars and crossed fingers so that today, they give you the third in Marbella, to wish good luck to my luxury Malaga: Dani García, José Carlos García and Diego de el Río.
Prior to the dinner, begin with presentations, photographs, and above all the kisses and hugs to all fellow bloggers (that I like the 2013 generation), and members of the best team that I know: that of Canal Cocina. None of this it would have been possible without effort that Almudena Guisado and Philippe González make year after year, and the jobless the staff develops so that everything goes perfect that night. And the truth is that this year they have gotten, and they have set the bar very, very high.
After the cocktail, passed at the table, where we sit where we wanted to, and I with an escort of luxury: MJ and Manu Catman. The rest of the table: Juan Carlos not only candy, my pal of the soul, Silvia Cerezo of my sweet temptation (that it was accompanied by her tummy - prontito will be mami), Loreto Sabores colors and sea going to cociMar. The more fun the night table, or at least the most noisy where we not stopped to talk, laugh and learn. For example, MJ told us the origin of the name of the restaurant, of the people (Sant Celoni) where the Chef Santi Santamaría was born and where he had his first restaurant, Can Fabes.
The Menu, unforgettable. I commented you to MJ worth giving to not be able to transmit the sensations that the flavors created in you. Only photographs remind its appearance, but its flavor, only stays in your memory, and it is not something that you can pass on to others, so I'm not going to go crazy. I will say that it was a dinner memorable, full of delicious surprises that I enjoyed to the millimeter of the talents and know-how of this Chef has to say in our kitchen and made such a good relay renovated restaurant.
Cauliflower, smoked mackerel jelly of Apple and lemon and beetroot purée
Poultry chicken with Ratatouille, sweet and sour paprika and wheat crust
Smoked caviar Petrossian Alverta Imperial ricotta ravioli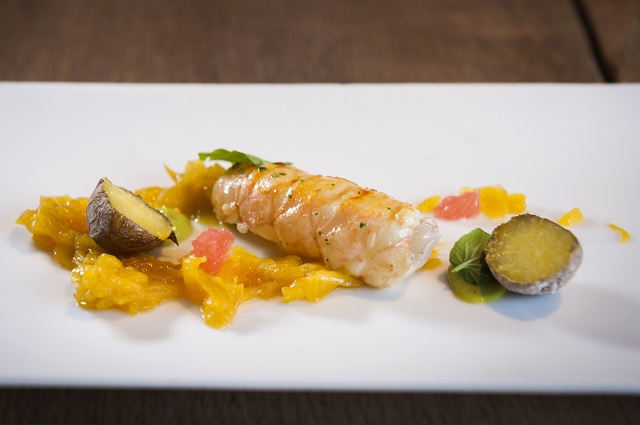 Prawns grilled with potatoes unpeeled, saffron, grapefruit and watercress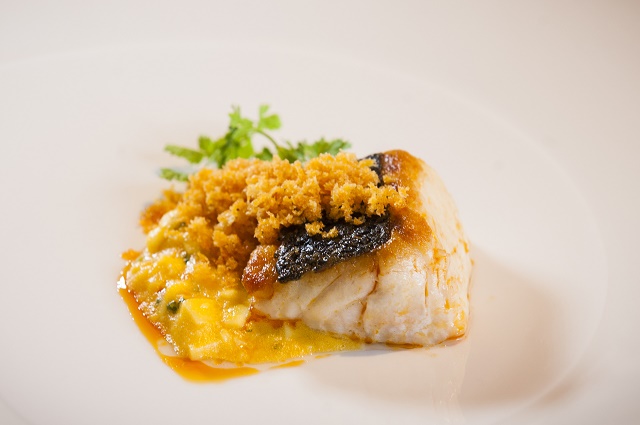 Sea bass with fried eggs, El Arcediano and paprika oil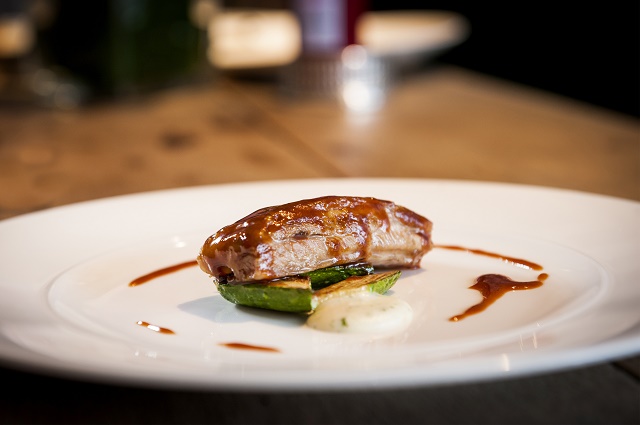 With Zucchini, ajo-limon sauce pork ribs barbecue frozen coconut, pineapple fennel, sweet Quince and brandy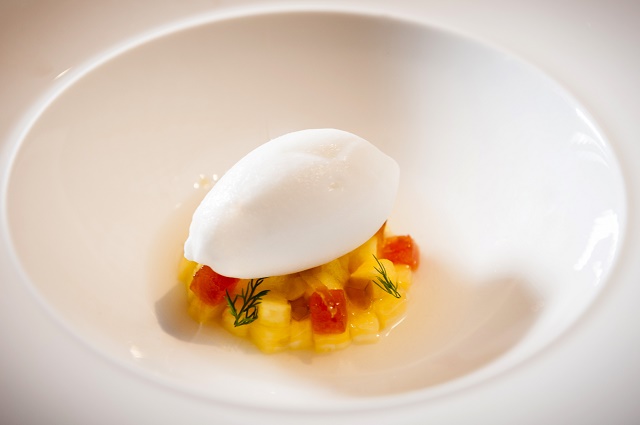 Iced coconut pineapple sweet fennel of Quince and brandy
Baked chocolate mousse with coffee cream
Petit Fours (five wonderful mignardises not I will never forget)
Unique flavors, great texture and not just one of the dishes to replace. Perfectly built, the menu was sublime, even for vegetarians, vegans, intolerant... had custom menu 100% at the height of the two Michelin stars and the 3 Suns Repsol.
In short, a luxury for the senses and the heart that Canal Cocina bestowed upon us all. An unforgettable time and some friends for life. After dinner, photo group and drink in the hotel bar. I I said goodbye soon (and they were almost 2 in the morning), but who slept after 4:30 so spent it all that being said, good.
The super morning breakfast at which you are still enjoying the best moves of the match. I from Sunday count the days that remain for the next dinner chefs bloggers... 360 days!
Note: All photos of the post are those made by Canal Cocina. Wonderful!
And one last little thing: this weekend we have new Show-cooking kitchen with BRA in El Corte Inglés of Malaga. It will be Saturday morning at 11 am 22 h. We it wonder, we cook around the world...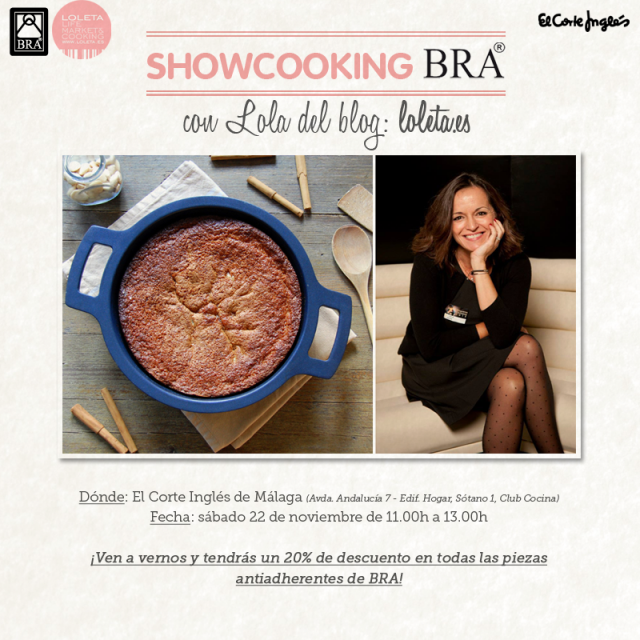 -We will prepare delicious The film "Chef" Cuban Sandwich (the sandwich of the boss)
-We will continue with the incredible Pizzetas montanara (no oven) of the Neapolitan region.
- And you will end up with a sweet and authentic American Brownie to finish.
Admission is free until complete capacity you hope!
Thank you for your assistance and share Loleta!