This oreo cheesecake is a special cake that when try not going to stop doing. It is making me mouth water just to think about it and I am reminded of one of my son's favorite restaurants... and many others! It was one of the first we tested when we lived in Madrid a few years ago, the more than known Alfredo ' s BBQ. We had been the weekend with some friends and we were recommended this restaurant by its delicious hamburgers and by its fantastic Cheesecake oreo cheesecake.
Halfway between an American burger bar and restaurant tex-mex (chili and the) cobs corn are tremendous), our friends were right and Burger met expectations: delicious at a local unpretentious where arrive, waiting table (with patience if you go at peak hours, that Yes), you eat and you will. An ideal place for the whole family. But in addition to burgers, there was another thing I loved: the oreo cheesecake or Oreo Cookie cheesecake.
It had not taken it ever. Soon became an obsession get to do it at home. After several turns, and several recipes for oreo cheesecake without that any locals I, decided to try to put a topping, a layer covering it up and making it much more soft, and after two tests, was clear: this is the best version, and those who take it, confirm. Today I can say that it is even one improved version of Alfredo's without any doubt, and everyone who test becomes addicted. Don't you think? I show you in the kitchen...
This recipe published in August 2013 and remains as I published it then. The only thing I've done is to include the video that is new, and new photographs. I have not removed all the old ones because I want you to see that the progress we make them work. No one is born knowing and I have it clear. Now you can also see how did the photos when I started the blog, and how do I make them now, and if you like, tell me if you like the change.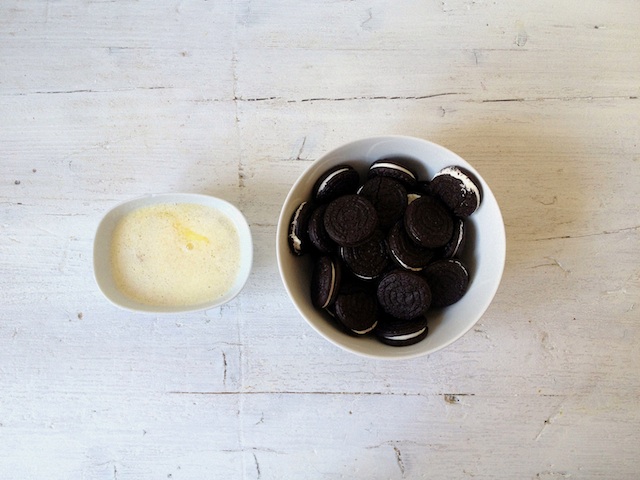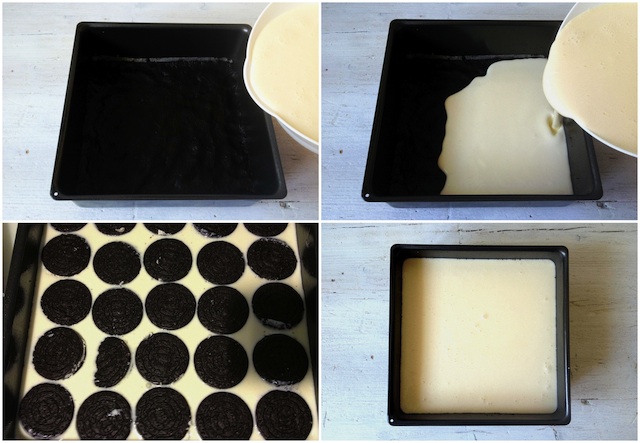 Ingredients
For the biscuit base:
18 oreo cookies (those of the Brand Oreo are the best but you can use those of Mercadona, Carrefour, Supersol... no problems)
60g melted butter
For the pie filling:
3 eggs
150g sugar
600g cream cheese (you can use any brand)
150g liquid cream
1 teaspoon vanilla
17 Oreo cookies
For coverage:
150 ml sour cream (found in English supermarkets and Alcampo, but if you don't find it you can use 140 ml of liquid cream with 2 tablespoons of lemon juice).
2 tablespoons sugar
12 oreo gallets in pieces for garnish
Total €8,80, i.e. €0,88 if we distributed it among 10 generous servings. Unbeatable price for a traffic that will leave you wanting more.
Directions
1 Preheat oven to 190th.
2 undo the cookies with the help of a blender or putting them in a plastic bag and hitting them with a roller, a hammer or anything else that you can crush the biscuits to undo them completely.
3 grease the or ring 22 cm kitchen, by placing a paper towel at the bottom (which will help unmold the cake later).
4. mix cookies crushed with melted butter and cover the bottom of our mold with this mixture to ensure that coat is uniform everywhere. Put in the fridge while we move to prepare the cream on the cake.
4. in a large bowl, beat the cream cheese and cream with a manual or electric rods.
5. Add the sugar and eggs and beat until you have a soft texture (about 3 minutes).
6. remove the Pan from the refrigerator and using a large spoon or ladle (or with the same Bowl) If you have mouth to do so, begin to pour the mixture over the biscuit base, taking care that the cream does not lift the biscuit base.
7. place Oreos over the cream. Some will sink a little but nothing happens, that makes cookies covered cream and are soft and delicious.
8 bake for approximately a 55 - 60 minutes until when you click it, the cake is curdled but a little soft in the Center.
9. remove the cake from the oven and raise the temperature to 240 degrees.
10. mix the sour cream with 2 tablespoons sugar.
11. Once the temperature is reached, cover the cake with the sour cream mixture and bake for another 5 minutes. If you see it's too much, don't put it all on. It will depend on the size of your mold.
Leave the cake cool with the oven door ajar inside the oven to prevent the temperature change from falling down the center.
12. Transfer the cake to the refrigerator for five hours or until completely cold. Finish it by decorating it with pieces of biscuit Simply delicious!
Tips and Tricks
It can be frozen, so you can do it when you have time and you thaw it in the refrigerator 24 hours
Chocolate ice cream or whipped cream comes from great
You can make it in round, square molds or mount it in individual kitchen rings
Difficulty level: intermediate
For ten people
Preparation time: 40 minutes more about 5 hours minimum to cool