This cheesecake of blackberries and lemon without oven will become your favorite cake and is blackberries to charge it another meaning.
I love the cheesecakes that do not need oven. I have two recipes that I repeat non-stop. One is with condensed milk and caramel apples (if ask me for it will do it) that I learned from my friend Alice, and another is this (which has come to replace from a year passed a lemon with meringue that is like a lemon pie, but without oven cheese cake format).
Before it was very difficult to find national Red fruits. Those who were sold, were outside and as not they ripened on the plant, nearly all were very acidic (because they were actually green and had yet to mature). Luck has done that today we can find national Red fruits in almost every supermarket, and so did this cake.
Two years ago, after being in the Sierra de Aracena with the family for a few days, I brought a box of blackberries. Previously the most common crop in Huelva was strawberry, but more and more blueberries, blackberries, raspberries and currants are grown. The red fruits they are my favorites because they get little fat and are very versatile tato salad, such as breakfast and desserts, so I brought me a box of two kilos of blackberries. And so comes this Cheesecake of blackberries and lemon without oven.
I made jam (which I love), a galette, and as they left me many, it occurred to me to use them in the cake of cheese and lemon that had done other times. Never had a red fruit is without baking and I decided to try their luck. The result was spectacular.
This Cheesecake of blackberries and lemon without oven, is soft and light and in addition to all that, beautiful. Very easy and does not need oven, only a few hours of refrigerator and effortlessly, you'll have a super cake. I hope you like it!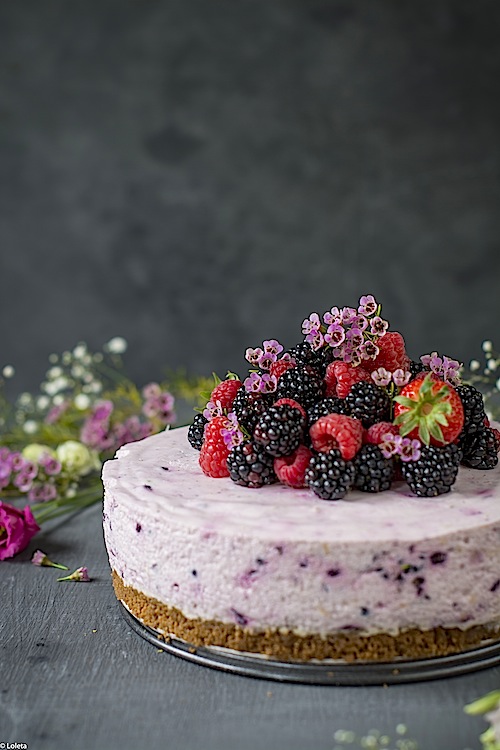 Ingredients
200 g of caramelized biscuits (speculoos I used to give a different touch to my pie but you can use that like more)
80 g melted butter
600 g of cream cheese
500 ml of liquid cream with at least one 33% fat, very cold
200 g sugar
1 teaspoon of pure vanilla or paste of pure vanilla extract
8 neutral gelatin sheets
the juice and the zest of two medium-sized lemons
200 g blackberries fresh ripe or frozen
Forest fruit fresh to decorate
Directions
1 put the gelatin sheets to hydrate in a bowl with cold water for 5 minutes.
2. grate the skin of lemons and reserve. Squeeze its juice and strain of nuggets. Put it in a saucepan together with the drained gelatin leaves and heat gently until the leaves of gelatine have dissolved completely. Cool for a few minutes until they are at room temperature.
3. place cookies and a plastic bag and with the help of a rolling pin to crush until they are broken and we do not have large chunks of cookie. Melt butter and mix in a bowl with cookies. Cover the bottom of a detachable mould. Leave to cool in the freezer.
4. in bowl of electric mixer or in a large bowl beat with the help of a mixer the cream cheese, sugar and vanilla on medium speed until the mixture is creamy and without lumps.
5. Add chilled lemon gelatin mixture, and mix well. Scrape the sides of the bowl and the bottom of it with a spatula.
6. Add the cream and continue beating until the mixture thickens and increases its volume.
7. Add lemon peel zest and berries and mix gently by hand with a spatula. Gradually mix will be taking a nice color between pink and mauve. If it isn't, we can force him to crush some berries with a spoon. So the mixture will turn a beautiful color.
8 place on mold acetate paper. This will make sure to remove from pan, the cake is perfect. If you do not have do cost a little more but will be equally perfect.
9 cool for at least 4 hours. Unmold and garnish with a few berries.
Tips and Tricks
For a spectacular finish decorate with blackberries, raspberries and flowers
You can make this cake shaped mousse with half of gelatin sheets and serving it in cups
Preparation time: 30 minutes plus 4 hours of cooling
Difficulty: easy
Servings: 10