Roman squid are undoubtedly one of the ways I love to eat squid the most. And the squid sandwich is definitely one of my favorites and today I bring you a very Loleta version perfect for the days when you want something different with a fun touch.
In Malaga we eat the squid simply passed by flour, but for more special days, I love to prepare them to the Roman, with a batter that lasts much longer crispy and that goes great for sandwiches, like this one today.
I'm a snack lover, I admit I'm losing my bread. I could live alone with him and I'd be unable to do it without bread.
In all its versions and with all kinds of flour the bread drives me crazy and if we fill it with a few more good ingredients. Snacks are one of my favorite foods and this one of today one of the most repeat at home paw on football afternoon with friends or makeshift dinners that thank God we will have back.
that touch today is given by kimchi, a Korean fermented cabbage with a spicy touch that we love at home. You can replace it with a little tabasco but I encourage you to use it because its possibilities are endless and the kitchen.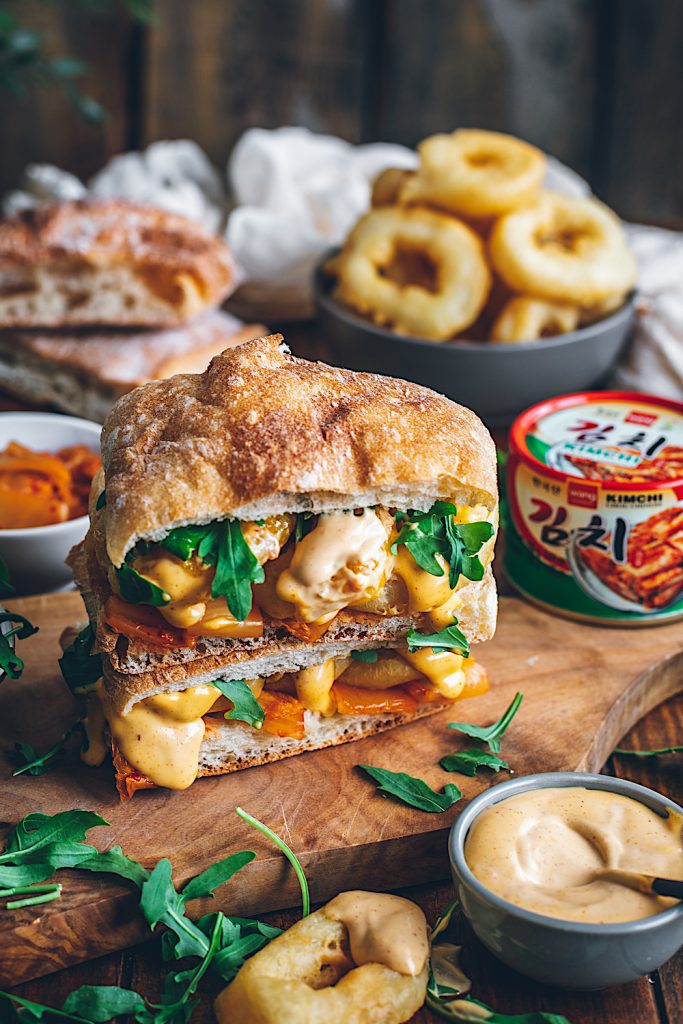 Ingredients
300g squid rings
100 ml of water
150 ml milk
5 g. chemical yeast
5 g salt
170g flour + 2 tablespoons
Frying oil (500 ml)
For the mayonnaise
1 egg
250ml sunflower oil
1 teaspoon kimchi, pasta
For the sandwich
1 can kimchi
a handful of arugula
Directions
We start with the mahonesa. In a hand blender glass, we put the egg with a little sunflower oil and continue to add the oil very little by thread. When the mayonnaise is thick, add a teaspoon of Kimchi paste. By hand mix well and set off in the fridge.
To make the battering of the squid we dry the squid well. On a plate we put the 2 tablespoons of flour and pass the squid one at a time. We put them on a tray or a large plate.
In a bowl mix the rest of the flour with the yeast salt and milk with half the water. Mix well until thick to cover the squid but drain. To do this we will add the necessary water (I added it all).
In a saucepan or saucepan, heat plenty of oil.
We pass the squid one at a time through the mixture and fry them in oil for a couple of minutes on each side until crisp and golden.
For the assembly of the sandwich, we put a layer of kimchi and on top of the squid. We're done with the mahonesa and some arugula leaves.
Tips and Tricks
These squids are delicious with a little salad
Difficulty: easy
Preparation time: 30 minutes
Rations: 5 sandwiches