Today we eat rice with Squid and zamburilas, a dish that reminds me of Galicia and forming part of the recipe book of fish Pereira and Conservas Portomar.
It's a recipe book in which we have participated Tere the Maria kitchenettes, Isabel de Frabisa and Raul Raul cuisine on the beach with rich recipes for all tastes all prepared with frozen fish and canned fish.
This is the second of the two that I have prepared (the first these rich) potatoes stuffed with prawns with ventrestca of tuna) and I hope you like as much as my son who still longs for it. It is a rice with Squid between soupy and syrupy, those taken with a spoon so that it is not in the dish all the substance of his broth.
Squid here play the main role no doubt and give a taste and texture incredible to this recipe that is already in the notebook that should repeat and repeat when you want to look good without complications.
And what is the secret of this rice rice with Squid? As a tailspin that would add at the end, when the rice is ready and that gives it a flavor, color and aroma super special. I am not telling you more, better to go directly to the recipe isn't you?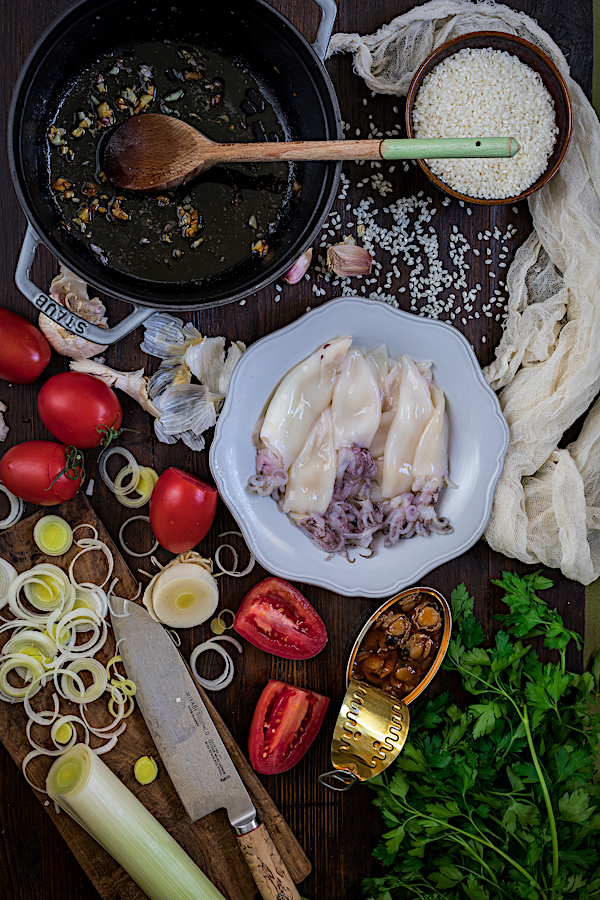 Ingredients
300 g of deep-frozen beaten squid Pereira
1 tin of scallops in sauce of vieira Portomar
2 tablespoons oil
2 cloves of garlic
3 ripe tomatoes
1 leek
250 g for soupy rice
1 glass of white wine
1 liter of hot fish stock
For the bite
1 bunch of parsley
2 cloves of garlic
30 ml of extra virgin olive oil
Directions
In a saucepan, Brown two cloves of garlic chopped very. Cut the calamari and fry them. When browned, remove to a plate and reserve.
Add to the same oil chopped leeks and sauté. Cut the tomatoes in half and grate them, discarding the skins. Add the shredded tomatoes to the Pan and FRY well.
Return the chopped squid and give a few turns. Add the rice and give a few more turns. Pour white wine and let it boil.
Then add the hot fish stock. Season with salt and pepper and bring to a boil. In the moment in which begins to boil, then lower the intensity of the fire and let Cook to fire medium low for about 12 minutes, stirring a couple of times during this time. Remove from the heat, put the scallops on top and cover and let stand a few minutes before serving.
While the rice with Squid rests, prepare the bite: chop the garlic and parsley. Add olive oil and with the help of a hand mixer to blend.
Serve the rice with Squid well hot with one little minced parsley on top.
Tips and Tricks
You can prepare more and bite. Freeze it in an ice cube tray and when frozen, pass it to a bag. So it is always ready for use
Prepare all the ingredients for the rice in advance and so the development is faster
Preparation time: 40 minutes
Dificultad:media
Servings: 4