Brownies without chocolate avocado oven. You can not imagine the illusion that makes me to bring you this recipe today. It is a recipe that I've done live in IG with, my friend Auxi healthy desserts that I admire, venero and especially appreciate to infinity and beyond.
Auxi is a crack from cracks, an ACE of Youtube but above all a love child. I always say when I speak of her that his heart is bigger than his smile and Auxi besides having the charm of this "asssento" that I love, is very generous and very loving.
To the extent of say yes to the first and no persarselo to do a live show with me on Instagram. The result of this Duet is this super healthy and chocolate recipe as it could not be otherwise.
But I must say that although the brownie does not need oven, or refrigerator for your development, and it is also healthy because they are the ingredients used, it has many calories so you go not to go crazy and eat it with measure because it says diet is not.
The recipe is therefore of Auxi and you can find it HERE Although I have made some changes to my version. I hope you enjoy it as much as I doing with Auxi.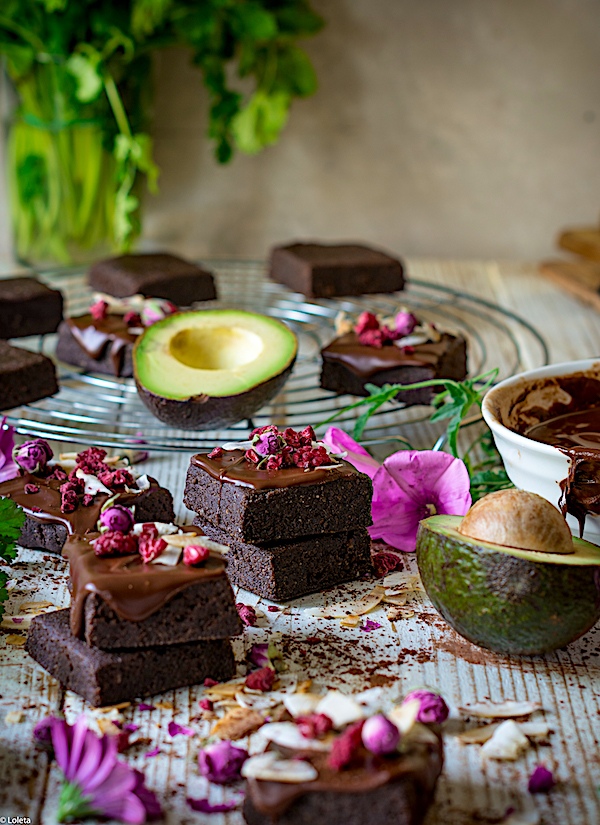 Ingredients
400 g of cashew nuts (which gives you a super mild flavor, but I did them with 300 g of hazelnuts and almonds 100 g and I loved)
A pellilzco of salt
the scrape of a vanilla pod
5 tablespoons of cocoa powder unsweetened
14 dates
1 avocado (about 150 g)
1 tablespoon of grated coconut
For decoration
100 g of dark chocolate without sugar
1 teaspoon coconut oil
a handful of sheets of dried coconut
a few freeze-dried raspberries
Preparation.
In a food processor, or a food or with help of a blender processor, chop nuts until you get a meal as thin as possible. When we have flour, add the cocoa and blend.
Put this mixture in a bowl. With the same mixer, blend dates up to a fine puree. Add the avocado, the vanilla and the pinch of salt and mix.
Slowly add the mixture of cocoa and nuts until dough is pliable. It can also be handmade.
With the help of hands and a role of baking, form a rectangle and cut portions of approximately 5 cm x 5 cm.
In a skillet, toast the slices of coconut until browned around the edges. Book
Melt the chocolate with coconut oil until a smooth mixture is obtained.
Cover with chocolate brownies. Garnish with slices of coconut and end up breaking a freeze dried raspberries.
Tips and Tricks
If you don't want to crush the nuts you can buy already made almond flour
Instead of portions, form small balls to take between hours and after training
Difficulty: easy
Preparation time: 10 minutes
Servings: 10 pieces