These are the best cookies of chocolate brownie that you tried. But it is also that they are very easy to make and don't require strange ingredients.
And tell you that they are the best totally convinced because before publishing them, I have made them many times, and all those who have tried them have said the same thing: to give a peak of rich who are. I love to do cookies at home because they are very fast and in no time you have a delicious homemade candy that everyone likes.
But these is also a special pleasure to bake at home that it will smell chocolate. At home my son knows if I have done them in the morning when it reaches school because all rubber to chocolate is that aroma is already by itself only to dream.
The difference between these cookies and other cookies of chocolate that you've tried before, is that they have a very juicy texture, fluffy, like a brownie. And is that mass is done similarly, although they take a little bit more flour so they can form well.
At home they don't last and are my nephews and have many possibilities. My son is a fan of migrate them in a drink with vanilla ice cream, and cream-filled like my husband.
I do not get them stick ever and when I want to cheer up a friend or any of my cousins, a cookie of these miracles. They are super easy to make, do not need electric mixer (I used it for taking less, but with a few hand rods you can make them without any difficulty), and have easy ingredients that you probably have at home.
The only thing that I have to recommend is to use a good quality chocolate. I used a chocolate 70% because I love the intense chocolate flavor, but you can use it to 50% if you prefer.
warn you: they are addictive and once you try them you will not stop doing them over and over again, and whenever you do them, I will be smiling inside thinking that you've fallen in the networks of these rich cookies. Let's get them! Here is the video for you piuedas see it whole!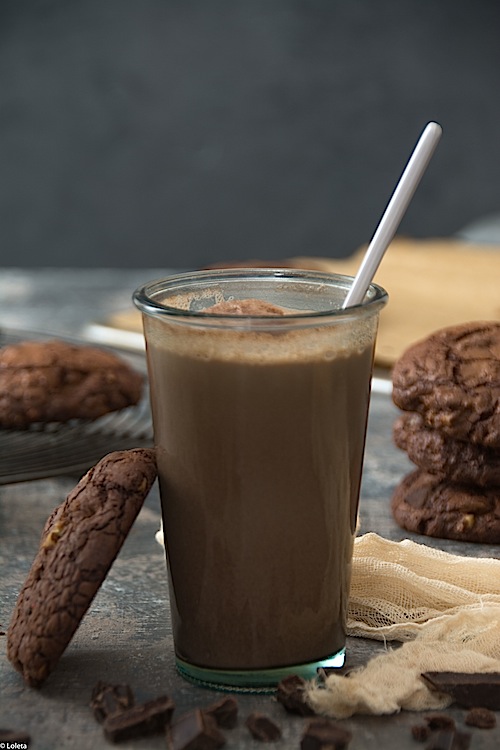 Ingredients
380 g of chocolate 70% (the better the quality of the chocolate, richer will be cookies)
60 g butter at room temperature
150 g sugar
2 large eggs and yolk
1 tablespoon pure vanilla extract
1 tablespoon of pure cocoa powder
1/4 teaspoon of baking powder
1 teaspoon of baking soda
1/2 teaspoon salt
50 g of flour
140 g of chopped walnuts
Directions
Turn on the oven to 180 ° C
Chop the chocolate with a sharp knife. In a bowl, put 3/4 parts of the chopped chocolate and butter. Melt in a Bain-Marie or in the micro (to my I took only 60 seconds). While book is losing heat.
In a large bowl put the sugar, eggs, egg yolk and vanilla, and beat until very foamy. I did it with electric rods mixer to save time, but if you don't you can do it with a few hand rods and a little bit of patience.
When the eggs are well sparkling, sift on the same Bowl the pure cocoa, yeast, salt and baking soda and flour. I used a small strainer to make me easier.
Using a spatula, mix all ingredients including melted chocolate with enveloping motions.
Once the dough is even, chop the chocolate we had reserved, add it and continue mixing. Finally incorporate the walnuts. Now we can form the cookies, but I prefer to put the dough 5 minutes in the fridge so that it hardens a little and I find it easier to form the dough balls.
Put a baking paper on a baking tray, and she put the balls of cookie dough. The easiest is to use a spoon of freezing, but if you don't, just a spoon. It must be well separated cookies one of others because in the oven will be extended a bit (I put 6 inside tray).
Bake 15 to 17 minutes the cookies that will be toasted around the edges but not the Center. Pass the cookies to a wire rack and let cool to enjoy!
Tips and Tricks
If you don't like the strong chocolate, use a chocolate 50% that has much aroma and flavor but is not as strong
Replaced the walnuts with hazelnuts or your favorite dried fruit, or if you prefer, don't put them
Preparation time: 30 minutes
Difficulty: easy
Servings: 18