I learned this chocolate brownie on my first trip to the US when I was only 15... my mother! and since then I haven't changed it one iota because It seems to me, simply perfect. It is made with hazelnuts, which is how Americans normally prepare this delicious cake, and with semi-black chocolate (61% pure cocoa) which gives it a dark color but a soft chocolate flavor that I love.
In this case I have baked it in the iron that I use constantly as a plate to oven, so I encourage you to try it. In the kitchen we must be flexible and do not lack a mold for each recipe. To my love I give a different use for baking bread in pans, cakes in pans and... brownies on plates! I hope that no matter where, you do it and tell me what you think. In my house always disappears in the twinkling of an eye!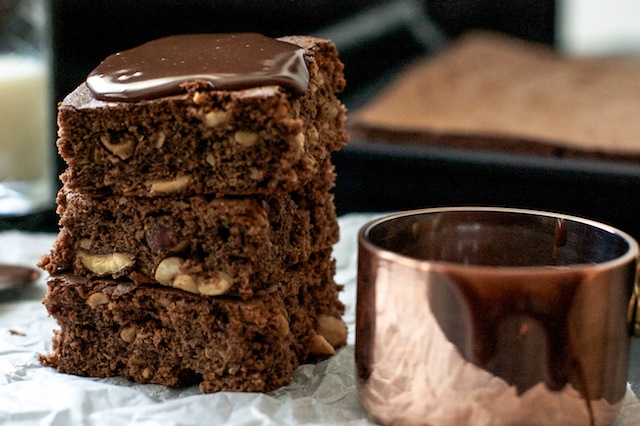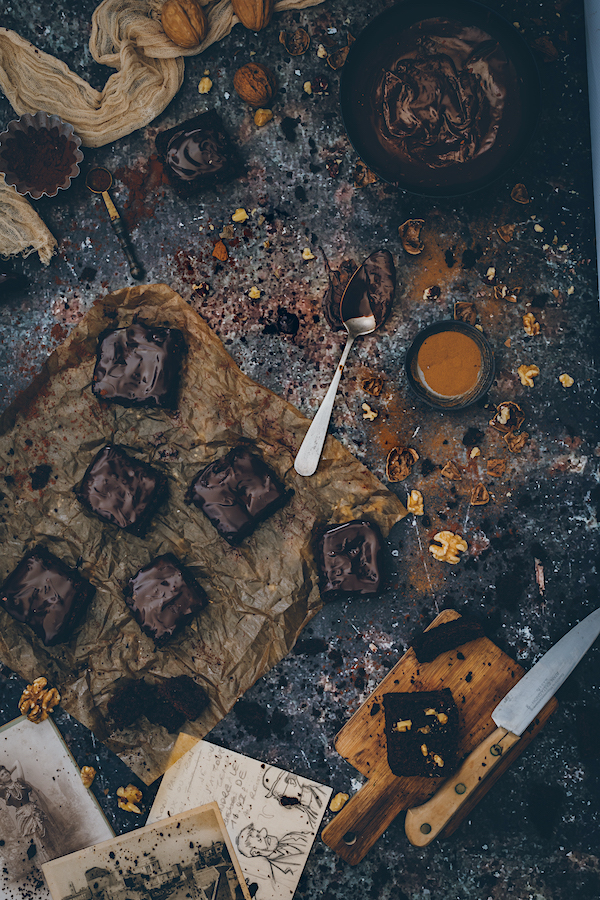 Ingredients
1/2 tablet (125 g) dark chocolate to 61% pure cocoa
125 g butter
200 g sugar
2 large eggs
1 teaspoon pure vanilla extract
1 pinch of salt
140 g flour
1 teaspoon of baking powder
100g chopped hazelnuts
For glaze
100g dark chocolate or milk
100ml liquid cream
half a spoon of pure vain extract
half a teaspoon of soluble coffee, or cinnamon (optional)/box]
Directions
1 Preheat oven to 180 degrees.
2. Grease a mould. Bake it in a square or rectangular mould is the ideal of the brownie. You should grease it well and evenly in the sides.
3. Melt chocolate with butter. I do it in the microwave in 30 second intervals so chocolate does not burn.
4. in another bowl, mix eggs, sugar, flour, vanilla, yeast and salt. Beat until the mixture is uniform.
5 Let chocolate stand for a while and once it has cooled down a little, beat with the dough of eggs and flour until the mixture is uniform.
6. Add the chopped hazelnuts and mix with a spatula.
7 Pour onto the mold taking care that the surface looks even.
8. Bake for about 25-30 minutes. The brownie should be a little damp inside but if you like it more done, you can dappel with a stick and if it comes out clean it's ready
9. Melt the chocolate with the cream in the microwave. Add the vanilla and move until smooth.
10. Bath the brownie with this chocolate sauce To enjoy!
Tips and Tricks
Replace nuts with nuts, although authentic American brownie with hazelnut.
If you want to cover each portion with a little milk chocolate melted. It is a delight, though not suitable for non-sweet.
Serve it when it is still tempered accompanied by a big ball of vanilla ice cream
Level of difficulty: easy
Preparation time: 40 minutes
Serves: 10