With these Victoria biscuits with lemon cream and how to make flowers with sleeve pastry, come overhand to celebrate this spring-summer that now looks beautiful.
These Victoria biscuits with lemon cream are an English recipe of Genovese Victoria Sponge Cake called and whose characteristic is that they are very fluffy and soft, and that also you provide the basis for the majority of cakes. You can bake the same amount in two molds of 20 cm or one single and cut it in half (although I prefer to bake it in twice because you become more beautiful, fill it with cream or jam and covered simply with a little icing sugar.
But in addition, today we will learn how to make flowers with sleeve pastry. Got me this game of precious mouthpieces that had not ever seen and some flowers beautiful and super easy to make. So with this recipe I estrené them. I used also one of my favorite moulds of from Tala Cooking that same thing I used to make mini cheesecakes to make these beautiful cupcakes. It is one of those molds that are used for a lot of things, so I recommend it.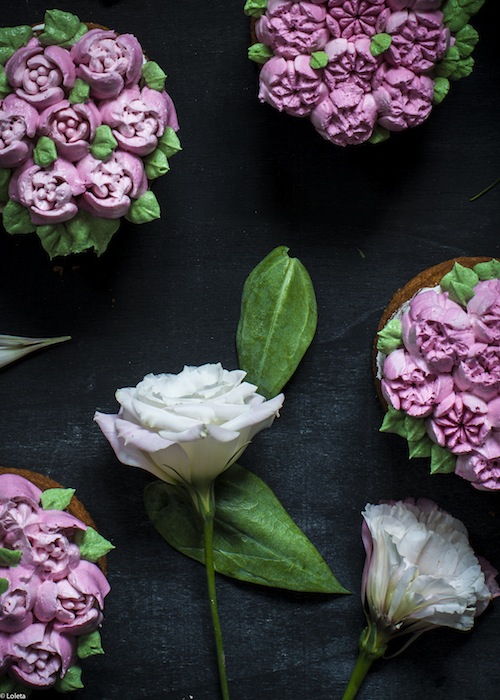 Ingredients
For the cookies
175 g flour with yeast
1 and a half teaspoon of powdered levadurta
175 g butter spreads
175 g Golden caster sugar
3 large eggs
1 teaspoon pure vanilla extract
For Buttercream
300 g butter without salt at room temperature (the clearer that you find color)
300 g of icing sugar
1/2 teaspoon of lemon juice (or of type Wilton clear vanilla extract)
colorant in gel of good quality (not serve the colouring liquids since it will change the consistency of the cream)
Spoon, spatula reamer, the bowls and base moulds are of from Tala Cooking
Directions
1. sift the flour and baking powder in a large bowl, and then add the rest of ingredients.
2. using an electric mixer, combine ingredients for approx. 1 minute until you have a smooth, creamy consistency. Then dump into our moulds. I used these for from Tala Cooking that I used to individual cakes and that moulds perfectly as these beautiful Victoria biscuits with lemon cream. Bake for 20 minutes until the Biscuits are browned and Pierce with a toothpick this comes out clean.
3. remove from the oven and after a minute, unmold and cool completely on a wire rack.
4. While cakes are cooled, prepare the cream. To do this put the softened butter and sugar in a bowl and a wooden spoon mix a little. Once the sugar is a bit mixed with butter, put the rods and beat for at least 10 minutes until the mixture is creamy and very light. Add the lemon juice to the cream and continue beating.
5. now we color the color cream that we like. I chose to do it in pink tones to get a nice bouquet of flowers in my small biscuits, but if you want you can do it in different colors.
6. with the help of a spatula, cover our cakes with cream. To make the flowers I used some nozzles which had given me and figured that they could do so easily as beautiful flowers. Russian nozzle, are called even that can use tengaisi at home or more like.
Tips and Tricks
Prepare a nice try baking cakes in molds of 20 cm and decorating the cake with flowers of different colours
It uses pure extract of vanilla instead of the lemon juice and get a delicious vanilla cream
Difficulty: easy
Preparation time: 1 hour longer of cooled biscuits
Servings: 18 cookies