"Sometimes we feel that what we do is just a drop in the ocean, but the ocean would be less if a drop are missing"
Madrid is a city where you will always discover new things. Like any other great capital, moves constantly and always offers cutting edge to its inhabitants and visitors. On my last visit, I decided to look for some ecological and organic markets. This type of local trendsetters and as well as being a nest full of eco products, are also places of pilgrimage for foodies and kitchenettes. Are you coming with me? Let's go!
Today, I propose a candy that takes me directly to my school years: the tigretones. Recently, my son asked me if really were good. I bought him one but as little accustomed to the industrial bakery, not liked it very much. I refused to taste to remain you to identify my cherished tigretones, so I decided to make them at home. The result is this and I hope you enjoy it as much as I liked us. Enjoy!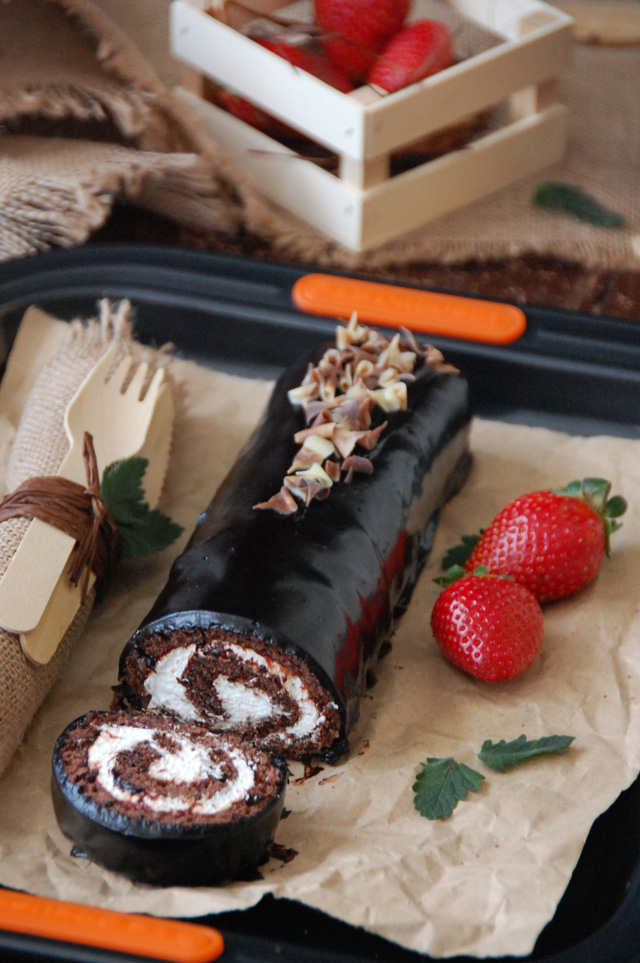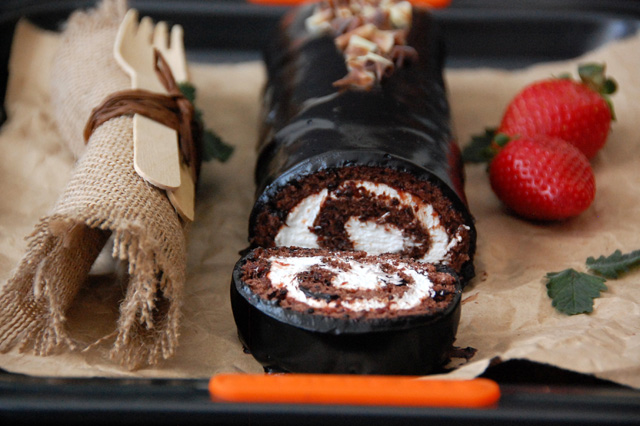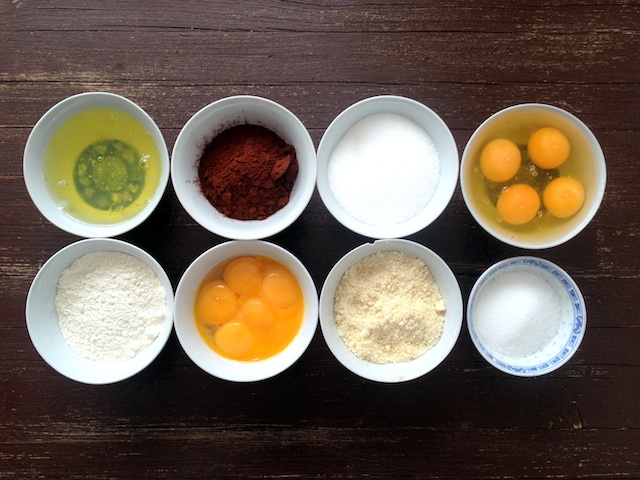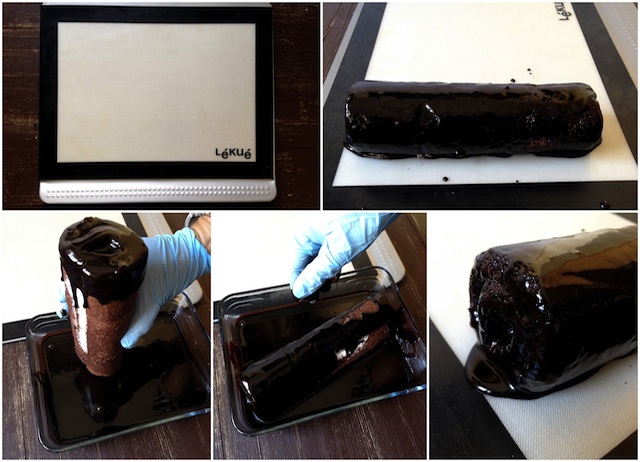 Ingredients
For the sponge:
35 g flour €0.02
25 g ground almonds or almond flour €0.15
16 g of pure cocoa powder (to my like to use value or Valrhona) €0.11
123 g eggs €0.35
58 g of egg yolks €0.40
74 g of egg whites €0.30
111 g sugar €0.10
23 g of sugar €0.02
For the cream:
250g of very cold liquid cream with at least 33% fat €0.60
15 g of sugar powder 0.01
1 teaspoon of vanilla extract (in this case I used transparent scent to not alter the color of the cream) €0.15
Four tablespoons of Strawberry Jam €0.45
For chocolate glaze:
7.2 g gelatine €0.10
150 gr of cream of at least 33% of fat €0.36
225 g sugar 180 g water €0,20
75 g cocoa powder €0.52
pearls of chocolate (optional is to decorate) €0,20
Total €3,72 divided between the 12 generous portions that come out of this cake, comes to €0.34 the portion. You have never seen something so cheap and so attractive as a tigreton!
Directions
1 preheat the oven to 175 degrees (convection function if you have and if not then heat up and down but then put it to 180 degrees). Prepare the mold with a greaseproof above paper and grease well.
2. in a large bowl place the flour with almond flour and mix well, making sure there is no lump.
3. in bowl of electric mixer, mix the eggs, yolks and sugar and mix for one minute at speed lower middle. After that minute, speed up to medium-high and beat for 5 minutes.
4. stop the mixer and get off with a spatula that has been left on the walls. Back to beat on high speed for 5 minutes. At this point, the mixture will be almost white, very creamy, and will have doubled its volume. book.
5. in another bowl of electric mixer tip the egg whites and with the rod riding speed media for about a minute until they are foamy.
6 lower the speed and add the 111 g sugar. Increase speed and beat for about 3 minutes until the whites form soft peaks and are brilliant.
7. Add in twice the flour mixture and cocoa to the mix of egg yolks and with a spatula mix with outflanking to keep the air in our mix.
8 take the bowl with the mounted egg whites and add half to the cocoa mixture. Once well mixed with a spatula and outflanking, add the other half and repeat the operation.
9 pour into the mold. You must give a layer fine and uniform.
10 bake for 13-15 minutes until the pinched with the help of a needle is it out clean and without traces of mass.
11 remove from oven and let cool completely on a wire rack without removing from pan.
12. now we will prepare the cream. In a bowl put the cream well cold, sugar and vanilla and with the help of a few rods beat until desired consistency is reached. Refrigerate.
13. when the cake is cool, we unmold. If not we are going to use at the time, wrap well with two layers of paper film and put in the fridge until half an hour before using it. Then remove it from the refrigerator and waiting half an hour for is tempered and is flexible. It is important not to remove the plastic wrap until half an hour has passed and the cake is tempered. We can also freeze it wrapped in two layers of plastic wrap. In that case to thaw we pass it to the fridge a few hours, and then draw it half an hour before using so it is tempered before removing the plastic wrap.
14 fill the pancha cake with thin strawberry or raspberry jam and then cream, leaving a border of a centimeter around the perimeter of the cake. Tighten the cake to form the roller. You have to give two full turns. If leftover cake cut it and make another curler aside. If we give too many turns the roller will be too fat and not be provided by what will not be pretty.
15 wrap the cake in baking paper closing corners with paper zeal and freeze.
16 we now turn to chocolate glaze. So we started by hydrate the gelatin leaves by placing them in a bowl with water.
17. in a large saucepan, heat the cream, water and sugar and boil.
18 Add the cocoa powder and a little lower the heat by boiling for 15 minutes until mixture has reduced one-third.
19. to see if the mixture it is ready or if you are missing more boil, put a tablespoon of chocolate on a plate and slide a finger through the Center. If the footprint of the finger disappears then it lacks more cooking time, but if doing so, finger leaves a path, then the mixture is. Once reached the texture that we seek, separate from the fire.
20 drain well water gelatin and add to the hot chocolate. Move well until it has been diluted and mixed well.
21 remove the cakes from the freezer and place it on a wire rack.
22 heat well chocolate cream and dip the biscuits one by one and put them on a silicone sheet.
23 allow the chocolate to harden a bit and decorate with chocolate white, black balls and milk.
24 store in the refrigerator up to three days, although at home! no consigo arriving in the fridge once completed
Tips and Tricks
If you don't like the flavor of pure chocolate, with chocolate not glasees your tigreton. They are also delicious
Use your favorite jam: the Peach will you very well as Sacher cake.
It produces and freezes your tigretones and you can take them when you want more. You can freeze them already stuffed and even already glazed.
I recommend you this sweet dessert a Moorish tea: choose your infusion or favorite tea, add a few drops of sweetener, mint leaves and a handful of ice flakes. Deliciously refreshing for the time in which we are.