"Don't be afraid to do new things, you randomly you will have your reward, if you fail one more experience"
I guess you know the story of why there is rice which are called the young gentleman. It is simple, I would remind you: so the "misses" from not having to stain hands opening, stripping and removing husks and shells of shellfish in marine paellas, tells that someone (here always discussed it Valencia, Alicante and Catalan) it occurred the great idea of cooking the paella with all the bare genre, so that the dinerdid not have to entertain stripping and removing waste from the seafood. And I say great idea because the truth, albeit more laborious to prepare, at the end is appreciated. There is something that I like less than the paella with shrimp whiskers circling the dish that you can't eat, or chewing. I advise that if you have time, always you try it be bare and clean, you will notice and your guests will notice the difference.
Of the many restaurants in Madrid that prepare paella in exquisite way (each in its method and specialty), I like Samm Houseof Valencian and traditional origin, in the area of Chamartín, to achieve that point of cooking clean and proper, with a light socarrat in a coating fine and well tasty, that fascinates me. Paella served it to the center of the table, and although as Star del senyoret "rice" bare seafood, to my especially likes chicken, with few ingredients, but very intense flavor. Give some practical information, it is expensive, indispensable book, and treatment sometimes is not ideal, but it's worth going at least once. Finally, do not fail to also try the potato salad, although I admit that I what I'm looking for is their paella rice. If you look for it on the internet, surely you entretendréis with contradictory opinions that wakes up.
As well, stroll through the market, I dared to combine some few simple, practical and quality ingredients (the style of the master) Berlanga delights in The still) that enhance the flavor of the rice, perhaps not very Orthodox with Valencian cuisine recommended, but I recognize that, bridging the gap, the taste and the texture quite approached the House Samm, say, that I was taking it, and said, what rice reminds me of this paella?... As the base is in camp, unlike the sailor, and paella is clean (in my case, I left a few chicken thighs for my son), I decided to rename it as the gentleman's rice in the field. In addition, it is a type of rice that also love children because apart from its wonderful flavor, cut very thin vegetables, they have no "rikas" as they say. You'll love.

Difficulty level: intermediate

For 4 people
Preparation time: 45 min.
Ingredients
400 Gr. rice pump (approx. 3 cups). €1,50
3 sliced chicken breast fillets. €2.35
2. sliced also free-range chicken legs. €2.45
1 tray of fresh garlic very finite cut (250 gr. aprox). €1.00
2. very finite chopped chives. €0.66
2. garlic peeled, without threads and cut into slices. €0.15
Tomato, garlic, onion, olive oil, laurel, thyme and Rosemary sauce. Approx. 250 gr. (must do before and have it ready). €1,50
Cooked or hot pot broth: double and something more than rice, as 7 cups (failing that, natural broth pot brand Aneto, that was what I used on this occasion). €3.06
A bit of parsley, and a few strands of Saffron to give flavor and color. €1,50
A quarter of a cup of olive oil and salt. €0,50
Total: €14.67 to be divided between four, 3,67 €/ person. Unbeatable price for a delicious paella
Equipment
Paella with internal diameter 50 cm. (for a layer thin rice, baking much better)
Barbecue (fire) of gas with gas cylinder
Ladle for the sauce (if you have not previously prepared)
Microwave or hob to heat the broth
Slotted spoon, chopping, boards aluminium foil, various containers, etc.
Pairing
To be a paella worthy of a good wine, and since we have "misses" in the table, I propose Campillo crianza 2007well known Bodegas campillo (D. O. Rioja). Grapes 100% tempranillo, this Winery belongs to the Faustino group, and with this label has managed to give a special touch to their wines. I follow them for several years and they tend to be one of the references that I have more in mind. Its price is around the €9,50
Directions
1 we will by parties with prior preparation of vegetables:
Garlic: The dark green part of the stem, remove and cut flush with the bulb of the root, so that they are clean and in this case, are cut very finite and pass unnoticed
Chives: We do the same as with the garlic, sliced them and let them finite cut. This child is.
2 Brown to fire half the garlic with the oil for 3/4 minutes and is first fry the chicken thighs (as larger pieces, take longer to become) and later the cut until all crispy chicken breast. When we go having lists, they are reserving to the perimeter of the paella. First removed the garlic, then the chicken breast chunks, and finally the thighs, which will be the latest in book.
3. Meanwhile, toast the Saffron threads in the hob wrapped in aluminum foil for no longer than 10 seconds. Then crush them on the same paper and add them to the broth from stew to give flavor and color. (careful! you really are toasted very fast). Finally, is heated in the micro broth with saffron for 5 minutes.
4 after you Sauté chopped with a pinch of salt for 5 minutes until slightly brown the garlic and the onion. Then add the already-made tomato sauce (tomato, garlic, onion, oil, bay leaf, thyme, Rosemary and salt, previously prepared), and stir for a couple of minutes more. All over medium heat
5. to finish before the broth, add the 400 Gr. of rice measured in cups or scoops, remove for 5 minutes so golden brown and release a little.
6. in my case, rice occupies 3 cups (depends on the size you use). Therefore, reserve broth from stew about seven cups, 6 as custom sets of rice twice, and one more, to finally water demand according to go seeing the firing of the rice while it is cooking. I get to be heated in the micro stock (2 min) at maximum power. All stock must be very hot when we add it to the paella, since otherwise it would break the rice cooking.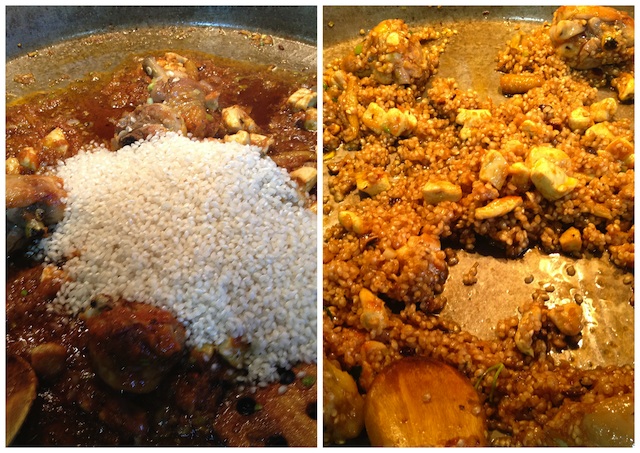 7 and started cooking: Add the hot broth and stir together with the other ingredients, which exactly double the volume of rice, as we have said, 6 cups. We apply the Technical paella rice cooking If not see you even with confidence and ease to control the timing and degree of cooking to the Valencian type. We tried salt, let it 1000W heat for approx. 5/7 minutes, taking care that fire to spread by all the paella evenly.
8 we will reduce the fire below, and will keep you about 10/12 min. Virtually all of the broth will be evaporated at the end
9. Once completed the time, irrigate with the half cup of broth that we still distributing it equally, this makes sure there is liquid even in the paella dish by evaporation.
10 cover the paella with aluminum foil, and climbs the fire back to medium-high a couple of minutes so that evaporation of the last Cup, to take effect. The couple of minutes shuts off the fire and leaving the role aluminum, rice which stand for at least 5/7 minutes and finish cooking.
11 stir paella completely before serving, and the rice in the dish will get homogeneous texture, since never become equally grains from the Center to the perimeter.
12 ready!. Enjoy the dish, because it is yummy,... simple and powerful flavour.