An easy recipe for mini tacos with guacamole of yogurt is what I bring you today. In my House still do not give credit and they are super rich. This is one of those dinners that arise when it comes time for dinner, and I have nothing prepared. I open the fridge and by magic, there are things that arise alone and this was so.
I've never felt attraction for prepared foods. It is not normal that in my fridge has precooked food because I don't have it by custom, but this time was different. It had several Garden Gourmet products, a range of Nestlé products that are 100% suitable for vegetarian diet with protein of soybean, wheat and Sesame plant. They are suitable for vegetarians and for those who want to reduce meat consumption or have an alternative plant, and a diet varied and balanced without sacrificing flavor.
So that night I decided that it was time to try them, but said nothing. I just make some tacos I had in the fridge.
The biggest surprise was the guacamole of yogurt. He was just an avocado and knew that it would not be enough for all the anchors. So I decided to invent: a yugur skimming without sweetening (I always buy them sweetened because find me it very comfortable, but I was confused to pick up the package and they had were not sweetened). Bingo! Perfect for mixing with the avocado. As I didn't want to that you will notice it at home because she would be drawbacks before testing it, I trituré it all very well, aderecé it with herbs and it took it whole!
So here's the dinner that day. It was not nothing and they have asked me to repeat several times already. The nuggets have an incredible flavor and perfect texture. This recipe has been a lesson to me: never decide whether something is or not good until have tried you, Loleta. Never. Let's go for the recipe!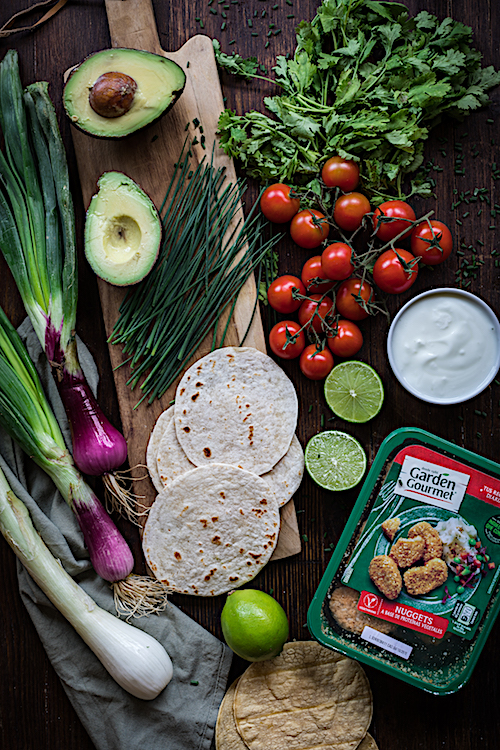 Ingredients
5 burritos wheat tortillas
1 package of Nuggets Garden Gourmet
1 handful of alfalfa sprouts
1 handful of Arugula leaves
1 red onion
1 fresh spring onion
1 bunch of fresh cilantro
1 bunch of chives
1 avocado
1 skimmed yogurt without sweetening
half lime
a few cherry tomatoes to accompany
Directions
If the tortillas and burritos are large, cut them using kitchen shears so that they have a size of about 15-18 cm in diameter. Pass them in the frying pan and book wrapped in a clean cloth so that they stay warm.
Chop an onion and reserve.
Chop medium onion. Peel the avocado. Put it in a bowl along with the onion, some branches of chives, leaves of cilantro, a little salt and a fat free sweetened yogurt. Mash everything with the help of a hand mixer. Salt and pepper to taste. Add the lime juice and toss well. Book.
Heat plenty of oil in a frying pan. Fry the nuggets a couple of minutes on each side until browned.
Take a tortilla. Put a few shoots, leaves of Arugula and red onion slices. Place two nuggets over and add a tablespoon of guacamole of yogurt. Enjoy!
Tips and Tricks
It is best to take them at the moment but if not you're going to do, keep all the ingredients separately and heated in the micro nuggets and tortillas (fresh ingredients not)
Add a bit of cheese if you like
Preparation time: 15 minutes
Difficulty: easy
Servings: 5