Today I bring you this easy recipe of cannelloni stuffed with meat and foie gras. It is the recipe that my mother prepares every year at the new year meal. Probably few mothers prepared a dinner of end of year, and the next day a meal that is not based on leftovers from the previous day, but on a different menu: soup picadillo, cannelloni stuffed with meat and liver and biscuit glace with hot chocolate (a kind of homemade custard with hot chocolate sauce ice cream) for dessert.
I have always loved raising me the day of new year and hear the concert of Vienna while I fix it for new year meal. A habit that I love and a family tradition that the table stretches almost up to the dinner.
This recipe today's cannelloni stuffed with meat and foie gras again in addition many times throughout the year because I love. They are a soft and very tasty cannelloni that like everyone at home, so although they are a little laborious are easy to prepare and are worth. When I prepare them always I do twice the amount of the ingredients because I prefer to make them and freeze them. There are great, and so hit me the whim when we will, because I just have to thaw them and to the table!
I leave you with the recipe video and the recipe explained step by step below.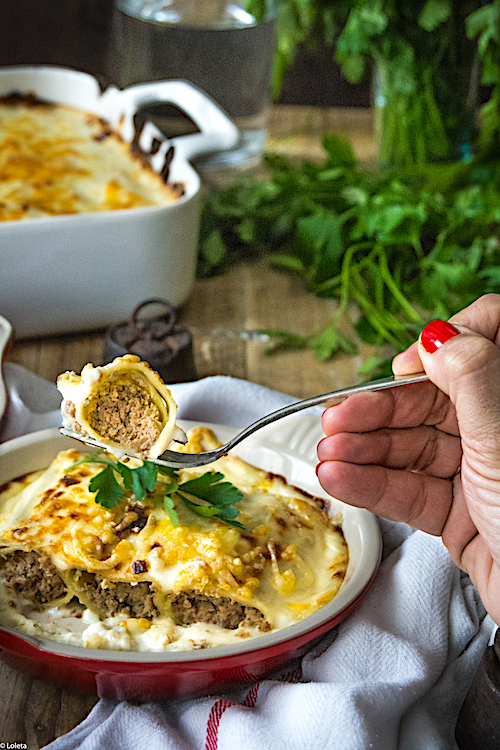 Ingredients
300 g of chicken breast
300 g of pork ham
300 g of veal
300 g of duck foie gras (also you serves mousse of foie gras of duck or your favorite pate of pork or beef, but my favorite is the duck which is what my mother used)
1 squirt of cognac or brandy
1 onion, very chopped
salt
pepper
1 pack of sheets of canelones
For the bechamel
120 g butter
120 g flour
1 litre of milk
nutmeg
salt
black pepper
Directions
Boil pasta sheets. Pass them under cold water and dry them well. Place the envelope a baking tray covered with paper oven and reserve.
In espresso pot, FRY in oil the pieces of meat to seal them... Cover with a bit of broth and cook in the espresso pot for 20 minutes.
Meanwhile, make the bechamel sauce. Heat the milk in a saucepan. In a saucepan heat the butter. Add the flour and cook a couple of minutes. Begin to slowly add the hot milk and cook for at least 15 minutes so the flour cook well. Salt to taste and add freshly ground black pepper and nutmeg. Book
When the meat is ready, strain and chop it. In a frying pan sauté the well-chopped onion in a little oil. When ready, add the cognac, minced meat and foie mousse mix well until smooth. We can help each other with a hand mixer to crush the pasta well. Rectify salt and pepper.
Place the dough on a pastry sleeve and lace this dough over each sheet of cane paste. Wind. Fill a pan and cover with bechamel. Splash with grated cheese. Heat for 10 minutes in the oven and gratin to brown the cheese.
Serve very hot.
Tips and Tricks
Use your favorite pate
Preparation time: 1 hour
Difficulty: easy
Servings: 16 cannelloni