This rice to the Mexican with meat and cheese. you will bring the flavor of the chicken enchiladas... but in a frying pan and with rice! It is very simple to prepare and at the same time a different way of eating rice. You can do this only with vegetables, but with meat is so rich!
The rice is tasty and is suitable for all audiences because if not the spicy you like only you have to remove it from the ingredients. In Mexican cuisine, rice is an essential nutrient that is almost always present at the table were the Spaniards who introduced it already makes hundreds of years in its gastronomy.
The most common way to take the rice is the Mexican tomato and cumin-based which gives it a unique flavor. This rice to the Mexican with meat and cheese today is my version, and at home every time I prepare what touch me palms.
The first time that I did not I put cheese on top, but it definitely is worth putting it because the result is super rich. Why home to this rice with meat and cheese, Mexican call rice enchilada because its final appearance is very similar to enchiladas. I hope you like it also.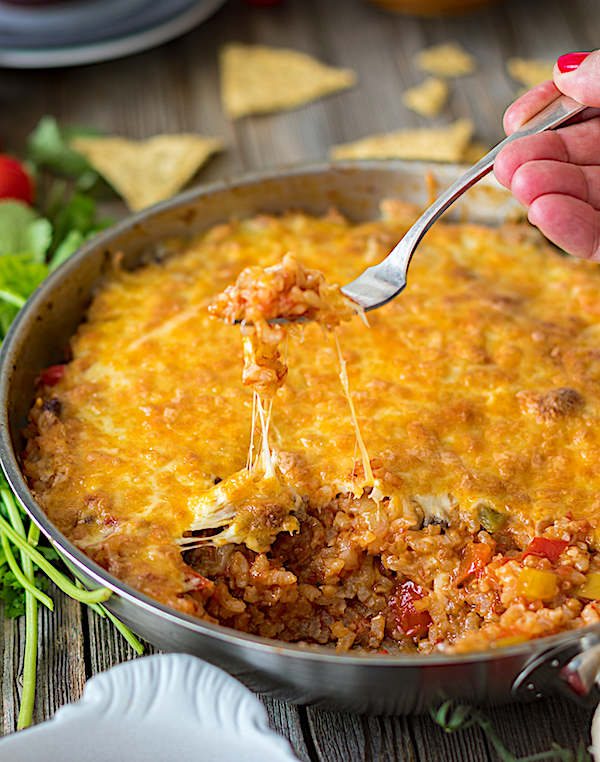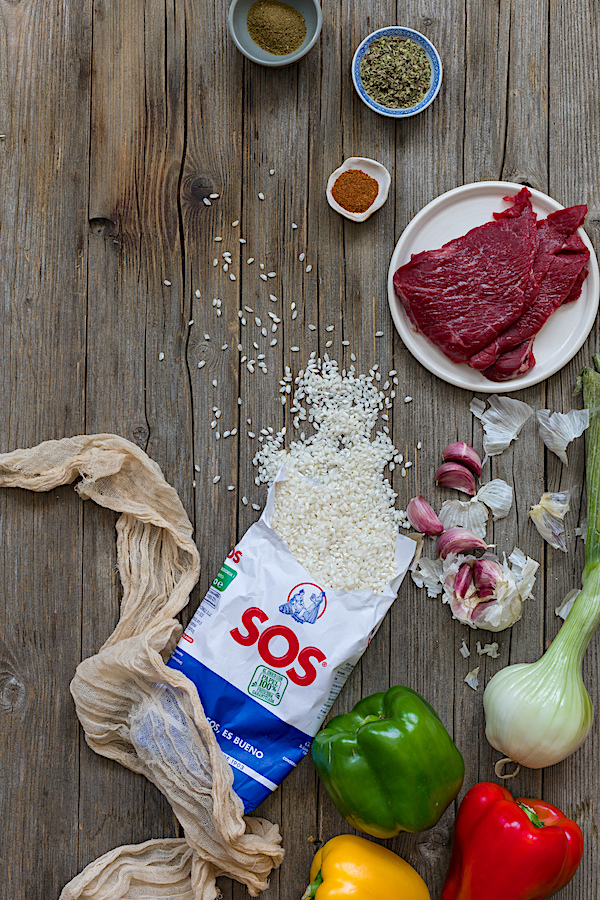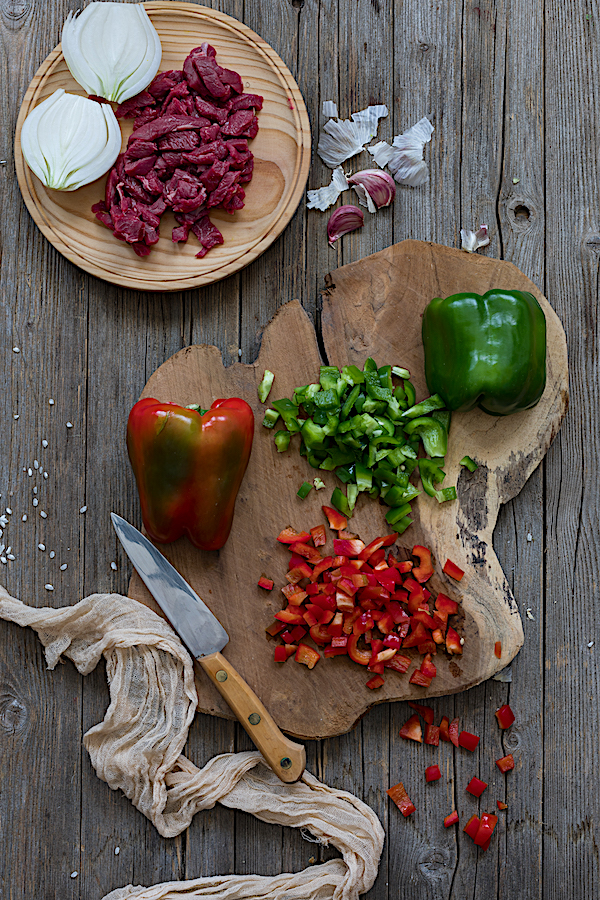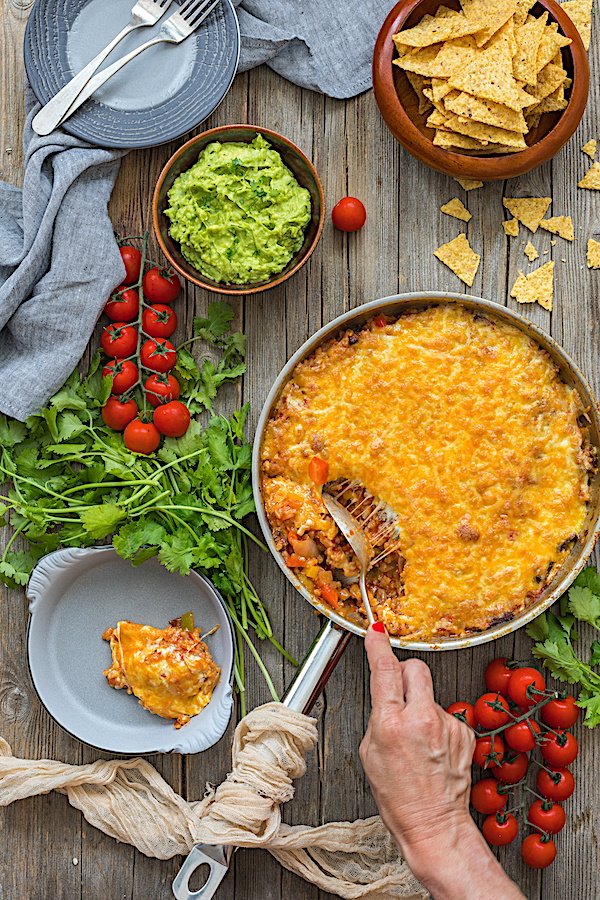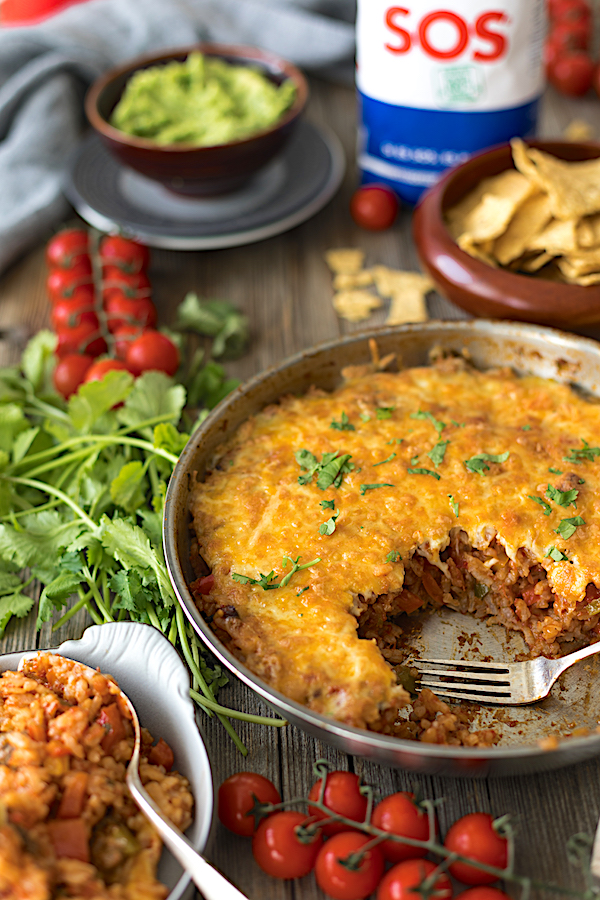 Ingredients
2 tablespoons of olive oil
400 g veal fillets false
1 onion cut into cubes
3 cloves of garlic crushed
1/2 red pepper, diced
1/2 green pepper diced
1/2 yellow pepper, diced
500 g of tomato paste
2 tablespoons of tomato concentrate
600 ml of chicken stock
1 can of corn
½ teaspoon chili powder
1 tablespoon dried oregano
2 teaspoons ground cumin
1 ½ teaspoon of ground coriander
1 tablespoon brown sugar
Salt and pepper
250 g of Rice SOS round
150 g of grated cheese (I used a mixture of cheddar and mozzarella, but you can use your favorite)
Directions
Cut steaks into strips, salt and pepper. Heat the olive oil over medium heat in a large skillet (better if it is iron or steel). Add the meat and Brown to seal. Does not need to be done entirely. Remove the meat and set aside.
In the same Pan Sauté over medium-low heat onion and garlic for two minutes until they start to soften. Then add the peppers and cook for another 2 minutes.
Add tomato crushed along with corn, chili powder, oregano, ground cumin, ground coriander and brown sugar. Move well and let Cook over medium heat a few minutes. Now add the rice and sauté 1 minute. Now return the meat to the rice and mix. Add the hot broth and salt to taste
Lower the heat and cover. Let Cook about 15-18 minutes without moving. We must boil until rice is a whole point (the rice will continue to Cook once we turn off the fire and if we cook all us will happen). Cover with cheese and broil 1 minute until cheese is melted and it has begun to Brown.
Serve rice with meat and cheese Mexican well hot.
Tips and Tricks
You can also use SOS Special Garnishes because with long rice it also looks great
You can keep it in the fridge and heated in the micro one minute
If you are one of the brave add to this rice with meat and cheese Mexican a serrano chile, minced meat
Preparation time: 40 minutes
Difficulty: easy
Servings: 4