This healthy potato omelette is perfect to enjoy the potato omelette whenever we feel like it in the easiest and healthiest way you have ever seen.
It has all the flavor of the potato omelette but in a healthier version, since the potatoes instead of being fried in oil, are cooked in the microwave, with which we eliminate almost completely the oil and therefore the fat.
The only secret is to chop the potatoes on thin wheels and leave them in the microwave for 9 to 11 minutes until they are tender. So that the potatoes do not become dehydrated in the microwave, it is important to cover them with film paper or with a special microwave lid. So the potatoes will be tender and juicy and no one will notice that they are not cooked in olive oil.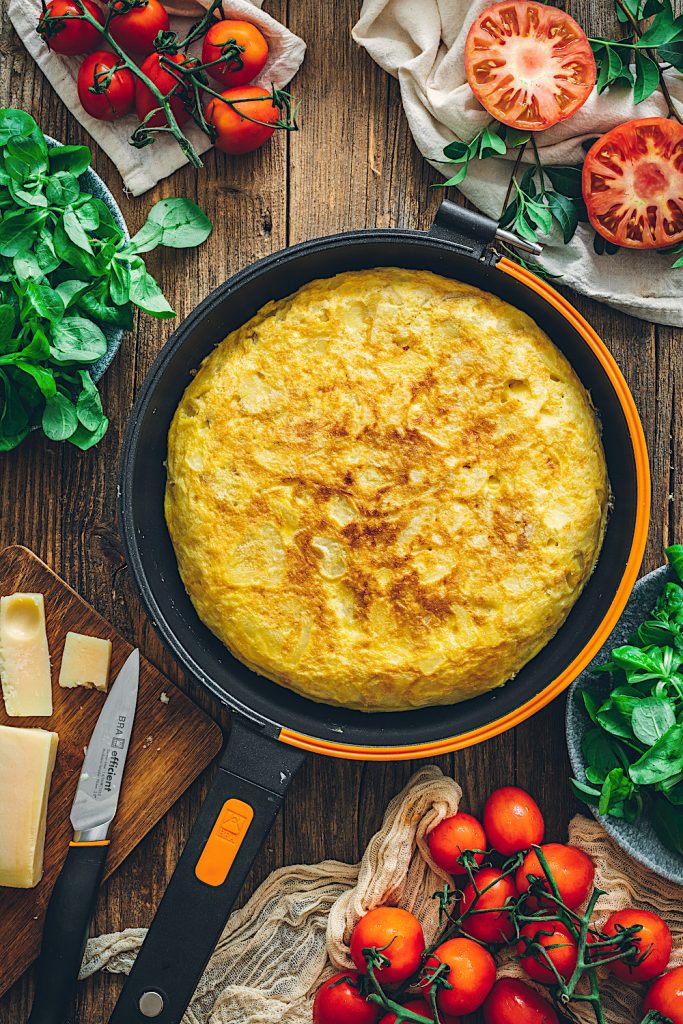 Ingredients
4 large potatoes
9 eggs
1 pinch of salt
1 tablespoon extra virgin olive oil
Directions
Wash, peel and chop the potatoes and fine wheels.
We put them in a microwave-safe container, cover them with film paper or a microwave lid, and let them cook at maximum power for 10 minutes until they are tender.
While in a bowl beat the eggs. When the potatoes are ready, we shack them lightly and add them to the eggs. Mix.
Heat a double skillet with half a tablespoon of olive oil. When it is hot, add the mixture of eggs and potatoes.
Let curdle over medium heat for a few minutes (depending on the point where we like the tortilla, we will need more or less minutes).
When it is ready, place the other double pan and turn the tortilla over.
Let curdle for a few minutes on this side. And we turn around again.
We will repeat as many times as necessary until the tortilla has the desired point. We passed the tortilla to a plate and enjoy!
Tips and Tricks
It is important that the potatoes come out very tender from the microwave so do not hesitate to leave them longer if necessary
Preparation time: 30 minutes
Difficulty: easy
Servings: 8