These chocolate cream toasts are the ones we've prepared this year. Creamy and rich toast and also very easy because instead of passing them for egg once passed through milk, as is the most traditional, let's add the egg to the mixture and fry them directly.
If you want a lighter version, you can simply pass them through the iron and they will be equally golden and delicious.
You can prepare them with the gluten-free brioche bread and those who don't have a problem with gluten can make them with my favorite brioche bread, this one that is also super easy to prepare.
They are bathed in a mixture of milk and cream with a vanilla and cinnamon flavor so rich that you won't be able to stop eating them.
This year I have decided to serve them in sticks instead of serving them in full slices, and it has been quite a success. First because they're much more than normal toast, and second because you won't tell me they don't look pretty!
Of course you can prepare them as you like and serve them as you prefer, although with a warm chocolate they are ... ummmmm ... pure gluttony. So get them guapetones!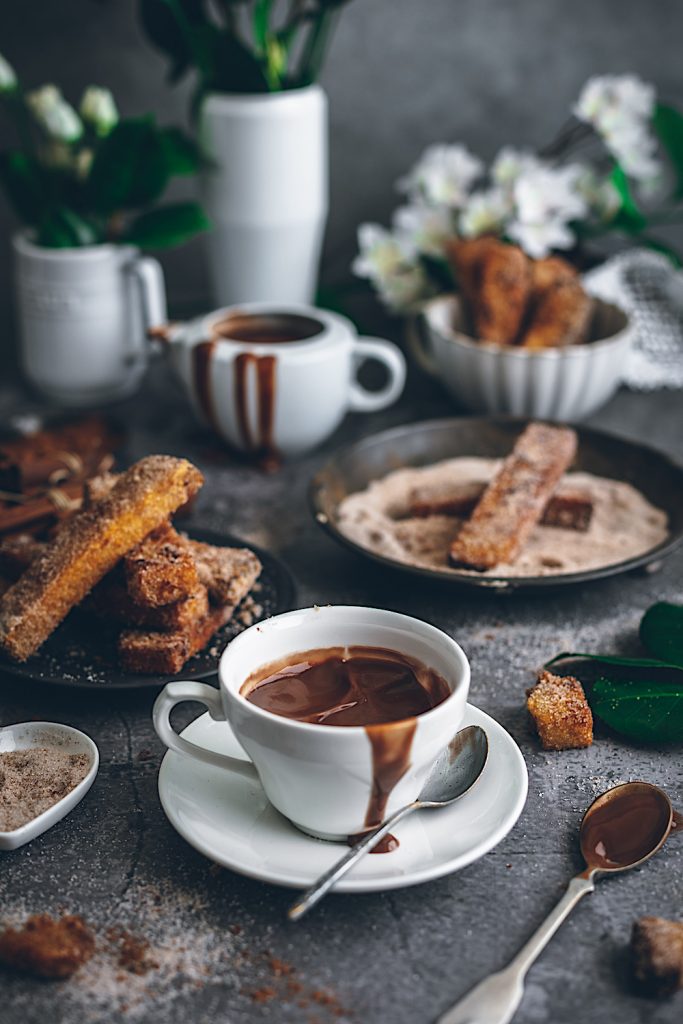 Ingredients
8 slices of bread (gluten-free brioche, gluten-free or regular)
4 large eggs
125g 35% warm fat liquid cream
100g warm milk
1/2 teaspoon cinnamon
1 tablespoon icing sugar
1 tablespoon vanilla extract
Oil or butter for frying
To rewind them
2 tablespoons sugar
a teaspoon of cinnamon
1 teaspoon vanilla powder or vanilla sugar
Directions
Cut the slice into four sticks. Reserve. In a dish, combine the sugar with the vanilla sugar and cinnamon. Reserve
In a large bowl, combine eggs, warm milk and cream mixture, cinnamon, sugar and vanilla. We immerse each piece of bread in the egg mixture, flipping it over to cover it all over the place so that they are well soaked with the cream.
Drain the excess and place the bread on a large plate or baking dish. We repeat until we have soaked all the pieces of bread
Heat a large frying pan over medium heat and add 2 to 3 tablespoons of oil. Once hot, place several of the coated sticks in a single layer in the pan. (not too many for us to have room to turn them around)).
Cook until golden brown on one side, then turn them over and continue cooking until the sticks are golden brown and slightly crisp on all edges.
We go through the sugar and cinnamon mixture and place on a plate. We serve with hot chocolate and enjoy Easter there you are!
Tips and Tricks
They hold up well and if you take them the next day I recommend that the hot ones a little or that even the mojes a little in hot milk since the gluten-free brioche is dry much more than normal
Difficulty: psycile
Preparation time: 30 minutes
Rations: 24 torrijas