This cake of cheese not baked with apples and caramel without oven learned it many years ago in my friend Alicia's House. And it has proved that it is where I remembered it when we take in New York a couple of weeks ago. I remembered that it was time that he did it so I started to work and today I bring it with video and everything!
In New York we have tested plenty of cheese cakes, baked, no-bake, alone, with jam, chocolate or cream, but my favorite has been this and a completely different to all tested Oreo before that I also think to bring you as soon as possible.
It's a very creamy cheese without oven cake. In Daily Provisions put it the same but with pears, but I've decided I bring it with apples because at home they prefer. And go if they liked! They ended up with it in an afternoon. Is super easy to prepare and you can also join her as you wish but with pears or apples is spectacular, and if you end it with this caramel sauce already is pure blessed glory.
And also today I bring you one surprise, and is that this recipe of cheesecake without oven comes with the video so you can see how easy that is to prepare it. You no longer have an excuse!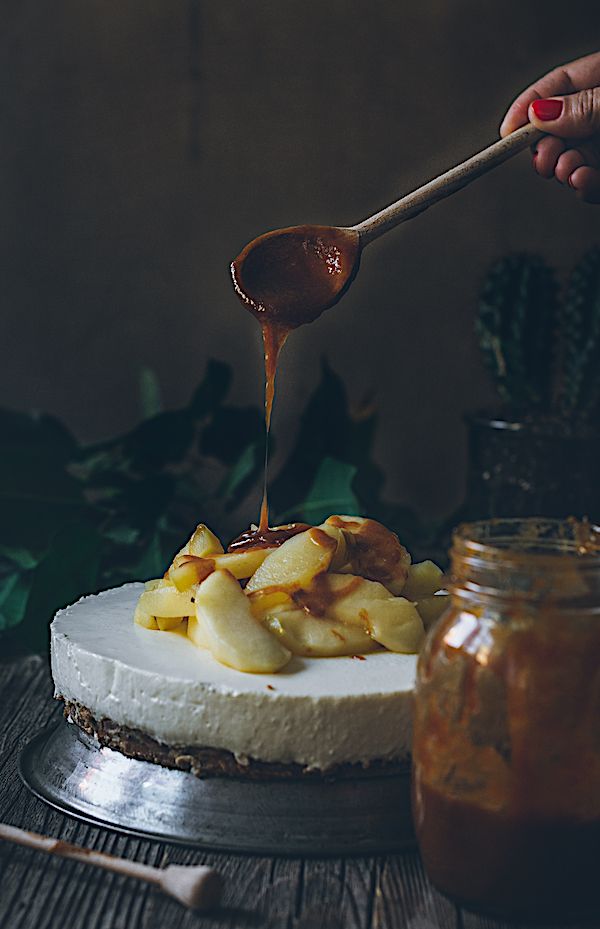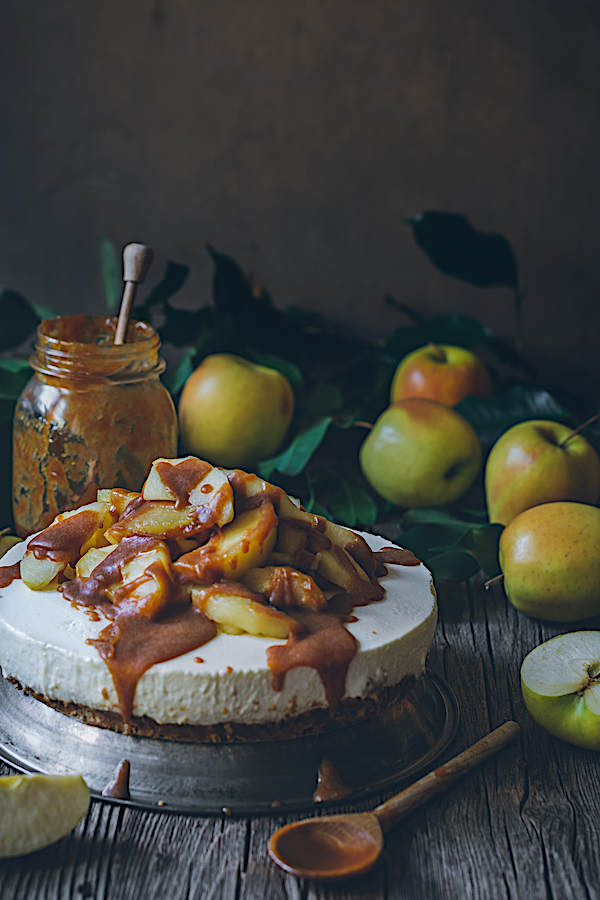 Ingredients
For the cheesecake without oven base
1 package of cookies - which you like most: type Mary, digestives, gullón...
40 g almonds or chopped walnuts
75 g butter
For the filling of the cheesecake without oven
600 g of type Philadelphia cream cheese (which in this cake must be kinder, much better)
500 g of condensed milk
5 gelatin sheets
1 lemon
4 tablespoons of sugar
200 ml of liquid cream
For apples
5 blocks
1 cinnamon stick
For the salted caramel (better do it the day before)
160 g sugar
30 g unsalted butter
a pinch of maldon salt
170 ml of liquid cream with at least 35% fat
Directions
Undo the cookies until they become powder. Add nuts or chopped almonds and mix. Now add the melted butter and mix well.
Grease a detachable mould of about 22 cm. cover the base of the mold with the mixture of crackers and place in the freezer.
Meanwhile in a large bowl and using a rod, mix the cheese with condensed milk. Add the cream and mix with a spatula until you have a creamy mixture.
Put the gelatine in a bowl of cold water and leave to rest for a few minutes so that they hydrate well.
In a saucepan, boil the sugar with lemon juice. Remove from heat when it has boiled and add well drained gelatin. We can also heat it in a bowl in the microwave. Add to the cream cheese mixture and mix well.
Remove the mold from the freezer. the cookie will be hardened and that will to not jump to add cheese mixture. Dump the mixture of cheese over the mold.
Cover with plastic wrap, and let stand in the refrigerator overnight (the hands-6 hours).
For the apples, peel them and cut them into quarters, and then by half. Put them in a pan with a stick of cinnamon and half a cup of water and cook over heat until they are tender.
For candy, in a saucepan bring sugar to cook. When well Golden and dark, remove from heat and carefully add the salt and half of the cream. The mixture will begin to boil with many bubbles (much care because if it jumps we can burn much).
When has the mixture stopped bubbling, add the rest of the cream and butter, and put the pot back to fire. Cook for a couple of minutes until you caramel has thickened. Put in a pot and let cool out of the refrigerator.
When is the cheesecake without oven curd put the apples on top and sprinkle with a bit of caramel. For scrumptious little by little.
Tips and Tricks
For your cheesecake without oven, replaced the apples with pears
If you don't like the candy you can use a bit of chocolate sauce or take it as is
Preparation time: 30 minutes longer than fruit-set in the fridge (at least 6 hours)
Difficulty: easy
Servings: 10