This peaches and apricots pie is one of my favorites at this time of the year. I love fruit, pies and when they are in season I love to to make lots of pies and lots of jam jars.
And this pie of peaches and apricots of today, is a favourite for my friend Pilar. She has a lot of fruit trees in her countryside house, and whenever she goes there, she always remembers me and brings me a box filled with fruit of the season from her fruit trees.
The best thing is that she remembers my love for fruitsg. But I must admit to you that the second best thing is that I can always invent new things without fear of running out of fruit because she always brings tons of them.
I was going to have tea by the pool at a friend's house with a bunch of kids. The parents were invited too, so I promised to bring a pie and it was a success. Just the day before, Pilar had come to my house (home delivery included, how lucky I am!), and left me a fantastic box of apricots and peaches ,so I had plenty of fruit at home..
I normally make tatins because it is easy and the flavors of the fruit are well appreciated, but I had this beautiful stoineware pie dish, so I thought that it would be very nice at the snack table. So I decided to make this peaches and apricots, pie in this stoneware Tala Cooking pie dish that exists in various shades. It will be hard for you to make up yourself, because all the colors are beautiful.
And the pie was a success. Children (and adults), always love the lattice because it adds a very crunchy touch to the soft taste of fruits. But also this recipe for peach and apricots pie, has a fruit mixture that makes it sweet and juicy.
In the same way that I use peaches and apricots, you can also replace them with pears, apples or berries, and in all cases you will get a delicious pie that will be a delight.
Finally, I will tell you a secret: I always I keep leftovers for the next day breakfast. I warm the pie a few minutes in the hot oven and have it warm. Just a pleasure like just freshly made.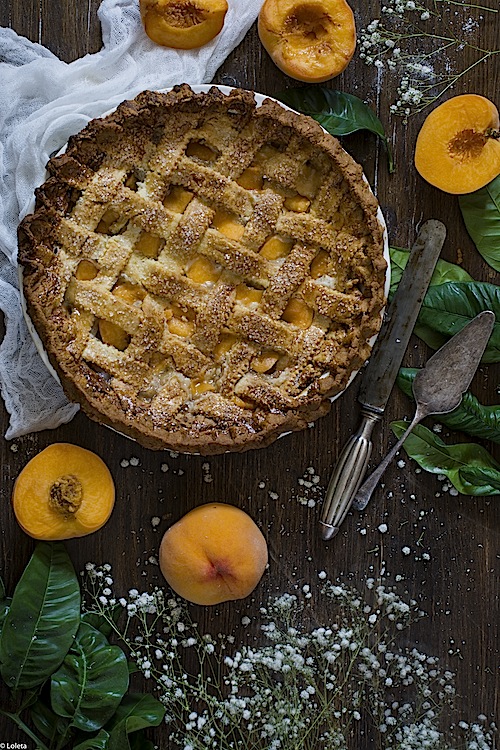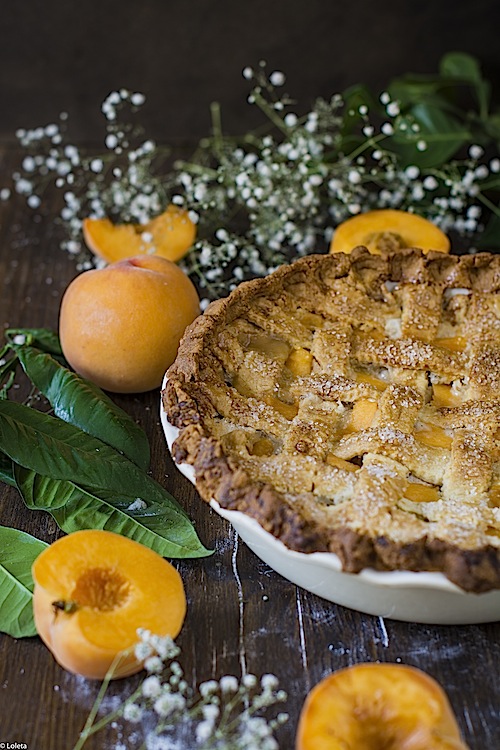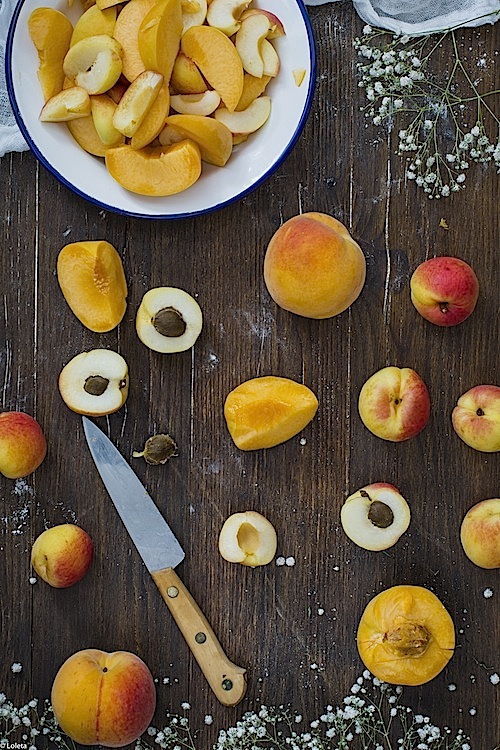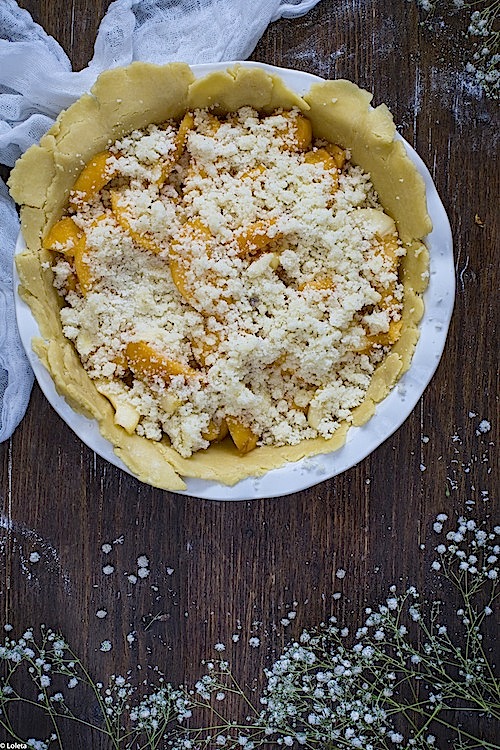 Ingredients
For dough
375 g flour
3 tablespoons icing sugar
a pinch of salt
150 g of cold butter cut in small pieces
1 tablespoon vanilla extract
1 egg
For the filling
500 g of peaches
500 g of apricots
50 g of flour
1 tablespoon cornstarch
225 g of sugar
50 g cold butter into small pieces
a teaspoon of vanilla in powder
For decorating the cake
1 egg
a pinch of salt
1 tbsp. demenara or pearl sugar
Ss I have mentioned,the pie was made in one of my favorite pie dishes. from Tala Cooking and has a beautiful light cream color that I love
Directions
1 Before anything else, prepare the dough. So mix the dry ingredients in a bowl.
2. Then, add butter and with the tip of your fingers, mix until the texture is a thick sand. Then add the egg and vanilla and mix well.
3 Divide the dough into two pieces we will use one to cover our pie dish and the other to make the lattice.). Extend each between two sheets of baking paper with the help of a roller. Reserve in the refrigerator while we prepare the filling.
4 Peel and cut apricots into quarters, and these in 2 or 3 pieces so that they are thinslices. Set aside.
5. In a bowl, mix flour, cornstarch, sugar and vanilla. Add the butter in chunks and with the tip of the fingers mix.
6 Lined the pie dish with dough and well covered all of it. Put fruit by alternating a layer of fruit with sugar mixture, until the mold is completely full. Return pie dish to the fridge.
7. Preheat the oven to 200 ° C. Take out the other part of extended dough and with the help of a ruler, cut strips of equal width. I used a short pasta curled cutter so that the edges were cut with a small zig-zag, but if you don't have one, you can use a sharp knife. Once we have the stripes, return to the fridge for 10 minutes.
8. After this time, remove the pis from the fridge and the dough stripes and make the lattice.
9. Once finished, beat the egg and using a ccoking brush, paint the dough taking care not to damage the lattice. Splash then with pearl. sugar Cover edges with aluminum foil and bake for 10 minutes.
10. Then, lower temperature to 175 ° C, and let bake for another 50 minutes.After this time, turn off the oven and leave the cake inside the oven until it has cool down.
Tips and Tricks
You can replace peaches and apricots with red, berries, plums or apples
Aluminum paper will prevent the edges of the cake over cooked and getting too brown
Preparation time: 1 hour and a half
Difficulty: easy
Servings: 10