Fraisier Strawberry Shortcake. So this beautiful Strawberry cake that takes its name from the French called (fraise is Strawberry in French) and that it is a cake my mother favorite, and is that this strawberry tart is ideal for any day but also for a special celebration because it is very colorful It is not difficult to prepare, freeze very well and because like everyone. It is an easy-to-make dessert and like to young and old.
It is made with a very fine Genovese sponge cake and is filled with strawberries and a cream with cream of vanilla, and besides being very rich is beautiful.
I had always finished this strawberry meringue cake because I love merengue, but learned this decoration from the French pastry chef Jean Michel Llorca and seemed much more easy and sophisticated at the same time. Jean Michel is pastry chef at the restaurant with a Michelin star Allain Llorca Restaurant in the village of the South of France La Colle sur Loup, a beautiful place on the French Riviera, which is located in the Valley of Saint-Paul de Vence extending down to the sea.
And now that we are in full season of strawberries, I think the strawberry cake is ideal to prepare at home and surprise. strawberries are of color and flavor. the termination can be done with fondant, which is how Monsier Llorca prepared it. The other option is to cover it with an Italian meringue and toast it slightly, although to my fondant I think it looks super good. I leave the video so that you can guide you without problem. To fresear awhile!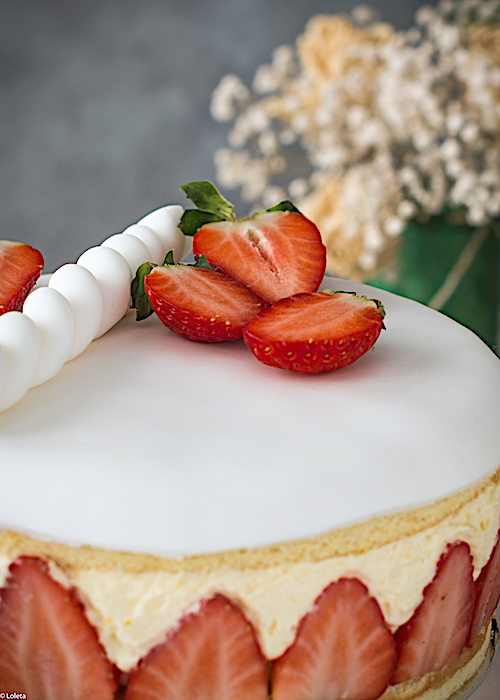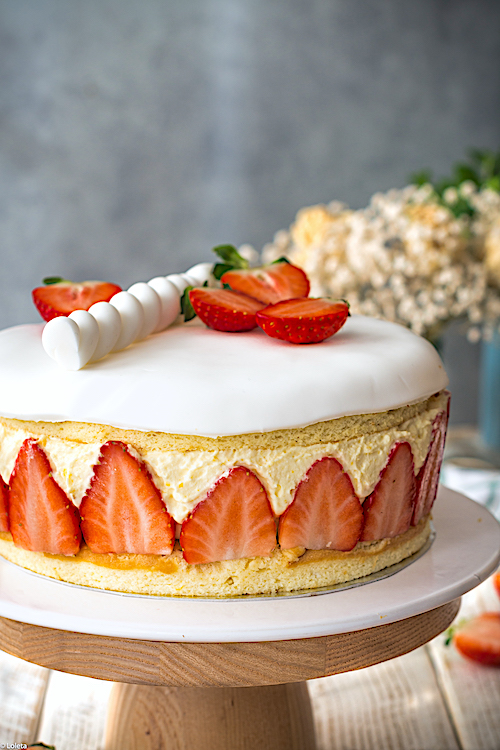 Ingredients
For the sponge
4 eggs
3 egg yolks
160 g sugar
120 g flour
Para la crema pastelera
250 ml of milk
1/2 teaspoon pure vanilla extract
2 egg yolks
65 g sugar
20 g cornstarch
25 g of butter
For the mousse filling
200 g of cream pastry
2.5 gelatin sheets
400 g of whipped cream
200 g of strawberries
For the Italian meringue
50 g egg white
100 g sugar
1 tablespoon sugar
For the final decoration
300 g of white fondant
2 strawberries
Directions
1. to prepare cake, heat the bath eggs, yolks and sugar beating with rods by hand and occasionally, up to about 80 degrees. Then beat speed with rods until it cools and climb and is sparkling. Add the flour and mix well. Book.
In another bowl, beat the whites with the sugar. When mounted to slowly add the mixture of yolks with a spatula and outflanking and pour onto the square of oven. Bake at 180 degrees for 10-12 minutes. Remove from the oven and let cool.
2. for the pastry cream, heat the milk with the vanilla until it boils.
While in a bowl mix the egg yolks, sugar and cornstarch, until it is well sparkling. Then add the milk boiling and mixing, and return to heat until it thickens. Once out of the fire add the cold butter and mix... cool with a plastic wrap put to skin.
3. for the mousse, in a bowl put the gelatin to hydrate. After 5 minutes drain well and let it heat for a few seconds in the micro. Letting temper a time and add a tablespoon of custard (only need 200 g). Mix well. Add another scoop and mix. Until we have added all the pastry cream
Mount the cream without sugar in large bowl. Using a spatula, mix the cream with the pastry cream. Book.
4. cut the strawberries. We will have to cut in half enough strawberries to put them around the mold. The rest, chop them into small pieces. book.
5. with the help of a cooking ring, cut two circles of cake. Place one on the basis of the ring and put a paper of acetate around us is then easier to unmold. Surround with strawberries cut in half.
Put some chopped strawberries at the base. Fill with cream mousse helping us with a spatula to mark the edges. Fill halfway. Place the rest of chopped strawberries and fill with more mousse. Put the top of the cake and let cool overnight in the fridge.
6 roll out white fondant and cut a circle the size of our fraisier. Make two rollers and wrap.
Remove the strawberry cake ring fraisier. Position fondant circle over it, and over the two coiled curls. Garnish with two strawberries cut in half. A dessert to celebrate Valentine's day, your birthday, or that today is today because richer you can imagine you will paint your color day
PS: for the option of merengue, prepare a meringue Italian. For this reason, heat sugar coating it with water and boil at 120 degrees. Put the whites riding with rods in medium speed electric blender. When have a little foaming add one tablespoon of sugar. When they are almost hard to begin to add the syrup in a thread about whites without stopping the mixer and continue beating until cool. Place pastry in sleeve and cover the fraisier.
Tips and Tricks
If you do not want to use fondant simply make a meringue and cover the cake with it. It is even more rich even though it is not as beautiful as with fondant
It uses an envelope ready for custard instead of cornstarch
Preparation time: 1 hour longer of cooled
Difficulty: easy
Servings: 10