This year this cookie cake will be my birthday cake. It catches us just halfway, back to school and home after a summer that has been wonderful, full of kisses and hugs, sun and sea which is what I have missed the most in recent months.
I had a remnant of cookie dough left in the fridge that I wanted to take advantage of and it occurred to me that this year I would blow the candles in them. Next Monday I will blow them again and make a wish but in this cake I will blow them tomorrow with my family as a farewell before we leave. An early celebration with mine that I will surely not see until Christmas.
So this year I've made it easy to bake some cookies my favorite mascarpone cheese cream and some bougainvillea that are the flower of summer here. And it is that Malaga is filled with bougainvilleas of colors as soon as the sun hits as in so many Mediterranean cities.
A very easy recipe that will get you out of a predicament without hesitation. I also leave you the complete video to help you assemble it.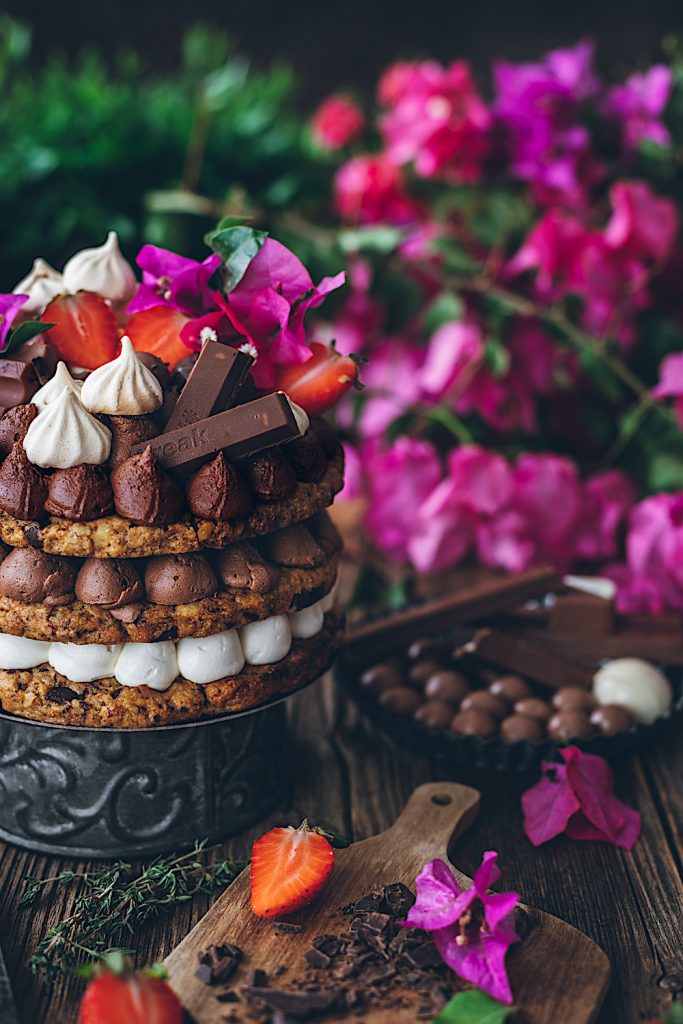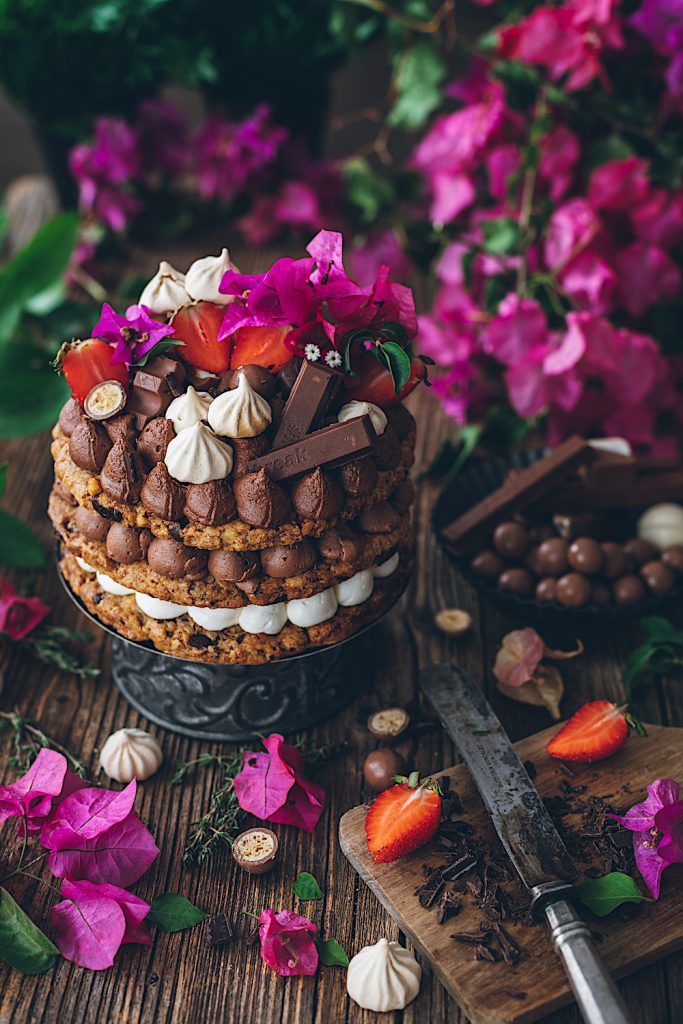 Ingredients
For cookie layers
215 g pastry flour
1 teaspoon baking powder
1/4 teaspoon baking soda
1/4 teaspoon salt
115 g of butter cut into cubes – the butter should be soft but not too much – we take it out of the fridge and cut it into cubes and let it sit for 10 minutes outside the fridge so that it warms slightly
75g brown sugar
75 g white sugar
150 g dark chocolate chopped with cuchiillo
1 teaspoon pure vanilla extract
75 g nuts chopped with hands
2 eggs
For filling cream
400 g of liquid cream with at least 35% of very cold fat
90 g of icing sugar
2 teaspoons pure vanilla extract
300 g of mascarpone cheese
For the. dark chocolate rowing
100 g melted dark chocolate
For milk chocolate cream
Directions
In a bowl mix the dry ingredients: flour, salt, yeast and baking soda and mix. Reserve.
In a large bowl, with the help of a standing mixer or rods, mix the butter with the two types of sugar. Add the vanilla and eggs and mix again.
To add the dry ingredients we stop the machine and mix enough so that the flour disappears from the bowl.
Now it is the turn of the nuts that nuts break and pieces by hand and add to the bowl. Finally the chocolate chips and mix by hand.
Now it's time to form the cookies and we will do it by hand. We weigh the dough and divide it into 4 equal parts. With the help of a kitchen ring or a mold we form 4 equal circles.
Cool the cookies formed 1 hour in the freezer, and bake at 180 degrees about 15 minutes / (they should be soft in the center and browned at the edges). If you have the cookies longer in the freezer, you may need an extra minute or two of baking.
Meanwhile prepare the filling. In bowl of electric mixer with rods, put cheese mascarpone with vanilla and sugar icing. Whisk until a smooth cream and uniform. When we it begin to add the cream at low speed and speed until you get a creamy consistency with body when we added it all up.
Divide the cream into three equal parts. A part we will put directly in a pastry bag with a large and smooth mouthpiece (mine is 1 cm). If you do not have a nozzle simply give a cut to the pastry sleeve of approximately 1 cm.
Melt the chocolate co leche and add to one of the parts Mix well with the help of a spatula and reserve in another pastry bag
Finally, melt the dark chocolate and add to one of the parts. Mix well with the help of a spatula and reserve in another pastry bag.
When the cookies have cooled completely, fill with the help of the sleeve making balls. We put another cookie on top and so with the 3 layers in the order we want to put them
We decorate with fruits, macarons, chocolates, flowers ... imagination to power!
Tips and Tricks
You can fill with only one type of cream
You can prepare the cookie cake and have it empty until the day that you go to take it. The advantage is that cookies should be soft so it doesn't matter if cookies pick up moisture
You can also prepare and freeze it without decorating wrapped in film paper
Difficulty: easy
Preparation time: 1 hour + cooling time
Portions: with these amounts I made 4 large cookies but my son ate one aí that I only put three in the cake.