This cake with plums and coconut with crispy meringue, has become one of which I do more this year with plums. It is also our #calendariofoodie2019 February. In my stories of my IG @loletabyloleta you have all the information.
You know that I love to cook with the season's vegetables and fruits. Take advantage of when fruits are at their best is a luxury that not everyone can enjoy. We can however, enjoy some fruits and vegetables incredible throughout the country. Now already we are not in the best moment of the plum red that me is that I like most of all, but I am taking advantage of this year's long season and still I find them at the supermarket of House.
You know Besides my addiction without brakes for cookbooks, and this today is one that inspires me a lot. Sweet is called and Yotam Ottolenghi and Helen Goh. An incredible book with many rich and most inspiring recipes. Ottolenghi It is one of my favorites, among other things chefs because it seems to me a very faithful to his ideas in the kitchen Cook and that continues from the beginning his way beyond the fashions and trends.
This tart of prunes today he calls her of Louisse because it is inspired by popular New Zealand which becomes very thin, as a cake of bars with raspberry jam. Here to change it by a very generous and delicious layer of meringue and some plums that I've added my personal touch I hope you like bullies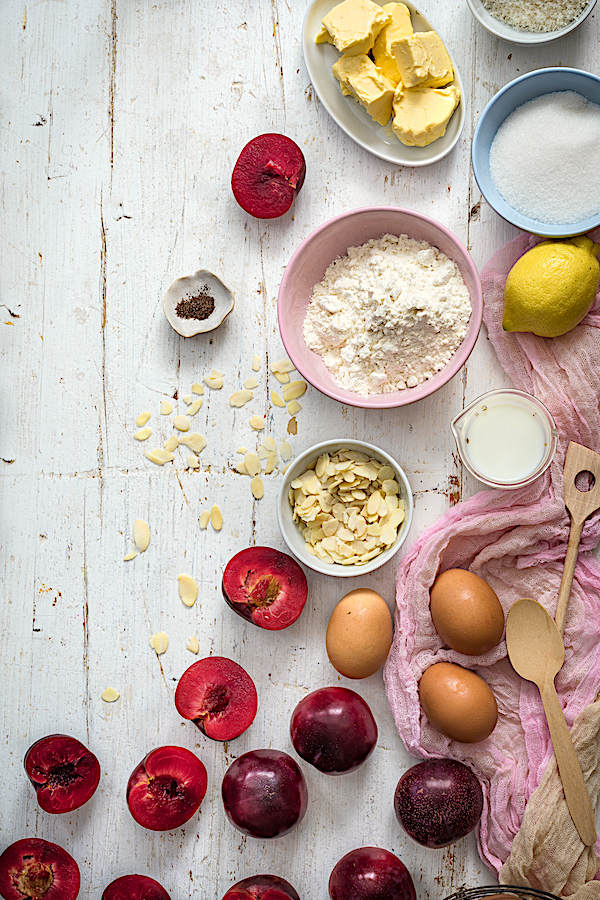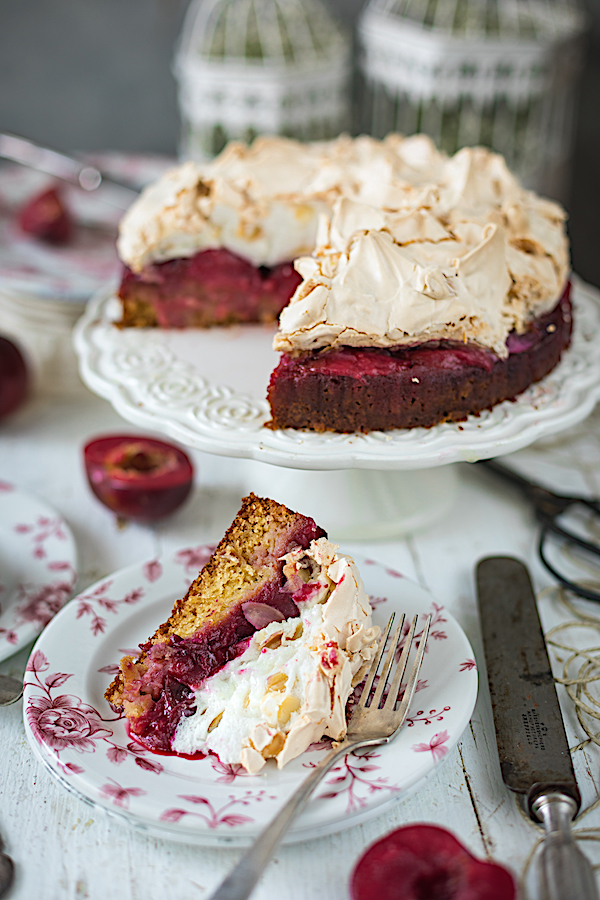 Ingredients
125 g butter at room temperature
120 g sugar
zest of one lemon
5 large egg yolks
140 g flour
1 teaspoon and a half of baking powder
a pinch of salt
25g shredded coconut
90ml semi-skimmed milk
1 teaspoon pure vanilla extract
6 red plums, ripe but firm (about 500 g)
2 tablespoons vanilla sugar
For the meringue
60g of almonds
4 egg whites
a pinch of salt
220 g sugar
1 teaspoon pure vanilla extract
1 teaspoon white wine vinegar
1 tablespoon cornstarch
Directions
Preheat oven to 160 degrees with hot air.
Spread the almonds on a baking sheet and roast for 15 minutes until golden brown. Set aside until completely cool.
Raise the oven to 170 degrees. Cover with paper of baking a mold of 20 cm, both the base and the sides.
In bowl of electric mixer, beat with paddle attachment on both the butter, sugar, vanilla and lemon zest until pale and creamy. Add the egg yolks, the first can be well incorporated before adding the next.
In a separate bowl, sift the flour, salt and baking powder.
With the blender at low speed, add the coconut and then add the flour and milk alternately and mix briefly.
Using a spatula, lower what is stuck on the walls of the bowl and mix again. Flip the dough over the pan and with the spatula flatten well. Bake for 20-25 minutes until the center prick with a toothpick comes out clean and the cake is golden brown.
While the cake is in the oven, wash and cut the plums in half and remove the bone. Cut each half into 4 pieces, so that we will have 8 pieces each plum. Add the two tablespoons of vanilla sugar and mix well.
When the cake is ready, and we take it from the oven, place the slices of plums in a single layer on the surface of the cake making sure that it is not double layer on any website nor any part without cover. Book
Raise the oven temperature to 200 c.
In bowl of electric mixer with rods, beat the egg whites with the salt until soft peaks form (about one minute). Then add the powdered sugar, a tablespoon at a time and then continue whisking for about 5-6 minutes until the sugar has dissolved and meringue is bright and hard. Add the vanilla, vinegar and cornstarch and mix well.
Add the almonds to the meringue and with a spatula, mix. Pour the meringue over the cake and bake for about 35 minutes until the meringue has hardened on the surface.
Cool the pie of plums in the mold half an hour and then unmold. Leave to cool. Sprinkle with a little icing sugar and serve
Tips and Tricks
Replaced the plums with your favorite fruit.
The only cake is pure magic
Preparation time: 40 minutes
Difficulty: easy
Servings: 10