I love these shortbread or butter cookies. You know that I repeat over and over again Carol cookies, but these are a more refined version of the typical Scottish shortbread. I will not deceive. Lol You will not say that they are light cookies because it has a lot of calories. But yes I will tell you that take one from time to time makes me infinitely happy.
Its characteristic flavour reminds me of those breaks from my mother and my grandmother to Ceuta. Then around here were not European products that we now have in any neighborhood grocery store.
When I was little were going every year to GIbraltar to purchase cookies and chocolates that we both liked but who here is not sold, and my mother was escaping is also a couple of times a year to Ceuta. It was a fun trip making with my Aunt Nena and with my grandmother: boat early from Algeciras, rampant and return at night to arrive early morning shopping day.
I loved those mornings I get up to discover what we had brought my mother: a new jelly beans, cans of the softer French butter you could imagine or a box of crackers of the world's richest. A tin metal, decorated with Tartan and containing some cookies that my brothers and I devorábamos. They were these shortbread cookies. Scottish cookies that always excite me and that I loved to learn to do.
This version of today, is it served at Buckingham Palace. It is much more sweet and thin than others and which most resembles those cookie tins that still buy from time to time, now in the super House. Fine and soft cookies worthy of any snack in your House and you will be like a real Queen.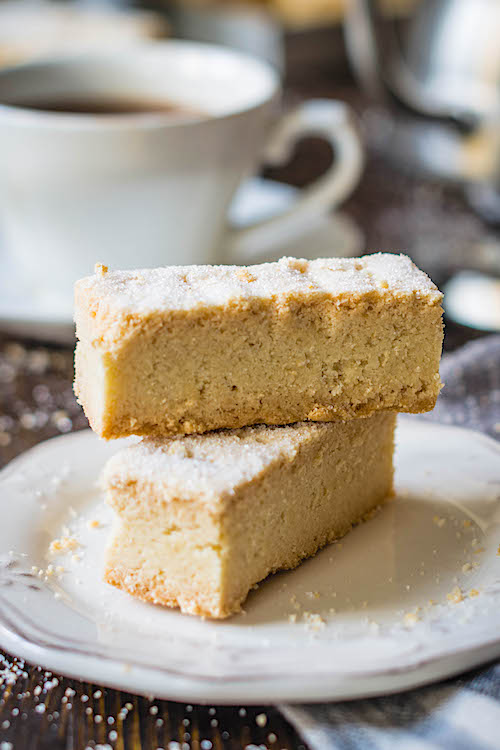 Ingredients
500 g flour
260 g cornstarch
1/2 teaspoon salt
500 g of butter without salt, at room temperature
250 g granulated sugar
1/2 cup sugar for sprinkling on top
Directions
In a medium bowl, whisk together flour, cornstarch and salt until well blended.
In bowl of electric mixer, beat the butter until creamy. Beat the sugar until the mixture is light and fluffy (about 2 minutes, scraping sides and bottom of the Bowl as needed.
Add the flour in two or three additions mixture until it forms a soft dough. Wrap the dough of the Shortbread biscuits with plastic wrap and chill for 30 minutes. Preheat the oven to 150 C.
On a lightly floured surface, place dough on paper of baking and stretch until they are 1 cm thick, and a rectangle 10 x 16 cm. (I use a kitchen rule to measure either) put the dough on a tray of baked or like me a biscuit mould copper , and Bake until the dough is lightly golden and firm to the touch (about 90 minutes)
Put biscuits on a hard surface or the Shortbread and sprinkle immediately with abundant sugar. While it is still hot, and with the help of a ruler and a sharp knife, cut the shortbread into pieces of about 2 cm by 4 and leave to cool completely on a wire rack.
Tips and Tricks
Eat a few Shortbread or butter cookies and freeze the rest. you will have to wrap them well in plastic wrap because otherwise, the butter will catch fridge flavor, but if you wrap them well you can enjoy them whenever you want
Serve them with a tea
Difficulty: easy
Preparation time: 2 hours