This easy recipe for homemade pita bread chicken shawarma has made happy my son who now can take it at home whenever you want to. It is the second recipe that enters the Group of recipes for the World Cup, to my dinner rogue and for informal meals where there is everything a bit and each one decides what you eat.
It is another recipe that can be prepared in advance and just heat in the microwave at the last minute. Then I put a lot of bowls with different accompaniments of my shawarmas of chicken in homemade pita bread: cucumber, tomatoes, onion, and of course, the yogurt sauce that reminds me to the Indian Cucumber Raita what I like so much accompany my curries.
Shawarma is a type of Turkish snack that they prepared with lamb (congratulations to the lovers of the Lamb but won't be with me) and I prepare with chicken. MY brother Josele is a lover of these homemade pita bread chicken shawarma and prepares them with pears and yogurt which gives it a unique touch, but at home they are more traditional and prefer to my guests with vegetables to fruit , so I prepared it as I do normally, although you can include a bowl of chopped pears and try because I assure you that the spicy with pears go upmarket if you like the mix of sweet and salty, clear.
The pitas are very easy to make and are hollow inside so they are very easy to fill. They freeze super well and endure bie or couple of days in an airtight box. At the last moment a blow of oven or toaster and have some chicken shawarma in homemade pita bread as freshly made, so it is a perfect recipe for informal meetings. I hope you enjoy it as much as to Javi!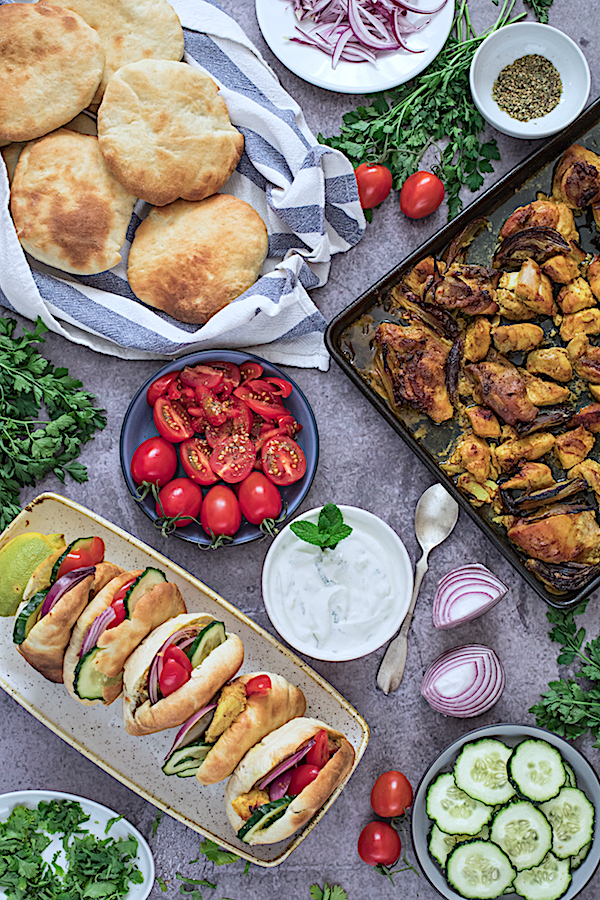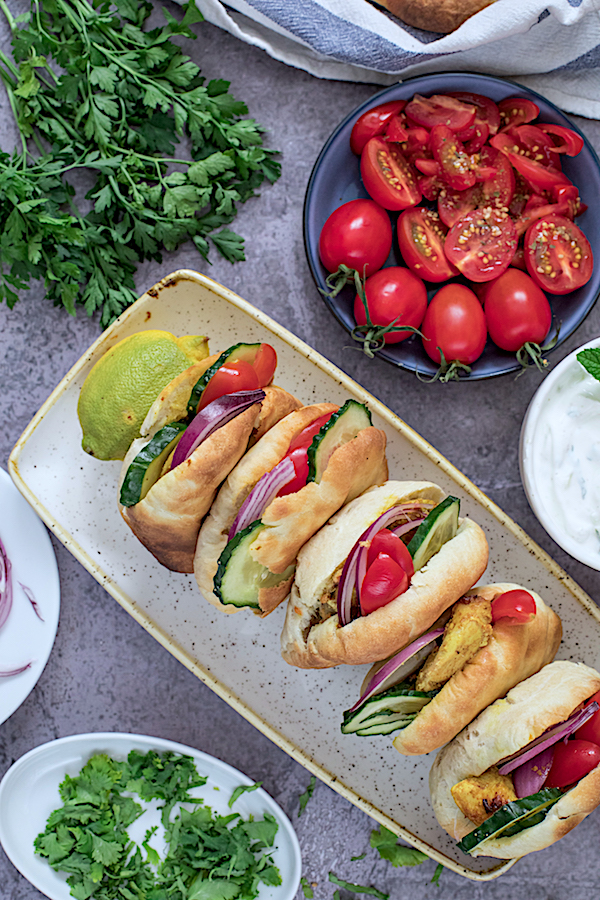 Ingredients
For Pita bread:
185 ml of warm water
2 1/4 teaspoons active dry yeast (9 g)
1 teaspoon more 1 tablespoon granulated sugar
580 g bread flour, more more for dusting
1 1/2 teaspoons kosher salt
3 tablespoons of olive oil, and more to the Bowl
190 ml Greek yoghurt
For the chicken:
the juice of 2 lemons
125 ml plus 3 tablespoons olive oil
6 cloves garlic, peeled and crushed in a mortar
1 teaspoon salt
2 teaspoons freshly ground black pepper
2 teaspoons ground cumin
1 teaspoon sweet paprika
½ teaspoon turmeric
A pinch of ground cinnamon
1 teaspoon chili powder
1 kg and Skinless & boneless chicken thighs (I also put chicken breast because it is the part of the chicken that I like)
1 large red onion, peeled and cut in quarters
2 tablespoons chopped fresh parsley
The mounting of the shawarma:
cucumber in thin slices
sliced tomatoes
parsley or fresh cilantro
cut thin slices of lemon
salt and black pepper
Greek yogurt mixed with chopped cucumber, chopped Mint, salt and pepper
za' bind - is a mixture of various spices. I mine prepared with thyme and fresh oregano and toasted sesame to equal parts, salt and freshly ground black pepper
Directions
To make the chicken:
We will first make a marinade for the chicken. Zip place juice lemon, 125 ml of olive oil, crushed garlic cloves, salt, pepper, cumin, paprika, turmeric, cinnamon, and chili powder in a bag and move well. Add the chicken and move well so chicken permeating all the ingredients and let rest in the refrigerator a minimum of 1 hour (I'll leave the night).
After the time of marinated, preheat the oven to 220 degrees.
We put the chicken on a baking sheet with all the marinade, put the onion cut in quarters and bake approximately 30 to 40 minutes.
This last time took from the oven and let rest a few minutes in the pan.
To make Pitas:
In a bowl, put the yeast with warm water and 1 teaspoon of sugar. Let the mixture stand until it is frothy on top, about 5 minutes.
In the bowl of an electric mixer with an accessory of dough hook put the flour, the salt and the remaining tablespoon of sugar. Add the yeast mixture, oil and yogurt and mix to combine, first with a spatula, and then with the electric mixer until a uniform dough (a couple of minutes. Remove the dough from the bowl. Lubricate with oil the bowl and return the dough. Cover with a cloth (you know that I use my shower cap for masses), and let stand in a place without streams (to my like to use oven) until you increase your volumen(una hora y media aproximadamente)
Preheat the oven to 260 degrees. Prepare two trays baking paper for baking and reserve.
While the oven is preheated, place the dough onto a work surface clean and dividir into 12 equal balls. Crush them forming a few cakes and place on oven trays. Let stand 15 minutes and bake for 5-7 minutes.
Take a soft, clean dishcloth and when pitas are lightly browned, remove from the oven, place them on the towel and cover with it until they are completely cool.
To mount the shawarmas:
Sprinkle cucumbers and tomatoes with za' tie, salt and pepper.
Cut one end of the pita opened a pocket in the bread. Fill with a few pieces of chicken, onion cut into thin wheels (you can use Roasted Onion but sometimes bitter and that is why I prefer to use the raw onion), cucumber and seasoned tomatoes, fresh parsley and 1 tablespoon of yogurt mixture. Our homemade pita bread chicken shawarma is ready and of course don't forget plenty of napkins!
Tips and Tricks
Prepare the shawarma chicken in homemade pita bread and frozen chicken and pitas. Thaw frozen a few hours before taking it and heats the pan in the oven a few minutes. It will be like taking it just made
Difficulty: easy
Preparation time: 30 minutes more 1 hour and a half of rest
Servings: 12 pitas and chicken to fill them